Movies
'A Woman, a Gun and a Noodle Shop'
Zhang Yimou's remake of Blood Simple gets tangled in its own technique.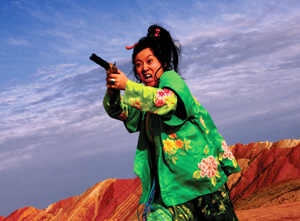 THE ORIGINAL 1984 Blood Simple was a paraphrase of all the Hitchcock the Coen brothers had been soaking in—the long lonesome death of Dan Hedaya's character was based, they admitted, on the fight scene that won't end in Torn Curtain (itself probably swiped from a battle in Fritz Lang's Cloak and Dagger). A Woman, a Gun and a Noodle Shop, Zhang Yimou's Chinese remake of the Coens' debut, seems not just to take the twisty plot but also restages it via the Coens' later film Raising Arizona. It's a strange, strange movie, and not just because of the flamboyant color scheme.
A Woman, a Gun and a Noodle Shop begins almost with a parable: a fork-bearded Persian merchant, dressed like someone playing Papagayo in The Magic Flute, brings something to an end-of-the-road desert town in the Middle Ages: a revolver with three bullets. This gadget interests the wife (Yan Ni) of the desert town's master, a perverted ugly miser, Wang (Ni Dahong). The wife is sleeping with the noodle shop's "intern," a gulping, pink-clad coward in elf-shoes, Li (Xiao Shen-Yang). Prowling around the perimeter is a bad cop (Honglei Sun) who is ready to make some money on the side, and he isn't above the occasional double-cross.
The film has its moments: one is a showstopper about the making of noodles that looks like a tricky as a circus act, topping any display of pizza spinning you've ever seen. When the bad cop and his horseback patrol arrive, they enter with a disturbing joke: a whining wind-powered siren. (Another joke: the only crime the police feel like punishing is adultery).
The digitally tarted-up desert, with its endless striped ridges of pyramid-shaped rocks, is the oddest-looking wastelands since Krazy Kat's Coconino County, and there's a charge in the death scene, with the moribund one popping up out of his grave like a Jack in the box. Of the cast, Yan Ni has the most range; she's convincing equally as treacherous little kitty or pathetic misused wife. But it's all a question of tone. The original Blood Simple isn't a classic—as the expression goes, you can tell what was next to it in the refrigerator—but it evinced its own consistency. This remake jars along as if you were driving across that rocky desert. There's dead air in it, and clumsy comedy, with buck-toothed howling clowns caroming off the walls. Ultimately, it's unnerving to go to a movie by Zhang Yimou and find out that it's seemingly made by Stephen Chow's unskilled intern.
A Woman, a Gun and a Noodle Shop
R; 95 min.
Opens Friday, Camera 12, San Jose, and Aquarius, Palo Alto