Movies
Mercury Rising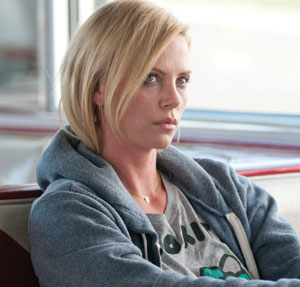 THE THIRTIES-ISH Mavis (Charlize Theron), the antiheroine of Young Adult, is a hack writer for a series of young-adult novels. Needing a break, she drives her Mini Cooper from her tower home in Minneapolis to Mercury, Minn., the small town where she grew up. Mavis plans to rescue her high-school prince, Buddy (Patrick Wilson), from his wife, Beth (Elizabeth Reaser, Esme from the Twilight series). Buddy and the surprisingly tolerant Beth have just had a new baby. But Buddy shows no sign of dissatisfaction.
The setup is ticklish, but director Jason Reitman and scriptwriter Diablo Cody decided to alternatize the film, adding a touch of the zaniness of their mutual hit Juno. What we see in Mercury can't convince us this is supposed to be the bad small town we're hearing described, poor and stinky from some kind of agribusiness. Instead, it looks like John Hughes land. Also, Cody had to include a nod to the righteous moms she knows in Hollywood. Beth and some new mom friends take a break from breast-feeding to play in a bar band called Nipple Confusion. Just how backward is Mercury supposed to be?
Mavis picks up a drinking buddy named Matt (Patton Oswalt), a pudgy, short beta-male still crippled from being queer-bashed by a gang years ago. Oswalt is covert—he's a good reactor, comically tolerating Mavis' many moods. He gives this film some earned bitterness, and Young Adult snaps out slightly out of its sitcomishness whenever he turns up.
Theron can look convincingly ratty, slutty and drunk. She does unglam things like picking at herself or spitting into a printer ink cartridge to prime its pump. She's funny, but she's one-level funny—like watching an SNL skit go on for an hour.
Incidentally, one of the things that makes mumblecore films bearable is their smallness. The nasty, fail-prone, mean-for-the-fun-of-it characters live in a bad, cheap and ugly world. While these films are often half-baked and self-pitying, they strive against the idea that movies have to be about pretty people with pretty problems. In Young Adult, Reitman and Cody seem to be attempting that kind of seat-of-the-pants filmmaking without having the stomach to go really down and dirty.
R; 94 min.