Movies
Zombies on the Move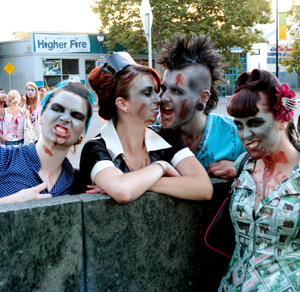 SUMMER is cresting, and the time is ripe—and so are the zombies, rotting away at sundown in San Jose's SoFA district this Wednesday (Aug. 31) for Zombie-O-Rama. The zombie makeup sessions get started at noon at Slave Labor Graphics, while the crawl itself begins at 6pm (with a special 6:15pm family-friendly Young Zombies Parade). Brass Hysteria provides music at 7:15pm, and the costume contest begins at 9pm, followed by a fashion show. After the 9:30pm screening of Fido, the crawl will keep on lurching through downtown San Jose. (Full disclosure: Metro is one of the sponsors of the event.) Be sure to bring something for the food drive.
As zombies need something to mill around, the focus of the gathering is a free outdoor screening that ends the summer's Starlight Cinema series on a seriously high note. 2007's Fido is the best zom-com you've never heard of—a notably intelligent and entertaining sleeper from Canada. At heart, director Andrew Currie's Fido is about the walking dead chomping people, so have no fear. You'll get your gore, even though that's not all the movie is all about. Currie blends horror and humor as if in a latter-day Bride of Frankenstein.
Fido respects the familiar rules so much that it doesn't even need to have a character summarize for us: Take them out with a double tap to the head; space radiation caused it all; one bite communicates the disease; no zombie can lurch faster than a crippled golf cart. And yet why does Fido seem so original? Maybe it's this: Nothing since Todd Haynes' 2002 Far From Heaven has been such a playful yet serious homage to the 1950s social melodrama of Douglas Sirk (All That Heaven Allows) and Nicholas Ray (Rebel Without a Cause). Production designer Rob Gray did sterling work re-creating those vast Cinemascopic interiors in the studio-built suburban houses. Jan Kresser's emulation of Eisenhower-era Technicolor is so vibrant it almost glows.
In this 1950s story of creeping zombie blight, the wavering father of the Robinson family (Dylan Baker) is a salaryman. He seems to have everything, in this leafy Leave It to Beaver-style small town. It's protected by an electric fence. Zombies have been tamed with electronic collars, courtesy of ZomCo (whose corporate logo looks troublingly like the royal monogram of the Kingdom of Oz). The undead are used as menials and maids, and, even though it's frowned upon, girlfriends. But fragile young Timmy (K'Sun Ray) is starting to question the order of things.
Fido is only going to look better on an outdoor screen, applauded by zombies—and the costumes, adult beverages and general lurching horror is going to make for an evening so fun, it'll be worth coming back from the dead.
Zombie-O-Rama
7:15pm crawl; 9:30pm screening
Downtown San Jose