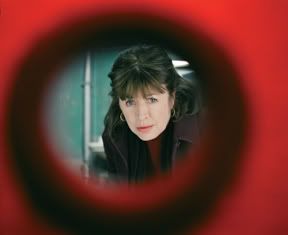 In light of all the publicity that Shine a Light has been getting, I beg you all to take a look at another icon of the swinging '60s, the woman that inspired some of Mick Jagger's best work: Marianne Faithfull.
As Jaggers' former squeeze/muse, Faithfull is an icon in her own right, one of the original "it" girls of the 1960s swinging London. To draw a parallel for anyone who follows the sludge of modern celebrity gossip, she was like the Lindsay Lohan of the Ready Steady Go! set. She was beautiful and well connected, and possessed marginal (though occasionally endearing) singing abilities, a talent to sustain massive amounts of illegal substances, and two very large natural assets.
Though she has been on the music and film scene on and off since the mid-1960s, Faithfull is notoriously better known to American audiences for that pesky Mars bar rumor and her heroin addiction/recovery than for her singing and acting chops.
In 2004, I was lucky enough to catch Faithfull in the San Francisco production of the Tom Waits/William Burroughs musical The Black Rider: The Casting of the Magic Bullets, where she played, appropriately, the devil. I remember being at first taken aback, then in ordinarily attracted by her deep, raspy-voiced incarnation of Satan, and I've been a fan ever since.
So when I read that she was starring in a new film in which she plays a grandmother who joins the sex trade, I had to catch it. Fresh off an appearance as Empress Maria Theresa of Austria in Sofia Coppola's Marie Antoinette, Faithfull now stars as Maggie in the Sam Garbarski-directed Irina Palm.
Faithfull herself couldn't be more different from her character in Irina Palm.
In contrast to Faithfull's signature blonde coiffure and diva-attitude, Maggie wears a shorter, mousy brown hairdo that reflects the subdued, timidity of her character. A selfless but dowdy 60-year-old English widow, Maggie is a woman whose dreary life revolves around playing cards with a group of malicious harpy neighbors and visiting her young leukemia-stricken grandson, Ollie (Corey Burke), in hospital.
In a last-ditch effort to fund an experimental treatment for her dying grandson, Maggie responds to a "Hostess Wanted" sign in the window of the sleazy neon-lit establishment named Sexy World. Her naiveté about the responsibilities of the position soon disappear as the sex club's owner, Miki (played by famous Serbian actor Miki Manojlovic), inspects her hands to see if she has the right credentials.
Maggie is soon stationed in front of a coin-operated glory hole with a box of tissues and industrial-size bottle of lube, employed to hand service the sex club's patrons under the stage name "Irina Palm." Discovering a talent for her new work, she soon develops quite a following, with queues of men going out the door to receive her services. But when Ollie's condition worsens, Maggie struggles to keep her new job a secret from her friends and family as she works to generate enough money to save her grandson.
Admittedly, the whole film's scenario is beyond farfetched. The plot moves forward too quickly at the beginning. Recently introduced characters make big decisions before you even get to know them, and the ending is equally as unlikely.
Though the writing could be improved, what make this film isn't what is said, but the unapologetic humanity shown by Faithfull. Whether grappling with her morals before her first "job," or doting over her grandson in his hospital bed, Faithfull is cautious to never veer into the realm overacting. Faithfull does a credible job of playing an apprehensive older woman driven by the love of her grandson to do what many would consider unthinkable, discovering a confidence in herself along the way.
Again, gaining self-esteem by becoming a sex worker is understandably improbable, but if your willing to go along with the premise, Faithfull brings dignity to a notably undignified act in a story that is, at it's heart, sweet.
Irina Palm is currently playing at select theaters in the Bay Area:
Opera Plaza Cinemas
601 Van Ness Ave.
San Francisco  415.267.4893
Shattuck Cinemas
2230 Shattuck (at Kittredge)
Berkeley  510.843.3456
Rafael Film Center
1118 Fourth St. (at A St.)
San Rafael  415.454.1222