When hanging out, pre-Zwigoff dogging, at the press lounge, heard a really, really young filmmaker talking about how he'd closed down the Cinebar the night before: glad to hear Cinebar is hosting a one year anniversary screening of Whiskey Tears tonight at 4:30pm.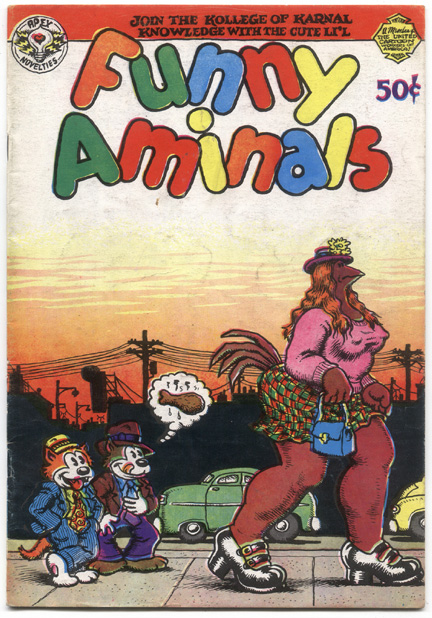 As for Zwigoff: talked to him at Sabor afterwards, and felt slightly better about being called out as "emblematic of the low state of journalism". Afterwards, he told me he was just "having some fun." Interestingly, Zwigoff noted that his involvement on the comic book Funny Aminals–the beginning of his involvement with PETA– began by reading "A Mother's Tale" by James Agee. "A film critic, you know," he added.
Enjoyed the story that Billy Bob played Bad Santa very authentically (under the influence from morn until night, despite Z's urgings to him that he was a better actor sober); that Robert De Niro and Jack Nicholson had been in the running for the part of the evil Santy; that Howard Armstrong's "whorehouse Bible" may be in print someday, but that Armstrong's widow isn't going to permit that right now.
And that Criterion will be re-releasing this excellent first documentary by Zwigoff next year.
Attended a small part of the Day of the Writer fest, saw Alex Simon win first place in the scriptwriting award, then n watched Marley Sims and Fred Rubin interviewed by Barak Goldman of DeAnza about the essence of what's humorous. Sims is pitching a new TV series called "Life After Beth". The two long-time sit com writers claimed that Jewishness and dysfunctional families were the essence of comedy writing, and got down to cases of words in particular. Take the well-known funny-k sound (it's been said that the last word in a punchline ought to be "kayak"); they listed internal organs that are funny ("`Liver' has an implied `k' sound," said Rubin). The word "moist" is funny, because it's a porn word," said Sims…I would suggest also that "oi" itself is a funny dipthong. (And "dipthong" is a funny word.)
Laughing on the inside if not the outside, I cut out for Andrew Drazek's Cummings Farm and was so very glad I did. This comedy about an orgy that goes south had more audacity and more integrity than many of the serious movies at Cinequest. It was ball-shrivellingly raunchy and at the same time not simple-minded or depressingly bourgois; while it was often as funny as The Hangover, the complicated power plays among six dreadful people reminded me of Bruce Beresford's Don's Party.
Cinequest should have sounded the alert to Sarah Silverman fans. Playing the depressed self-described "cow" Tina is Ms. Sarah's sister Laura (her put-upon sister Jane on the Silverman show; if you love the show, you'll love Cummings Farm). Laura S. plays a dim low-self-esteemed mommy with no taste for group sex. Scriptwriter Ted Beck is Todd, her lecherous spouse, the orgy's ringmaster (think Rupert Pupkin with a boner). The quaking, quacking nice Jewish boy Alan (Adam Busch) turns out to be as close to a moral center as the film gets despite his spinelessness; Lee Harvey Oswald-look alike Gordon (Jordan Kessler) is a pitiful drunk squiring the sweet-faced bawdy blonde (Aimee-Lynn Chadwick, terrific in an Alice Faye kind of way) and the very up-for-it Yasmine (Yasmine Kittles) keeps the negative energy flowing.
Putting a bunch of people in a room all night and making it so you don't want to kill them is no easy task; filming in Louisiana (I'm going to go way out on a limb and suggest that's because of tax breaks and incentives), this obviously well-rehearsed troop make the best of a shambly lakeside cottage with a lake view. The light off the water helps give a Midsummer Night's Dream vibe to this low rent comedy.
Way too offensive for a few viewers, this mean-for-the-fun of it comedy deserves viewers who are sick of comedies that start off brash and throbbing and end up soft, sticky and limp.
As for today: the Adobe Forum at 11 am goes head to head with Complaints Choir, a documentary about people who turn one's complaints into song.
Outsourced (left; 4pm Cam 12) gives you a big view of India, and it has lots of charm, even if it's none too deep;and Shorts Program 3 is recommended as previously.
The closing night is Mother at 8pm, but a day of encores tomorrow along with the Oscars at 5pm.
Big day–