The Feb. 10 death of the underappreciated and dependable Roy Scheider has made me want to retrieve my DVD copy of Jaws (which I stupidly left behind at my parents' house after I moved out), just to rewatch my favorite sequence. It doesn't even involve the shark at all. It's one of the quieter parts of the movie: the entire sequence of Police Chief Brody drinking at the dinner table, after a grieving mother blames him for her boy's death from a shark attack.
Brody's five-year-old son (Jay Mello) sees his dad brooding at the table and imitates his movements. The chief goofs off with his son and asks for a kiss ("'Cause I need it"). (A couple of months before Scheider died, blogger Erich Kuersten wrote an insightful post on his Acidemic blog about why he loves the "Give us a kiss" interplay. Not even the Scheiderless Jaws: The Revenge's pathetic recreation of the father/son dinner table shtick can diminish its greatness.)
The moments that follow the tender father/son bit are even better. A slightly overdressed Hooper (Richard Dreyfuss) makes a surprise visit to the Brodys' house. I love the laconic chief's amused and silent reaction as he sits back and watches the rich-kid shark researcher stammer and act overly formal towards his wife (Lorraine Gary, whose character has an affair with Hooper in the original novel!). Hooper presents Mr. and Mrs. Brody with a pair of bottles of red and white wine, one of which the chief immediately opens and comically empties into his glass without letting it breathe. The Jaws dinner table sequence is an example of Scheider at his understated best.
Another favorite Scheider moment of mine that shows how great of a reactive actor he was is the kickass New York car chase in director Philip D'Antoni's police procedural The Seven-Ups, which I discovered on DVD last year.
The 1973 film reunited Scheider with his French Connection producer D'Antoni, who also produced Bullitt. Though The Seven-Ups was never as popular as those previous D'Antoni productions (hence its long absence from video), its 10-minute chase from the streets of Manhattan's West Side to the Taconic State Parkway equals the seminal Bullitt and French Connection set pieces. The thrilling Seven-Ups sequence comes from the days when car chases were a novelty and were at their best: not much camera trickery, no music score and no dialogue. Scheider's flustered and pissed-off expressions from the driver's seat say more than tacked-on one-liners ever could.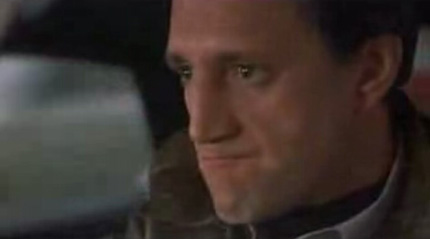 Before Fox gets its grubby mitts on it, here's the "Bye Bye Love" sequence from All That Jazz, which features Scheider's most acclaimed performance.