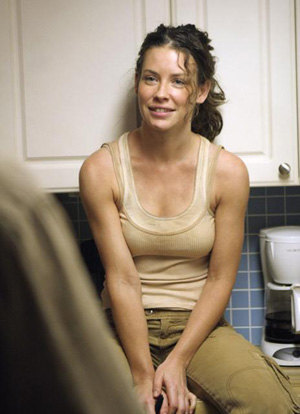 What the hell does that episode title mean?
At first, I thought this Kate-centric ep's title was referring to the freckled hottie's pregnancy scare from last season—and this ep does resume the soapy "Is Kate carrying Sawyer's baby?" thread—but according to Lostpedia, an "eggtown" is Depression-era slang for a shitty deal. And oh, was Lost loaded with eggtowns this week.
It was also loaded with dead spots. Other than a suspenseful—yet unsurprising—cliffhanger involving the whereabouts of Frank's copter and a great twist ending, the rather dull "Eggtown" was a slight comedown from the lively introduction of the freighties ("Confirmed Dead") and last week's badass homage to the Daniel Craig incarnation of 007 ("The Economist," which revealed that Ben Linus is somehow able to go back and forth freely between the island and civilization—and that in the future, Sayid works as Ben's hitman).
(Spoilers after the jump)
The island
We learn this week why Kate stayed behind with Sawyer and the Locke flock at the Barracks in "The Economist." She wants to find out if Locke's current prisoner Miles knows about her past as a wanted fugitive.
In a repeat of last week's Lost Immunity Challenge (Frank offered to fly Sayid off the island if he was able to persuade Locke to release Charlotte), Miles says he'll reveal to Kate how much info he knows about her if she lets him speak to Ben, Locke's other current prisoner. These freighties with their challenges for the lostaways are like small-time Jeff Probsts, aren't they? Except they're missing the D-baggery, the ignorant attitude towards Asians (Probst sure knows how to get on our good side, with his earth-shattering revelation that "Wow! They all have different backgrounds!" and his lame dogeater jokes during Regis and Kelly) and the inability to read a map.
Kate breaks into the locked basement where Ben is held captive and grants Miles only one minute to talk to the Others leader. The freightie demands from Ben $3.2 million. If Ben delivers the cash to him in a week, Miles says he'll lie to his employer Matthew Abaddon and tell him Ben's dead. Then Kate slams Miles against the wall ("Ooh, this is hot," drools the freightie) and gets the answers she wanted. Miles confirms that he and his fellow freighties do know about her crimes—as well as everything else about everyone who's on the Oceanic 815 manifest.
Locke discovers Kate's scheme, banishes her from the Barracks and stuffs a possibly live grenade in Miles' mouth (eggtown #1, for Miles, who experiences a setback in his path to the $3.2 mil, thanks to the grenade trap).
Kate spends her final night at the Barracks with Sawyer, but nothing more than kissing and spooning ensue between the two. Sawyer asks Kate if her possible pregnancy is why she was so standoffish in bed. She says she's not with child, which relieves Sawyer, who thinks her pregnancy would be "the worst thing in the world" and expresses his displeasure with her departure from his house by predicting that "in about a week, you'll find some reason to get pissed at Jack and bounce right back to me." Kate responds with "What did the five fingers say to the face? SLAP!" (Alright, I'm kidding about the "five fingers" line, but she does bitchslap him.)
*****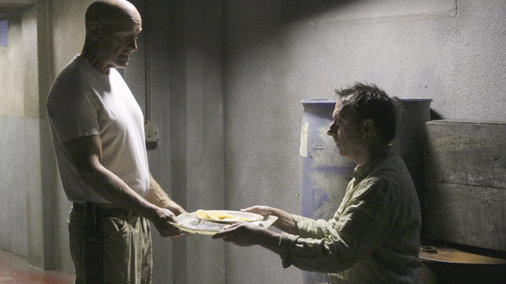 "John, that's not a real breakfast."
*****
In other island news, Ben taunts Locke about his frustration over not being able to return to Jacob's floating cabin (eggtown #2), while back at the beach, Jin (oh, hey Jin, didn't know you were still on the show) demonstrates he's now able to speak complete sentences in English, thanks to Sun's English lessons.
Meanwhile, Jack, Juliet, Daniel and Charlotte are shocked to learn from Regina that the chopper carrying Frank, Sayid, Desmond and the deceased Naomi has not yet returned to the freighter. Has it gone missing?
The flash-forwards
In the least interesting of the flash-forwards we've seen so far, Kate has become a celebrity like the rest of the Oceanic Six, and she now has a son. She's also being tried for her pre-island crimes, which include fraud, arson and killing her father (which she did to protect her mother from his abuse).
When Kate's trial seems to be taking a turn for the worse, her lawyer shifts the focus to her heroism and calls Jack to the stand. The doc testifies that Kate nursed back to health the eight survivors of the 815 crash, one of many lies that the Oceanic Six have been forced to say about their experiences on the island since their return to civilization.
Kate's terminally ill mother (Beth Broderick) tries to make amends with her ex-con daughter after alerting the cops to her presence several years ago. Mama Freckles says she doesn't want to testify against her—her testimony is crucial to the prosecutors' case—but Kate is still bitter about her mother's betrayal and refuses to let her see her grandson.
Mama Freckles is a no-show in the courtroom, so without her testimony, the D.A.'s office is forced to make a deal: 10 years of probation. Kate ignores her lawyer and accepts the deal so that her son still has a mother. But she's not allowed to leave the state, which will complicate her situation when a drugged-out Jack later pleads with her to join him in returning to the island to rescue the other survivors they were forced to leave out of their "official story" (eggtown #3).
Here's the surprise ending that's one of "Eggtown"'s high points. Kate returns to her palatial house—the grandest example yet of the hefty settlements the Oceanic Six received from the airline—and checks up on her toddler, who turns out to be Aaron, Claire's son. Since the rescue, Kate has been passing off Aaron as her son, which indicates Claire never left the island. Is Claire even alive?
Stray observations
-Hurley likes the Xanadu. Just hearing that cheesy theme song in the background during a TV show—whether it's Lost or Friends—never fails to crack me up.
-So one of the Dharma Initiative members who were murdered by Ben left behind VHS copies of Xanadu and the fictional Satan's Doom in the Barracks. What other masterpieces were in this Dharma worker's collection of desert island movies? The Apple? Can't Stop the Music?
-The mentally ill Daniel is experiencing memory loss, as we see from Charlotte's three-card monte test. (In another puzzler, during the "Confirmed Dead" teaser, Daniel went all Deputy Andy over footage of the wreckage of Oceanic 815, which appears to have been fabricated, either by Dharma or Oceanic. If that moment was supposed to be a flashback like the other freighties' "Confirmed Dead" scenes back on civilization, why would Daniel be crying over traumatic 815er-related events he hasn't experienced yet? I'm beginning to suspect Daniel's weeping scene was a flash-forward. Or is Daniel able to foretell the future? Or is he unstuck in time? Ow. That's the sound of my head hurting.)
-Jack's lie on the stand about Kate's heroic post-crash actions is a clever reference to the creators' earlier plans for the series, during the days when they offered Michael Keaton the role of Jack. Keaton's appearance as Jack was intended to be a one-time deal—the creators originally wanted the doc to perish in the pilot ep. Jack's death would have led to Kate becoming the 815ers' leader.
-At the end of "Through the Looking Glass," Kate has to cut short her clandestine meeting with Jack outside the airport runway because she's worried that "he's going to be wondering where I am." "Eggtown" never shows who this "he" is. He can't be Sawyer because he has no intention of leaving the island. I think he's Ben. Is Kate working for him like Sayid or is she married to him?
-Outside the courtroom, Kate invites Jack to visit her and her son, but he refuses to see him. Does he already know that Aaron is his nephew? If so, does Jack's refusal to visit Aaron stem from the guilt he feels over causing his half-sister Claire's possibly horrible fate (a guilt that will worsen and later drive him to drugs and booze when he learns that his departure from the island did more harm than good—eggtown #4)?
On a scale consisting of Lost's cursed numbers, 4, 8, 15, 16, 23 and 42 (4 being the lowest, 42 being the highest)…
"Eggtown": 15