*May Contain Spoilers* The Aerial, March 3 at 5pm, March 8 at 11:30pm, at Camera 12)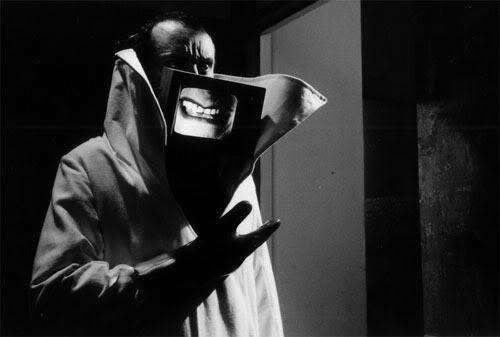 Apparently this writer wasn't the only one who didn't get the Holocaust references in The Aerial. During the California Theatre's showing of Esteban Sapir's visually impressive silent film on Saturday night, the audience erupted into surprised laughter when the image of "the boy with no eyes" strapped to a Star of David came onscreen.
Though The Aerial is filled to the brim with references and homages to past films, did anybody understand the significance of the Nazi-Jewish metaphors? Examples: the "voice" characters being strapped to a swastika and a star of David; the ash falling like snow (à la Schindler's List); Mr. TV's painted-on Hitler combover.
But what does a surreal Argentine film with an Argentine director have to say about the holocaust?Filmgoer Christine Berglund was equally puzzled after catching a screening of The Aerial Saturday night with her husband, Dale."I was confused, but it was alright, different," she said. "Some films seem like they really try to pack a lot of meaning, they try to get political. Was it something about stifling freedom? With some film's it's like 'You've made your point, you don't have to keep on making it.'" (JF)