Music & Clubs
Review: Asian Man Records festival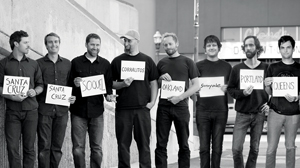 People traveled from all over the world to be a part of the five-day series of shows last week celebrating Asian Man Records 15-year anniversary. Over 40 bands played, running the gamut from bands label founder Mike Park signed in 1996 to brand new bands with albums coming out later this year.
Perhaps the highlight of the festival was the reunion of Slapstick, who headlined the opening night. Slapstick was one of the first bands Park signed; they broke up after recording one album, but the members went on to form other successful bands such as The Lawrence Arms, The Broadways and the Alkaline Trio. (All of whom played the festival too). During their performance, Slapstick lead singer Brendan Kelly said that everyone onstage owed their career to Park. It was a sentiment that nearly every other Asian Man band echoed at some point during the festival.
On the second night, Santa Cruz's Slow Gherkin reunited for a spectacular performance. One guy told me he'd waited a decade to see them and that it was worth the wait.
The third day started with a matinee performance by The Broadways. Sim Castro, from San Jose's The Albert Square made a point to see them play since he was such a big fan as a kid and never got to see them play. "It was amazing. It's like you're a teenager and you finally get to see your favorite band," Castro said.
There was a special treat on the fourth day, a free BBQ at San Francisco's Thee Parkside, where none other than Park himself spent the afternoon cooking food for everyone. "Seeing Mike cook hamburgers at his own festival, that is the most DIY thing I've ever seen," said Alex Chapman, an Asian Man fan who flew 5,000 miles from Wales for this festival.
A lot of the Asian Man bands were there too. They took turns at the BBQ playing 15-minute sets on the stage. Since Park booked two shows simultaneously every night, it let people see bands they might have otherwise missed. Some of the bands that played were Kepi, Bomb the Music Industry, The Apers and Laura Stevenson and several others.
On the last night, Park played a set from his forthcoming children's album, Smile. He was backed by the members of San Jose's Hard Girls. He told the audience how much fun he'd had, how little sleep he'd gotten and how great it was to meet everyone. "The thing I like is that the people who follow Asian Man are such nice people," he said from the stage. "It's been great meeting all of you 'cause you are such good people."