Music & Clubs
Playing the Fall Classixx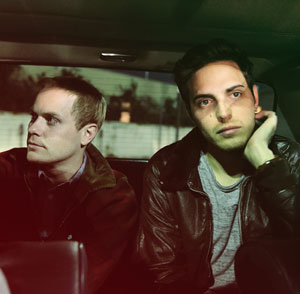 MOST electro-indie fans in San Jose are forced to trek to San Francisco to fulfill their dance-party needs. But to the delight of the local bandana-ed and tight-panted crowd, Agenda Lounge has consistently alleviated some of its patrons' pumped-up pain with its lively monthly DJ bash known as the Workout, which celebrates its third anniversary this week with L.A.-based disc-scratching duo Classixx. Expect the crowd to sweat like Jillian Michaels.
Classixx embodies the Workout vibe. Middle-school buddies Tyler Blake and Michael David started out blaring dance music from Blake's basement apartment in Echo Park, where carousers lined up around the block to get in. Those early play dates got Blake evicted, but the parties continued.
After high school, Blake shipped off to the Berklee School of Music, while David honed his craft as guitarist and keyboardist for a New Wave band, but they continued sending each other new music discoveries via email. They reconnected back in 2007 and began running the L.A. club circuit, toning and refining their sound.
The DJ duo represents a shift from hulking, grunting electro to a smoother, cardio-friendly dance composition, in the same vein as Treasure Fingers (which Classixx remixed) and Breakbot. Their remixing credits also include hot items such as Phoenix, Major Lazer, Fischerspooner, LadyHawke and Holy Ghost.
Previously known as Young Americans, their current name reflects the twosome's affinity for timeless artists who invoke impromptu road trip sing-alongs, such as Paul Simon, Talking Heads and Kraftwerk. Many of their tracks, such as the remix of Holy Ghost's "I Will Come Back," sound like what one would have heard at the Palladium in New York in the 1980s.
Blake and David are doing some major power-lifting these days, continuing to perform and remix while working on their debut LP of original tracks. In addition to their Agenda affair, they will be performing at the Halloween Ball along with 12 other artists on Oct. 31 at the Regency Ballroom in San Francisco.
The Workout
Friday