Music & Clubs
Good Karma Anniversary Show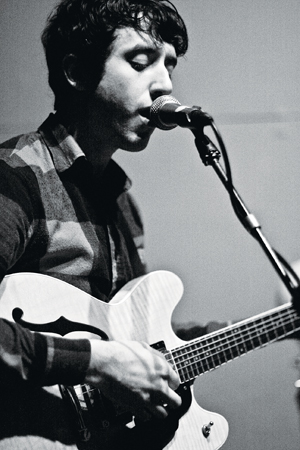 VEGAN cafe by day, live-music venue by night. Situated in downtown San Jose, Good Karma started doing live shows sporadically after they opened in 2006, but for the past year, they've been doing them on a consistent basis on Thursday nights. They've quickly become an important part of the local music scene in San Jose.
"The shows are intimate and are supported by a lot of the key players of the indie scene," says Leslie Hampton, local promoter and owner/operator of Side With Us Records.
For fans of local bands, there are a lot of recognizable faces that play Good Karma regularly. But they don't just play their normal set, usually breaking out the acoustic for a solo performance. A partial list of such artists includes Even Jewett (Worker Bee/Family Room), Takashi Makino (Ugly Winner), Erin Czech (Contrail), Alex "Millhows" Villanueva (Dirty Pillows), Ben Henderson (Good Hustle), not to mention various members of The Careless Hearts, Oddly Even and the Mumlers.
To celebrate five years of being in business, Good Karma is throwing an all-covers show, which will actually be the third one they've had. There is no official lineup, so there will be lots of familiar faces taking turns playing songs at one point or another.
"Cover nights are always memorable. There's nothing like seeing friends and family dig down deep and cover something heartfelt or obscure: Big Star, Echo & the Bunnymen, Neil Young, Misfits, traditional Irish folk tunes. It never ceases to inspire," says Ryan Summers, owner of Good Karma.
Initially, the all-cover nights were inspired by an all-Everly Brothers set Dr. Nurse played one show at Good Karma. Jeff Brummett, who is a member of Dr. Nurse (and also helps Summers book shows at Good Karma) decided to throw the first official all-covers show a few months later.
According to Brummett, there have been countless memorable moments during the two previous cover nights, like when Erin Czech did an allGuided by Voices set, when Evan Jewett played Simon & Garfunkel's "Old Friends" or when Takashi Makino performed Daniel Johnston songs.
But his favorite moment was a little more peculiar. "It was around Christmas time, so JF Holmes from Plantain decided to perform a Winter Solstice song. I didn't even know those existed! He brought lyric sheets for everyone and it turned into this pretty hilarious epic singalong," says Brummett.
Good Karma
Thursday, July 28
8pm; free.