Music & Clubs
Big in Japan
San Jose's Insolence have been superstars in Japan for a decade; now they hope a local benefit can help out their second home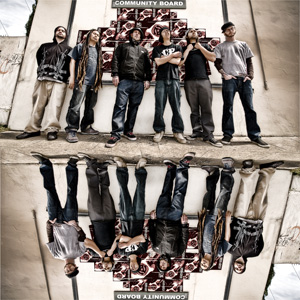 IN 2001, Insolence was on top of the world. After coming up in the South Bay scene in 1995 with a furious mix of hard rock and reggae, they'd been signed to Warner Bros.' Maverick label, the imprint co-founded by Madonna. It didn't seem like Maverick was just cashing in on the rap-rock craze, with which Insolence had been lumped; after all, the label was also home to Insolence's all-time heroes, the legendary D.C. Rasta punkers Bad Brains.
But things quickly went south. A rift in the band led to parting ways with its manager, as well as founding drummer Armando Cardenas. Then things soured with Maverick, and the label all but washed its hands of the band's major-label debut, Revolution. In a music-biz twist on the middle-finger salute, Maverick decided to basically dump the record in the Japanese market, refusing to promote it anywhere else.
At the time, the label's move was a devastating blow. Ten years later, however, frontman Mark Herman has a very different view.
"It ended up being the best thing that ever happened to us," says Herman.
That's because Insolence ended up being the kind of superstars in Japan that they probably couldn't ever have been in the United States. Revolution sold 80,000 copies there in its first seven weeks, and in their subsequent first show ever in the county they sold out a 4,500-seat arena. Every show on their Japanese tour, in fact, sold out, and they played to 30,000 people at one gig with Rancid and Stray Cats.
More than that, their Japanese fans have stuck with Insolence. The band tours there once a year, and Herman makes a second trip every year simply because he's fallen in love with the place. On their Japanese tour for the 2007 album Audio War, the band visited the Nagasaki Atomic Bomb museum, which inspired the collaboration "Beats Not Bombs" with Takuma of J-punk band 10-Feet, and clearly influenced last year's Project Konflict, their most political album.
"For us, everything comes back to Japan," says Herman. "Japan has kept our career alive. My best friends in the world live there."
'Panic Set In'
So it's not hard to imagine how Herman felt when he found out about the 9.0 magnitude quake that devastated Japan's coast on March 11, setting off tsunamis and a Chernobyl-like nuclear crisis. Insolence had just toured there five months before, on the heels of Project Konflict.
"I was at Johnny V's when I found out it happened. I started calling my friends and sending emails on my phone. I wasn't getting any responses," he remembers. "Then panic set in."
It took an entire week for Herman to make sure that all of his friends in Japan were safe. Quickly, he decided the only thing he could do was try to help out the people that had always been there for Insolence, with a benefit that will be held Friday at the Blank Club. The rest of the band agreed, signing up their other bands—Drunken Starfighter and Language Arts Crew, with a solo set from DJ Ichy the Killer, among others—to support Insolence at the show.
After the benefit comes the question of what's next for the band, in which Herman and Billy Rosenthal (a.k.a. Mecha) are the only original members remaining. Some fans considered Project Konflict one of the band's best albums yet, and indeed they did seem to find a sense of purpose that had been missing on previous releases (though hinted at on Audio War).
"This record was a two-year writing process from start to finish," says Herman of Project Konflict, with a measure of pride. More than that, though, there seems to be a sense of ownership in Insolence again, as though the ghosts of all the major-label chaos have finally been exorcised.
"The band grew from a little seed into something that became totally out of our control," he says. "We're more in control than we've ever been. It's all for one and one for all. It's not like, 'This is my band.'"
Whether Insolence will ever find bigger success again outside of Japan is another matter. Perhaps it's surprising that a band mixing metal, reggae and hardcore ever got its shot in the first place.
"We've always been told we would have been way more successful if we'd just 'picked a genre,'" says Herman. "We've had a thousand opportunities to compromise. We've all been too stupid and pigheaded to change."
His assessment of Insolence's wild ride is refreshingly straightforward: "I think we always had more heart than talent, and got really lucky."
Insolence
Friday, 9pm
$12 donation to Japanese Red Cross