Music & Clubs
Ghoul, Uninterrupted
Even solo, Kepi Ghoulie of the Groovie Ghoulies is still a rock & roll monster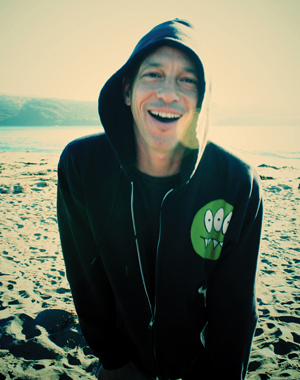 THE GROOVIE GHOULIES had a run of more than 15 years as one of NorCal's most beloved pop-punk bands, but when they broke up in 2007, lead singer Kepi Ghoulie didn't take even a single day off before embarking on his prolific solo career.
"A friend of mine calls me a rock & roll shark, 'cause I never stop moving. If I want this life, I have to stay busy," says Ghoulie. "I don't get time off, but I don't need time off."
Five years after the Groovie Ghoulies broke up, Ghoulie has so far released four solo albums, a bunch of singles and splits, and several songs for compilations. And he's just getting started.
"It's the best job in the world. Every year I go, 'Can I do this another year?' And I get a couple tour offers and say, 'Why not?' I guess when the shows run out, I'll think about getting a day job," Ghoulie says.
In 2008, Ghoulie released his first two full-length solo records on the same day. Hanging Out is a rock & roll album, while American Gothic is an acoustic Americana record. And it was no accident that he worked on both at the same time—he knew his first solo endeavors would define his post-Ghoulies career, and he didn't want to get boxed in. "If I do it at the same time, then what am I? I'm not married to an image. I'm not a rock & roller or a singer/songwriter. I'm free," Ghoulie says.
The next year, he played more than 175 shows, his most ever. Part of the reason he gigs so much now is that he's willing to play in a variety of setups. Some shows he does alone with just an acoustic guitar; others are with a backup band, sometimes electric, sometimes not. He's ready for whatever situation the show requires. (His show on Saturday at Homestead Lanes will be electric, with a band.)
Just recently, in early June, he was offered one show in Norway at a music festival. They flew him out and told him they'd set him up with musicians there to be his backup band. Ghoulie agreed but brought his acoustic guitar just in case. "I'm always ready. I can play solo, but I like playing with a band, too," Ghoulie says.
And though he built his fan base during the '90s punk-rock explosion, sharing a home with Green Day when they were both on Lookout Records, his fans now are used to his stylistic change-ups. "At this point, I don't think I have a punk rock following I need to worry about. They trust me to entertain them. I'm really into the freedom to be creative," Ghoulie says.
Another outlet for his creativity is the Daniel Johnston-influenced artwork he sells at shows. Anyone that has ever loved the Groovie Ghoulies album covers can now buy an original of their own.
"If you can sell three pieces of art at a show, that's one hundred bucks that you would not have made otherwise, which is a lot for a punk show," Ghoulie says.
His art, like his Groovie Ghoulies songs, is mostly centered around monsters. Even though they were basically a Ramones-inspired punk band, they always sounded fresh because Ghoulie always tried to be original. He started out writing songs about monsters because everyone else wrote about girls. When he got tired of writing about bigfoot and vampires late in the Ghoulies' career, he wasn't afraid to move on to other topics.
Nothing, however, was as great a departure from his previous work as his solo album American Gothic. It won't be the last time Ghoulie takes a sharp left turn, though. He's currently working on several new albums, one of them being electronic.
"We [the Groovie Ghoulies] didn't do anything that hadn't been done before. We just revved it up and put some love in it. I feel more like an artist now than ever before," Ghoulie says. "My priority is to make art, even if it's not profound."
KEPI GHOULIE
Saturday, 8pm; $8
Homestead Lanes, Cupertino