Music & Clubs
Lemuria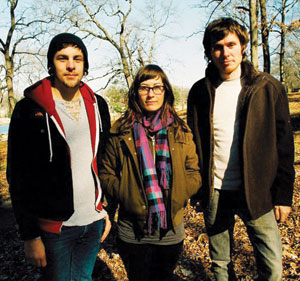 LEMURIA HAVE NEVER BEEN the kind of punk band to churn out a bunch of records. In eight years, they've released a total of two full-lengths. There have been some singles and splits here and there, but for the most part, they spend time carefully crafting their recordings, even if what they're doing isn't reinventing the wheel. Their first record is a whopping 28 minutes of short, three-chord, ultra-catchy pop-punk songs. They've mastered the pop-punk formula well, but what's most impressive is how deep—and yet simple—their lyrics are.
On the surface, lead vocalists Sheena Ozella and Alex Kerns have a sort of childlike energy, like a boy and girl playing in the playground; you know, before puberty sets in and complicates the whole thing. That's how it sounds anyway—cute but without trying to sound cute. Yet their lyrics express something darker and more complicated. ("You use your lipstick as an excuse to not kiss me" or "I'm miserable with you/I'm more miserable without you/a state's length away from you.")
Some of their strongest songs, though, were a handful Kerns wrote about his father passing away. ("I found the pack of cigarettes that you were always quitting/you always leave a mess purging your pockets in the laundry/all your clothes were donated because none of them fit me/my legs are too long.") The upbeat, innocent tone of the music is not ironic. Despite the sadness and pain in the lyrics, the songs aren't meant to be sad, but just to express it. There is an underlying optimism to the music, or at the very least there floats within the songs the idea that life doesn't have to be painful all the time. I'd like to think that's why they named their debut album Get Better.