Music & Clubs
Croon This
The Pimpsticks bring rock energy and musical chops to the classic American songbook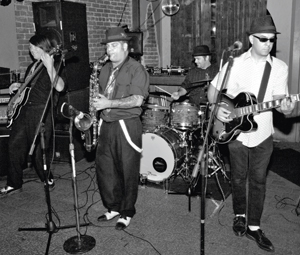 THERE IS no shortage of stories about Frank Sinatra's singular brand of badassedness, but here's the most recent one: last year, The New York Times reported that a new subspecies of crime has emerged in the Philippines centered entirely around Ol' Blue Eyes' version of "My Way."
After a long string of fatal fights and other violent outbreaks collectively dubbed the "My Way Killings," Filipino karaoke bars are reportedly banning the song, with some blaming Sinatra-induced paranormal activity.
To put it another way: Even from beyond the grave, the guy's a punk.
Dave Baisa knows this. But as a teenager, the San Jose music-scene veteran—later to be famous as the leader of the Odd Numbers—wanted nothing but a steady diet of punk rock, believing like so many others at that age that the music of past generations was pointless.
"My dad was a hard-core jazz guy," says Baisa. "He'd say, 'You're going to love this someday,' and I'd be like, 'No way. I'm rock & roll, man!' But it finally kicked in. It's what you're brought up on; it's second nature."
It finally did kick in, thanks in large part to the time he spent hanging with sax player Mike Belardes. When the two started jamming on the classic American songbook, the effort really did put Baisa back in touch with the music he was brought up on—especially the Rat Pack punk.
"I guess I kind of always wanted to be a crooner," Baisa admits. "My mom brought me up on Sinatra; that was always being played at my house. The first concert I ever went to was Frank. I was probably 9. I was into all the songs then; I knew all the words. I remember him coming out with his bodyguards. It was awesome."
Goofing around with Belardes a decade ago psyched him up for an entirely different kind of musical challenge, one that led straight back to the music of the '40s, '50s and '60s.
"I had never really even thought about playing guitar like that," he says. "I was playing Odd Numbers punk stuff. Then I started thinking, 'Well, why can't I figure out this other stuff too?'"
Together with Belardes, Baisa formed the Pimpsticks, and did exactly that. Suddenly, when they weren't playing with their respective rock bands, the members of the group were jamming to Sinatra tunes like "Day in, Day Out" or Cole Porter's "Night and Day," as well as dozens of other jazz, swing and big-band selections.
Among the Pimpsticks' first members was local legend Joey Myers, who left his mark on the group by digging up interesting material. ("He's basically the swingingest dude in town," says Baisa. "He's got the biggest record collection.")
But as the Pimpsticks began to be more in demand, it became less of a hobby, though it has always been hard for them to co-ordinate dates since the four members collectively are past or present members of 20 other bands. (Bassist Greg Oropeza, for example, is best known as a member of iconic South Bay punk group Ribzy.)
When Myers had to drop out, he was replaced by Eric Powers, drummer for local roots-rock favorites the Careless Hearts. "He's got super rad chops. He played in jazz bands in high school," says Baisa. "He jumped in at one practice, and we were going."
Residencies are still relatively rare among rock bands, but they're standard operating procedure in the jazz world, and it was a long stand at one of the South Bay's most venerable jazz clubs that solidified the Pimpsticks as a group.
"The thing that made it serious for all of us was when we did two times a month at the Hedley Club for five years," Baisa says. "That tightened us up and built up our chops. I felt like a way more accomplished musician."
Despite the indie-cool name, there's no irony in the Pimpsticks' sheer love of the music. However, that doesn't mean that they are conventional.
"The thing is, we're a garage-jazz band. We've been called 'jazz punk,'" Baisa says. "We try to keep it semirough. When you play these kinds of songs, you can lose a crowd really easily if you don't grab 'em and shake 'em a little bit."
The Pimpsticks' upcoming live schedule, including a performance June 23 at Caravan Lounge in San Jose, can be found on their Facebook page and at www.myspace.com/thepimpsticks.