Music & Clubs
Get Down
San Jose pop-punkers the Pillowfights re-create the Ramones for cult screening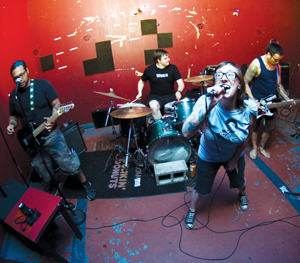 FOR ONE BAND of San Jose pop-punkers, the Pillowfights isn't just a name—it's a way of life. In fact, fans regularly bring pillows to their shows to hit each other with their best shots. The wildest show was one they played last year in, of all places, New Hampshire.
"Everyone there did a massive pillow fight while we were playing. During the last song, someone ripped open a feather pillow and feathers went everywhere. You couldn't see anything," says lead singer Danielle Bailey.
"It haunts my dreams to this day. In a good way."
This kind of craziness is a perfect fit for the kinds of venues the Pillowfights normally play: houses, arcades, bowling alleys, rented halls. Their music is straightforward, loud punk rock with heavy syncopated guitars and drum break downs, but always with ultra-catchy, pop-bubblegum lead vocals.
While the audience happily contributes a lot of goofy energy, the Pillowfights have plenty of weird ideas up their sleeves, too. At their first proper show in 2007, they began their set with a rap song, much to the surprise of all their friends.
"Everyone that knew me expected this sugary-sweet pop-punk song," Bailey says.
But the sound they've developed since then made them the obvious choice when Camera 3 in San Jose decided to have a band pose as the Ramones before the midnight movie showings of Rock 'n' Roll High School on July 14 and 16.
"It took half of a second to realize that the Pillowfights playing the Ramones would be a ton of fun," said Byron Yue, who organizes the monthly cult movie series at Camera 3.
The Pillowfights will play 15-20 minutes of Ramones songs before the movie begins, giving audiences both a movie and a show, and plan to look as close as possible to the real thing.
When Yue chose the Pillowfights, it wasn't because they have a long history of covering Ramones songs, In fact, up to now, they've only played one cover song, a Kelly Clarkston song. Yue chose the Pillowfights because they are a solid and fun band. Plus, they are one of the only active pop-punk bands in San Jose.
Though she started the band only four years ago, Bailey's relationship with a Ramones-influenced sound goes back much further. "Pop-punk was my go-to music since high school. Sometimes I go away from it, but I always come back," she says.
Before becoming aware of underground bands like the Queers, the Groovie Ghoulies, Lemuria and the Ergs, Bailey was into more mainstream pop-punk bands such as Taking Back Sunday. She had so many Taking Back Sunday T-shirts, she made a quilt out of them one day. She even entered an online contest to determine who was the biggest Taking Back Sunday fan—and won.
In 2007, she approached bass player Mark Guerrero about starting a pop-punk band, and he signed up, even though he was mostly into heavier, darker music. He encouraged Bailey not just to sing but also to learn how to write a song, so he left her alone one day while he went out to purchase a Scantron for an upcoming test. He told her to write a song while he was gone.
"I had to write a song all by myself and I did it. I've never done that before," says Bailey.
They enlisted Bailey's friend and fellow pop-punk enthusiast Leo Henderson to play guitar. Lastly, they got drummer Trevor Lindow, even though his musical tastes were totally different, to say the least.
"I was only into hardcore and grind. I absolutely hated pop-punk. The thought of it just disgusted me. But I wanted to play drums," Lindow says.
Lindow's pop-punk aversion quickly melted after Bailey assaulted him with lots of great bands. "She made me a whole set of CDs to listen to. She just fed me pop-punk," Lindow says.
Thanks to Guerrero and Lindow's hardcore background, the Pillowfights have created a more complex, hard-edged sound than many of the bands that inspired Bailey and Henderson in the first place. Because their music is harder, people mistakenly booked them on a lot of hardcore shows, but they never did as well with those crowds. Lindow describes those people as "tons of hipster dudes with lip piercings, looking pissed." They did better when they started playing to pop-punk crowds, people more willing to be goofy and have fun, say start a spontaneous pillow-fight.
"We're called the Pillowfights," says Henderson. "How hardcore can we be?"
The Pillowfights
Thursday, before the 9:15pm screening of 'Rock 'n' Roll High School'; $7.50.
Camera 3, San Jose