Music & Clubs
Thinking Outside the Box
No sponsorship? No money? DIY Think and Die Thinking Festival is here to prove it doesn't matter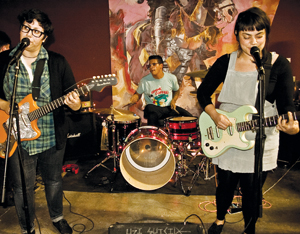 LEFT COAST LIVE. SubZero. San Jose Jazz Festival. Mexican Heritage and Mariachi Festival. San Jose has its fair share of music and art festivals, representing a wide variety of musical styles, cultures and subcultures. One thing they've all had in common is sponsorship and money.
That is, until now. Starting Aug. 5, for three days, the first annual Think and Die Thinking Festival brings a whole new kind of music festival to San Jose.
"We're doing it alone, with no money. We're not promoters or anything," says Rich Gutierrez, one of the festival's organizers.
Think and Die Thinking is a DIY effort in the truest sense of the word. "We want to show people that this is completely possible—like, with negative funds. Zero sponsorship. No promotion. We're just telling our friends who are telling their friends," says Christine Tupou, another of the festival's organizers.
The three-day festival will be held at the Billy DeFrank Center and Streetlight Records, featuring both local and national indie-punk bands. The festival also seeks to support queer identity, women and people of color in music, so all the bands have at least one member from one of those groups.
"It feels more tangible when you can look at a band and see that they're not all men," says Tupou. "Even though it shouldn't matter, but it does. We still have a long way to go before we can be like 'You and I are equals now.' I think even in progressive scenes, punk scenes, we kind of forget that."
Tupou remembers when she was in high school and was first discovering the underground feminist punk movement of the Riot Grrrl movement, she asked a teacher whom she respected what he thought of it. He told her they were just a bunch of whiny girls in the '90s, and women didn't have the right voices to be in rock or punk.
"I guess it took someone saying it out loud to hear how ridiculous it is," Tupou says.
However, that isn't to say that this festival is exclusively for people from these groups. It's not. Everyone is encouraged to be a part of it.
"We don't want people to feel outed. We're just showcasing a community that we feel isn't prevalent in San Jose. It's for everyone," says Gutierrez.
The organizers of the festival, who besides Gutierrez and Tupou also include Mander Farrell and Nicole Munoz, are also members of the '90s-loving, indie-pop band Sourpatch.
Through the course of touring, Sourpatch have gained inspiration by finding cities elsewhere that have thriving queer-punk and women-centric music scenes.
The idea to create a totally DIY, sponsor-free festival came from seeing examples of it in other places. For instance, there is the Not Enough festival in Portland, Ore. The festival not only showcased gay, lesbian and transgender bands, but they also set up a rule that only brand-new bands could play (meaning bands that were formed specifically for the festival). There is also C.L.I.T.Fest, a woman-oriented DIY fest that moves around state to state each year. This year it was held in Washington, D.C.
Anyone familiar with Sourpatch should not be surprised that they would take on such an ambitious project. Gutierrez has been actively booking shows in the South Bay since he was a kid—in halls, houses, muffler shops, theaters, thrift stores and anywhere else he could.
"I feel like the last 10 years, the only all-ages venues that are available have promoters booking them. People feel like they have to go through a promoter, which is kind of a bummer. I just think it's important for people to know that they can do it themselves," Guitierrez says.
What also makes this festival different is that the organizers won't be keeping any of the profits. Half of the money earned will go to out of town bands, and the other half will be donated to the Billy DeFrank Center, an LGBT community center. Just recently Gutierrez and Tupou learned that Sleater-Kinney, an all-female punk band they love, played the Billy DeFrank Center back in the late '90s as part of a benefit to keep the center open. For them, it was a happy bit of synchronicity. But activism isn't the only reason they put together Think and Die Thinking.
"The No. 1 reason for starting the fest is cause it was fun," says Tupou.
Think and Die Thinking Festival
Aug. 5-6, 3pm-midnight: Billy DeFrank Center; $7-$10 per day)
Aug. 7, 2-7pm, Streetlight Records, San Jose; free