Music & Clubs
Soul Searching
San Jose rapper Vida Killz breaks new ground with her EP project and a series of edgy collaborations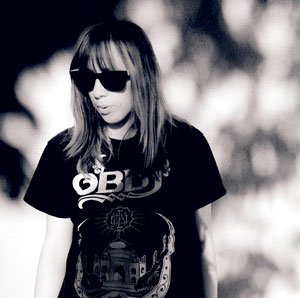 IN A HIP-HOP culture that sometimes can't seem to decide which it hates more, gays or women, could anybody blame a lesbian emcee for keeping her private life on the down low? Or, conversely, coming not-so-straight outta her hometown with a chip on her shoulder that allows her entire career to be defined by her preference for girls?
But San Jose's Vida Killz has done neither. She's best known for delivering intense raps over beds of dark and atmospheric beats and has managed to be totally open about her sexuality without being defined by it. When she writes a bruising relationship song, it's not the pronouns that stick out—there's so much more to think about that a lot of listeners don't even notice them the first time through.
"One time this guy walked up to me after I performed, and he was like, 'Are you gay? Was that song about a girl?' I was like, 'Yes, sir, it was very much was, and yes, I very much am gay. He was like 'O ... k," says Killz. "The majority of the time people really don't say much. I think it has to do with how I carry myself. It's a presence, it's there, it's known, so people are just like ,'OK, well, duh.'"
But there are still times when she has to roll her eyes. "A lot of the hip-hop dudes are like 'I'm gonna convert you.' I'm like c'mon, really?" she says, breaking into a laugh. "You're stupid. It's not even like that! That's dumb."
The 22-year-old San Jose native, who came out to her family and friends in high school, admits there was a time when she felt like an outsider in the hip-hop scene. But she made a conscious decision to work with different people, and now her work is hugely influenced by an ongoing series of collaborations.
She's part of three collectives: the South Bay's prestigious Isolated Wax crew put together by local underground icon Dave Dub, the Organized Threat collective in L.A. led by Chad Marshall (a.k.a. Poetic Death) and New Jersey's umbrella collective Slang Corp, founded by Ian Morrison. The latter is almost like a guerrilla network, so it's hard to tell who's connected to it at any given time, but in the other two, Killz is the sole female emcee.
"I definitely thrive on connections with people, and a huge aspect of my connecting with people is creating music with them," she says. "I don't want to sound cliched, but that's all I've really known as far as connecting. I had my poetry back in the day, and the band I was in, and those were my friends. Anybody I do music with inevitably becomes my friend."
Her impressive Internet presence has led to many of these connections—she found Organized Threat thanks to a Google Alert about one of her videos that had been posted by a guy who turned her on to them in a subsequent Facebook exchange. New York producer JG stumbled across her on the Internet, and sent her beats, going on to produce her song "Obey." Other beats she gets from members of her collectives or other producers who like her work.
"Most people just know my sound I guess, and they'll shoot me beats. Some people like to send me whatever and see if I can work on it," she says. This has been a landmark year for Killz, who started off writing poetry in high school, and discovered a talent for rapping almost by accident when she put one of her poems to a Ludacris beat one day. Her style has matured since then, but there's a certain off-kilter quality to her raps that remains.
"Now I go with the rhythms of it. Back then, they were really kind of spaced out," she says. "They weren't with the beat properly, they were just kind of weird. But I like that. Even now, I don't like hitting every beat."
She began performing in 2007 with She's a Robot, before going solo. This year, she pledged to put out an EP per month, on which she's worked with various collaborators. The October EP, on which she worked closely with Chad Marshall, drops on Halloween.
It's easy to hear her growth as a rapper over the course of the EPs she's released—on one of the new tracks, "Chapter One," she even shows off some singing chops against a strong beat and a piano melody. But for Killz, there's been a more personal growth, too. Two of the most powerful songs she's released, March's "No H8" and May's "Oro Corazon," forced her to dig deep into past pains and emotions. "I performed them at a very intimate gathering a couple months back, and I started crying when I was performing. It was completely a capella, and it was maybe 12 people in the room," she says. "As I've embarked on this project, I've really begun to peel my layers."
"Oro Corazon" is about her brother, and "No H8" is an angry rant against homophobia—the video starts with the story of an eighth-grader murdered for being gay. She's been surprised at the response she's gotten to the latter. People have left comments on the video thanking her, and one girl even messaged her to say the song helped her deal with realizing she's gay while in a relationship with a guy.
"This younger girl sent me a twitter with the video attached, and said, 'Thank you for your truth,'" recalls Killz. "I was like, 'Wow.' They're just these very moving moments."
Vida Killz
Saturday, Nov. 5; 6pm
Hi-Jinx House, 137 Sunol St., San Jose