Music & Clubs
Wallpaper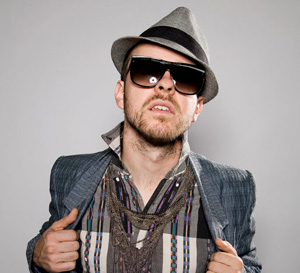 Early on in their career, Wallpaper got a lot of attention for spoofing some of hip hop's most ridiculous clichés. Frontman Eric Frederic made his alter ego Ricky Reed the ultimate wigger, a pimp-steppin' fool who thinks he's pretty fly for a white guy. Meanwhile, the other half of the group, Arjun Singh, clowned along in the videos for "Gettin' Drip" and "I Got Soul, I'm So Wasted."
"When we started, you could call it bordering on funny," says Frederic.
But the best thing about Wallpaper has always been the opt-out on the shtick—first and foremost, it's stylish, hooky party music. It never really mattered who got the joke, because the auto-tuned grooves stood up on their own.
That's even more true on the group's new single "Stupidfacedd" (pronounced "stupidfaceded"), which adds a hard edge to their sound and buries any obvious chuckles in a thick layer of bangin' beats.
Ricky Reed, it turns out, has a dark side.
"I think now the humor is swapping out for cold-blooded satire. That's more where it's headed," says Frederic. "When I was making the beat for 'Stupidfacedd," I was really frustrated. I was in a really negative place. It's not like the lyrics in that song relate to my life at all, but there are things that came out in the production. That's why the beat is so aggressive."
Next month, the duo drops their first mixtape, It's Got My Name on It, which includes the single and mines the same vibe throughout. Wallpaper had previously done what they called a "misc" tape, full of remixes, but It's Got My Name on It is a different beast entirely.
"It's a thinly veiled disguise for an album," says Frederic. "We're bringing all the guns out on this."
WALPAPER perform Thursday, Jan. 27 at VooDoo Lounge in San Jose, 9pm; $12/$15.