Music & Clubs
Spin Cycle
Fahrenheit's Wheels of Steel is a whole new breed of DJ battle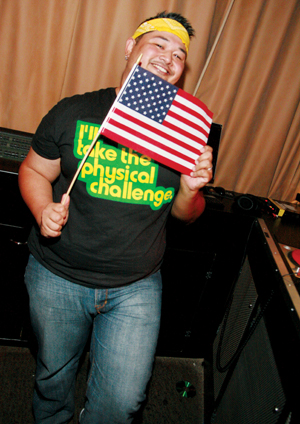 ONE OF THE funniest YouTube clips of the last couple years was the two-minute viral hit called "The First DJ Battle in the World." Superimposing songs by Eazy-E, 2 Unlimited and Captain Jack over a scene from the obscure 1952 film In The Ukrainian Steppe, it had Russian villagers going turntable to turntable—or rather, phonograph to phonograph.
Though it was meant as just a clever little cultural remix—and was off by three decades or so—the bit actually made a good point: DJ battling is as old as the steppes. The popularity of actual DJ contests may have peaked in the late '90s and early 2000s, but they seem to be making a comeback of late.
In the Bay Area, San Jose DJs have made a good showing in the latest crop of battles, with the Bangerz's Goldenchyld winning the recent Thre3style showdown in San Francisco, and another San Jose DJ, Spinmaster J, taking first place in last year's Beezo battle held up there as well.
Spinmaster J, a.k.a. Jerry Huizar, was happy to hear about a battle closer to home when word started getting around about Fahrenheit's 12-week Wheels of Steel battle on Wednesdays. The semifinals wrap up tonight, with the finals set for next Wednesday, June 15, at the club.
"I didn't know if I'd join, because the battle was running through finals," says Huizar. "My buddy was like 'what could it hurt?' and I was like 'my grades, maybe?'"
Little did Huizar know what he was in for. Wheels of Steel, organized by Fahrenheit's Steven Renteria, is, in some ways, a whole new breed of DJ competition, and with its multi-week format and 20-minute sets, it's pushed the skills and endurance of its top entrants to the limit.
"It's the most grueling battle I've been in," says Huizar, who has come up with sets for an opening round, quarterfinals, and semifinals, and will spin again at tonight's round.
"The battles I'm used to are 5-minute sets, 7-minute sets. Definitely less than 10 minutes. For the [Wheels of Steel] semifinals, I played 34 tracks within 20 minutes. But it's a good test for DJs. It weeds out the beginner DJs, and the wannabe DJs."
"It's taken its toll," agrees fellow semifinalist Ben Custodia, who spins as DJ Benofficial, about the intensive format and long sets. "But it's all elements of DJ style, not just technical stuff. That was one of the main attractions to it for me."
For Huizar, whose Beezo win was judged heavily on technical aspects like cutting, juggling and wordplay, this is a whole different challenge.
"It's more than just scratching," he says.
Battle organizer Renteria saw the Beezo competition, too, but wanted to do something different at Fahrenheit.
"[Beezo] was more of a technical battle, as far as turntablism," he says. "There was a good number of DJs who entered, but I saw a lot of DJs who were discouraged. They didn't want to enter that kind of a battle. So we decided to put on something that would showcase their club skills, something they would use in the club every day. It's more of a whole package."
Renteria's been impressed by young guns like Huizar, who've come in and shown they have the versatility and presence to be judged not only on technical mixing ability, but on their quality of music, originality and even physical performance.
"The dude just turned 21," he says of Huizar. "There were a couple veterans [he was up against], and he came in and took the whole thing that week. He played a little bit of everything. It was a really good musical journey. He played some Top 40, some old school hip-hop, some electro, some R&B, he even tossed some dubstep in there. It was an array of everything. People were asking me, 'Who is this kid?'"
Huizar has never repeated a set in the competition, and has taken inspiration from other DJs like DJ Melvis who he felt gave their all. Rather than focusing on the flashy tricks that often win over battle judges, this competition has made him look at what he plays in a bigger context.
"The way I see it, it's like 'here's your 20 minutes to either tell us a story, or take us through a crazy club scene,'" he says.
The WHEELS OF STEEL DJ BATTLE
Wednesday, June 8
Fahrenheit Restaurant and Lounge in San Jose at 9pm.
The finals are Wednesday, June 15, at 9pm at Fahrenheit.