Music & Clubs
YDMC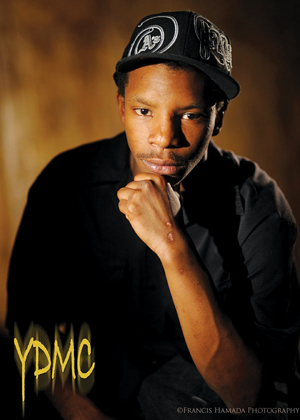 YDMC knew trying to make a career out of music might be a little difficult.
"I've freaked out, thrown computers and yelled, 'Screw this, I'm never doing music again. Never. Throw away everything and burn the fliers. This is B.S. I'm going to get a real job,'" he says.
For San Jose rapper David Manson, aka YDMC (Young DM; the "C" stands for "Craziness"), the journey so far has been daunting, but rewarding. Growing up an Army brat whose father eventually got stationed at Fort Ord, he grew up hanging with the skaters and punks, but also playing trumpet in funk and jazz bands, and writing poetry. He never thought about putting his words to a beat until he met some people from San Jose chapter of Hip Hop Congress.
"It's an international organization that uses hip-hop as a social vehicle for causes like health care, education and community service," he says. A lot of mainstream and underground artists are part of it. I've met a lot of cats through that program and they've basically become my family. DLabrie and Shamako Noble are highly involved in it."
Through the Hip Hop Congress he released two tracks on a mixtape called Expressions For Relief. The proceeds were donated to the Red Cross. Things were starting to take off for him, but he still needed a source of steady income, becoming a youth leader for the Bay Area After School All-Stars.
In 2009, he released the Out the Trunk project, after working with producer/engineer Enormus Tha Ox. He took the album from Seattle to San Diego, going to Hip Hop Congress conventions and shows, handing it out and selling it. His latest is this year's Under the Radar, which came out on RonDavoux Records.
"Now people have a real idea of what my music is. It's pure expression. I think people are going to like it because it has a lot of good Bay Area artists on it, like DLabrie, The Jacka, Goldie Gold from The Federation, Messy Marv and Traxamillion," he says.
YDMC is now playing bigger shows and opening up for bigger artists. Despite the rising success, he always manages to stay grounded with a level head.
"You have to remain positive and friendly. So many people think they're entitled to things and they're already something, in their head, and people are supposed to respect them, but that's not the case. You're nobody until you're nobody. You're nobody until you're the best you can be, then you're nobody again," he says.—
The Grange in Morgan Hill
Friday, July 1 at 7pm