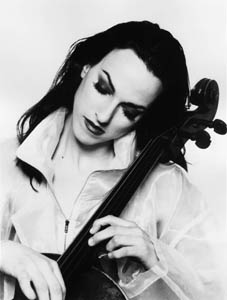 She's Got a Fuzzbox, and She's Going to Use It: Cellist Maya Beiser plays on the cutting edge of musical technology.

Software Touch

Avant-garde cellist Maya Beiser finds the soul in the musical machinery

By Mike Connor

As boring and didactic as purist art types are when they get paranoid about technology, they often have a point. Sometimes, the result of such advances really is an abomination (see the second and third installments of The Matrix and 99 percent of techno music for examples). But technology is just a tool, and in the right hands it can be wielded gracefully, with humanity and emotion. Like, at this very moment I'm just pressing buttons on a keyboard. But as you read this, does it not seem as if I'm waltzing you around the grand ballroom of your imagination, preparing you at last for the Segue Shuffle?

Yes, my dearest, it's just you and me dancing and romancing the night away. But look! There in the corner, alone with the cello and multitrack machine. It is Maya Beiser, hard at work pouring her soul into the prerecordings that will later accompany her one-woman performance, World to Come, at the UCSC Recital Hall on Jan. 11.

Incorporating multimedia visuals by the award-winning video designer Irit Batsry, poetry from Cesare Pavese and original works from five contemporary composers (David Lang, Steve Reich, Osvaldo Golijov, Arvo Pärt and Louis Andriessen), Beiser explores themes of death, destruction and the Jewish mystical conception of the afterlife ... all by herself.

Why multitrack? Perhaps because too many cooks in the kitchen can mess up a meal. With multitracking, Beiser never butts heads with the other players, by virtue of the fact that they don't exist. Sure, she loses out on the magical possibilities of an ensemble coming together as one coherent whole, but she also ensures a purely singular vision of what a piece of music should sound like, right down to the faintest murmur of her instrument. Call it micromanagement if you want, but just don't try to peg Beiser in a genre. Going straight for said sore spot, I question the oxymoronic title, "contemporary classical," with which she's been stamped in the press.

"I so much hate those labels," Besier says passionately, yet cordially, from her home in New York. "They just don't mean anything to me. I think I'm a part of a bigger movement of players who are classically trained--but of course there are so many different kinds of classical music. The thing about the music I do now is that everything I play is written by a living composer, and almost all the music I do is written for me. I'm interested in so many different kinds of music, and for me it's all very intuitive; I relate to music on that level, where I think that what makes sense and sounds right to me would sound right to the people who come to hear my music."

It's not that she's against Western classical music conventions--Beiser warms up with Bach each and every day, a ritual she likens to a religious experience. But she's convinced that as genres continue to cross-pollinate, labels become increasingly irrelevant.

"I always like to think of Laurie Anderson, people who crashed all those kind of boundaries," says Beiser, who also happens to employ Anderson's sound engineer at her performances. "For me, technology is a tool to expand the sound and possibilities of the cello, anywhere from trying to sound like Jimi Hendrix to using a fuzzbox, which is really cool. I love the idea of having the technology very transparent, but I can still do all these things that were just unimaginable 10 years ago."

Cellist Division

Not quite so controversial as the "Topless Cellist" Charlotte Moorman, Beiser is nevertheless considered a passionate virtuoso and iconoclastic player by all manner of critics and composers, many of whom write pieces specifically for her. Heavy-hitters like John Zorn, Merideth Monk, Brian Eno and Trent Reznor have all written pieces for Beiser, but it was with a group of fellow Yale graduates that she first gained acclaim as a part of the Bang on a Can All-Stars in the late '80s. In '92, six players, Beiser among them, and three composers went on tour as the All-Stars, spreading their brand of crazy music around the world for 10 years, after which Beiser left the group to pursue a solo career.

On her acclaimed solo album Kinship, Beiser coaxes from her cello the Arabic, Celtic and Latin melodies she studied at Yale, even brutalizing her instrument with a mallet and detuning the strings on the fly to get the sounds and feelings she wants. Her performances are notoriously animated, inspiring spirited stories of platform shoes, tie-dyed outfits and hair getting caught in the tuning pegs from excessive head-thrashing.

"I really believe in the energy that happens onstage," says Beiser, "and there's something about a solo artist that's very vulnerable, very pure when you're just by yourself onstage."
---
Maya Beiser performs at the UCSC Music Center Recital Hall on Jan. 11 at 7pm. Tickets are $40 Gold Circle, $25 adult, $20 students and seniors with ID, $12 UCSC students with ID; available at the UCSC Ticket Office; 831.459.2159.
---
[ Santa Cruz | Metroactive Central | Archives ]