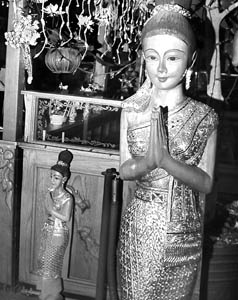 Photograph by Stephen Laufer

Currying Favor: There's a reason Thai House is a perrennial Santa Cruz hot spot.

Thai Me Up

Providing palate pyrotechnics at its prime corner of Soquel and Ocean, Thai House keeps on spicing it up

By Christina Waters

Packed to its lofty wooden rafters with sparkling lights, golden statues, carved woodwork, fish tanks, giant fig trees and gorgeous textiles from an ancient culture, Thai House Restaurant bombarded us with eye candy even before we sampled a single bite of its justifiably popular cuisine. A winning formula of reliability, great prices and delicious food keeps this place full of spice seekers all year round.

Oh, and the location at the corner of Ocean and Soquel doesn't hurt either. A life-size carved statue of a beautiful temple dancer stands watch over the large main dining room, which mysteriously always manages to feel calm and intimate even though ethnic artifacts cover every square inch.

Di and I grabbed a window booth large enough to accommodate a small village, decided to bypass the venerable Singha beer in favor of wine--mine a Sebastiani Merlot ($4.50), hers a Clos du Bois Sauvignon Blanc ($3.50)--and scanned the mouthwatering Thai House menu.

From the daily specials menu, I spotted something involving those transparent "silver" noodles I love so much ($10.95), while Di cruised the curries and came up with a creation of green chiles, basil and prawns ($6.95). Who could possibly resist an entree of roasted duck and black soy sauce with fresh spinach ($8.95)? Not us.

We began a terrific meal with two skewer specialties, a chicken satay with memorable gado gado sauce and another grilled calamari special with an incendiary dipping sauce long on serrano chiles (both $6.95). The whole dinner was a cascade of one bright, sensuous flavor after another. The skewered appetizers hit their mark, and were each ignited by piquant sauces, from a complex, noncliché peanut sauce to the breathtaking firepower of a chile-laced vinegar that accompanied the tender calamari.

Our table quickly bloomed with aromatic dishes. A silver tureen of fragrant rice appeared along with an oval platter of green curry thick with basil, kaffir lime and coconut milk. It had been done medium heat, so that we had to wipe our brows but could still taste the distinct flavors bathing fat prawns, green beans, cloud ear mushrooms and red peppers.

The silver noodles had been stir-fried reminiscent of pad thai--the transparent tangle of bean threads laced with slabs of chicken, prawns, tiny corn cobs, carrots, garlic, scallions, lemon grass and peanuts. A one-dish Thai festival, the silver noodle specialty is a true destination dish--and for those who want to check it out, it's called Pad Woon-Sen, No. 7 on the specials menu.

Our final dish, a sophisticated creation of sliced, roasted duck bathed in a dark soy reduction arranged on a bed of sautéed cabbage and spinach and everything absolutely heady with the thick scent of basil, was a knockout. Shamelessly rich and bold with the licoricey taste of basil, the duck was delicious with or without a drizzle of a jalapeño sauce which had also been provided. That sauce was great all by itself on the jasmine rice. Obviously the great thing about having three dishes to share is that your taste buds can graze at will, and when they're temporarily sated with green curry (as if!) they can check out the black soy sauce moistening those slices of duck. Then a few of the slippery silver noodles with a prawn, and then, well, you have the picture. At this point, many diners try to save room for something sweet involving sweet coconut rice and ripe mangoes. We tried. We failed. We were just too damn happy finishing up that last full-throated flavor of green curry heightening the last prawn to thai for. Thai House still knows how to romance your mouth without disrespecting your wallet. A good omen for a new year.
---
Thai House Restaurant
Address: 353 Soquel Avenue (at Ocean), Santa Cruz
Phone: 831.458.3546
Hours: 11am-9:30pm Mon-Thu, 12pm-9:30pm FriSun
Ambience: **1/2 Spacious booths and glittering décor
Service: **1/2 Swift and to the point
Cuisine: *** Expert variations on the spicecraft of Thailand's sensuous cookery
Overall: There's a reason why some restaurants succeed year after year--Thai House deserves its following.
---
[ Santa Cruz | Metroactive Central | Archives ]