[ MetroActive Central | Archives ]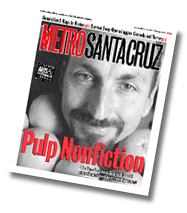 January 11-17, 1996
Cover

Creative Juices: How Santa Cruz-based Odwalla put a fresh twist on hippie cuisine and now squeezes a healthy living from colorful coolers full of juice, ginseng and 16,000 year old water.

News

Nuz: Hellish motel owner talks back; free parking goes bye-bye; pot protest; goin' green.

Arts & Entertainment

---

This page was designed and created by the Boulevards team.
Copyright &copy 1996 Metro Publishing and Virtual Valley, Inc.