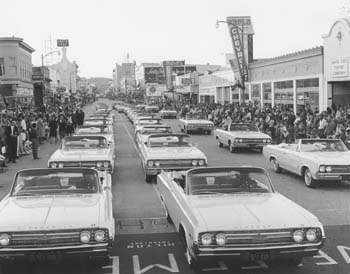 Miss California Pageant, 1964: There's probably a very good reason why there aren't any Miss California contestants riding in any of these Fords with these U.S Marines. The Marines are most likely just on their way to pick up those cuties. The bowling pin on the upper left is now the Catalyst and the cars are about at Maple and Pacific. Should we bring back the pageant? Don't you miss it?:-)

Bruce Bratton

THE DOWNTOWN PLAZA. Next Tuesday night (Jan. 18) is when the Downtown Plaza Committee is making our presentation to the city council. We strongly urge everyone who wants to see a plaza at the corner of Pacific and Church streets to be there. We have been every encouraged by some meetings with city officials that it may be possible to work together with the city and create this much-needed community space. For that reason, and with the 2,500 signatures to back our beliefs in community support, we have purposely not made contact with or asked the support of any groups or organizations for the plaza. There will be no mass demonstrations, no civic auditorium hearings, no parades, no UCSC student or SCAN involvement--or even any songs. We are hoping with this new millennium that there may be a better way to work this out. By just presenting our case, we hope the council and its staff will come to the same conclusions we did. We believe that any poll or survey will prove the majority of the city, the county and certainly our visitors share our views. We have hope that friendly negotiations with the owner are possible, and we have hope that working with the city we can achieve our goal. Be there on the 18th and see how this all works out. If you'd like to add anything, or get involved with the Downtown Plaza Committee, call 475.9172.

ELLEN PIRIE FOR SUPERVISOR. Ellen's running for the Second District seat on the Santa Cruz County Board of Supervisors. That's Walt Symonds' old job. Ellen is running against Christine McGuire, and we know what she stands for; she's also running against Sharon Gray, who campaigned heavily for secession of the Aptos schools; and then there's Doug Deitch. Ellen is the directing attorney for the Senior Citizens' Legal Services and has lived in La Selva Beach since 1984. Her campaign kickoff party is this Friday (Jan. 14) at the La Selva Beach Clubhouse, from 5:30 to 7pm. Call 728.5616 for more information.

DIDN'T WORK OUT. That project that Maynard Manson planned at Laurel and Chestnut streets by the railroad tracks (and had even received much help from the city to develop) didn't work out. He had figured on 96 housing units, with 15 of them affordable, and he included 9,000 square feet of retail store space. He was going to start building it in April, but not now--details to follow.

MOSTLY MIGHTY MOVIES. If you remember that Magnolia is a sort of Fellini meets Pulp Fiction movie, and that most critics are calling it a dramatic comedy, you'll love it--I did. The Cider House Rules is a saga about abortion, and it is touching, human and well done, no matter how you look at it. Liberty Heights is a mix of Woody Allen and Neil Simon. Like Snow Falling on Cedars, it's about prejudice. Snow Falling has some scenes about Manzanar--the Japanese-American "relocation center." Bicentennial Man is half good, which is probably the Isaac Asimov part. The rest is an embarrassment even to Hollywood. Reporters and lawyers who worked on the Hurricane Carter case are really upset about the Denzel Washington film version of the true story. Maybe if we see it only as a film and not as a true story, it may play better.

CLOSING SHOP. Tom Bihn is packing it in. Yes, he is closing Tom Bihn Backs on Locust Street next month and moving it to Port Angeles, Wash. Tom's doing so much business online, he sez, it doesn't matter where the shop is.

PESKY RUMORS. It's been impossible to track this rumor down for anything specific like location, size and who's doing it, but think about a Gottschalks in our downtown. While you're at it, think about a Tower Records downtown. In working on the Tower Records rumor, everyone agreed that it would be great to replace the Wherehouse operation, which has gone from bad to worse. But those same folks like Streetlight Records a lot and hope a Tower wouldn't kill them off.

A GREAT IDEA. Somehow we've got to make the Del Mar Theatre into a viable performing-arts center. I know the Cultural Council, or at least the Cultural Action Committee, has decided that a performing-arts center of that size isn't workable, but Santa Cruz Mayor Keith Sugar got a brilliant idea from somebody to make the Front Street side of the adjoining property into a hotel. The hotel would jointly use the theater for conferences when we aren't using it for performances. It's worth thinking about, don't you think? We can't just lose that theater. I haven't heard any more about Cabrilho's plan to tear down or convert its existing theater and build a new Visual and Performing Arts Complex over the existing parking lot on the lower campus next to Cabrilho College Drive, where the Farmer's Market is now. It's going to be called the VAPA complex, and I'm not making that up.

COFFEE WITH DeCINZO AND QUARNSTROM. I know I said they were the same people and that nobody had never seen them together and I still haven't seen them together, but I did have coffee with each of them separately and can tell you they are very different people. Lee Q. and I actually agreed that this very same Santa Cruz City Council now in office is the finest, most dedicated, sincerest, most devoted council in our memory, and that covers a lot of city councils. We also agreed that it is a shame that there is such a division between the three and the four, because working together with their shared principles and goals they could accomplish vast amounts of needed works. DeCinzo and I just talked about secret things that I promised not to reveal, and he's not like you think either.

WHAT ELSE IS NEWS? The Merk printed a story last month about a 14,000-square-foot house being planned just on this side of the Santa Cruz County line, and another 6,000-square-foot "Sea Ranch-style creation" in San Mateo County right next door. Both homes are being fought by Año Nuevo State Reserve officials, who say these monster homes are within sight of the coastal wildlife sanctuary. Not only is the impact on the sanctuary cause for alarm, but the rangers fear that these houses are more of the wave of the huge suburbanization of the coast line that is being divided up by developers. Did I just miss seeing any reporting of this North Coast issue in the Sentinel, or what?

THINGS TO ATTEND. The Monks of the Gaden Shartse Monastery are doing a performance of Tibetan Overtone Chanting at 7pm in the Merrill College dining hall at UCSC, on Tuesday (Jan. 18). Call 429.7144 about that. There's a concert titled "The Last Time I Saw Paris" Wednesday (Jan. 19) at 8pm at UCSC's Music Center Recital Hall, with works by Saint-Saëns, Ibert and Schuloff. Dr. Don Croll, research biologist at UCSC, is giving a free talk tonight (Jan. 12) at 7pm at the Moss Landing Chamber of Commerce Building, titled "Blue Whales and Krill in the Monterey Bay." Since blue whales are the largest organisms ever, we should get to know more about our nautical neighbors. For more info, call 831.633.MLML.
---
Bruce critiques films every other Thursday at 12:50pm on KUSP (88.9FM). Reach Bruce at [email protected] or at 457.9000 ext.400
---
[ Santa Cruz | MetroActive Central | Archives ]