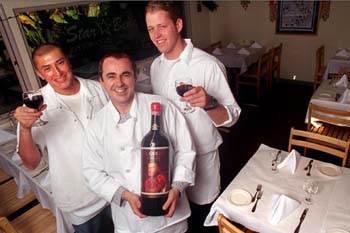 Photograph by George Sakkestad

Magnum Opus: Daniele Jimenes, Gianpiero Iuliano and Jeff Pattison drink to the health of Star Bene.

Star Quality

Star Bene sparkles with a cozy shimmer, bringing Mediterranean flavors to a bohemian beach community

By Christina Waters

FROM THE VOICES of the waiters you'd think we'd just entered the Amalfi coast. Filled with the sounds and flavors of Italy, Star Bene shines in the neighborhood of East Cliff Drive. Last week we were ready to devour the menu itself, and an evening special of osso bucco ($15), slow-cooked with lots of porcinis and white wine, snagged my taste buds, while the rigatoni al forno ($11.75) sounded good to my crazy-for-pasta companion. A 1996 Barbera d'Alba from G.D. Vajra ($36) eventually opened into a serviceable accompaniment to the meal. I remain convinced that California can make better moderately priced viniferous partners for Italian food--and this uncomplex barbera did little to change my mind. It was fine with long fingers of focaccia, dipped into pools of garlic and pepper-infused olive oils. I really wish Star Bene would invest in some larger goblets, to help encourage maximum flavor expansion.

Each dish arrived and disappeared at the hands of some young server for whom Italian was the first language. Lucky for us that Santa Cruz is experiencing another delicious wave of Italian imports, hitting our shores in the form of chefs, restaurateurs and their good friends in the food business.

An appetizer of paper-thin carpaccio and another of colorful caprese (both $7.50) arrived swiftly. After surrendering to a few turns of the pepper grinder, we inhaled the sweet fragrances of fresh basil, olive oil and newly shaved layers of Parmesan. Even though Jack knew better than to order a dish featuring tomatoes in the dead of winter, he was pleasantly surprised by how tasty and ripe the caprese pomodori were. I also found it quite good, especially slathered with olive oil, fresh basil and flecks of oregano. The paper-thin carpaccio made up in beauty what it lacked in flavor. A bit more lemon and some capers might have enhanced the notoriously shy flavor of raw beef.

Welcoming and home-cooked, the osso bucco generously filled out an ample dinner plate. The veal pot roast, literally falling off the bones and dotted with porcinis and carrots, offered earthy goodness. Al dente green beans and a few fat roasted red potatoes completed the classic trattoria dinner. No designer frills, just solid café cooking.

Every bit the equal to my veal in terms of Italian comfort cookery, Jack's platter of absolutely perfectly cooked rigatoni glistened in marinara and sensuous bits of eggplant. Tomatoey and friendly, this dish added to the super comfort food legend of this reliable community trattoria.

"I'm the dessert man," announced yet another staff charmer, offering a brief seduction of sweets. No problem to add just a scoop of stracciatella ice cream to the side of a fresh apple tart ($4.50)--"very thin, Italian-style." He also took our order for panna cotta ($4.50), that cool vanilla custard that I can never resist.

Armed with the bracing bite of espresso--a great way to end Italian dinners--we oohed and aahed our way through the memorable apple tart, filled with an eggy custard that reminded us of Como, and the gossamer panna cotta dusted with vanilla bean shavings. Desserts absolutely rule here. Italian pop diva Mina was belting out something about life and love as we finished up every trace of our tart and custard. The ice cream was heavenly too--another star bene.
---
Star Bene
Address: 2-1245 East Cliff Drive, Santa Cruz
Phone: 831.479.4307
Entrees: Inexpensive to moderate
Service: *** In its unhurried, correct and amiable approach, Star Bene service is everything Italian dining requires. The waiters are delightful.
Ambiance: ** 1/2 A tiny beach cottage radiates warmth and pleasant vibes.
Cuisine: *** Clear flavors, trained sensitivity and truly wonderful desserts.
Overall: Italy meets the California coastline at Star Bene, and the results deserve to carry on until the next millennium.
---
[ Santa Cruz | MetroActive Central | Archives ]