Ticket to Not Ride: The poster art for 'PureSweetHell,' the new film by Santa Cruz filmmakers Brian Vernor and Willie K. Bullion about cyclocross--which, as this image illustrates, is a gritty breed of biking in which you're as likely to carry your bike as ride it. The film will be shown at the Rio on Sunday, Jan. 16.

Hell Sweet Hell

Two Santa Cruz natives expose the muddy underside of biking competition in 'PureSweetHell,' which makes its NorCal debut at the Rio this week. It's being called 'Endless Summer meets Warren Miller, but everyone's on bicycles,' and it's about to out the subculture of cyclocross racers who've been quietly but sordidly thriving locally.

By Ella Lawrence

In Santa Cruz, cycling is everywhere you look. Commuters with pegged pants and panniers on their way to work. UCSC students lugging backpacks up the hill in a line that stretches from Mission Street all the way up Bay. Skinny spandex-clad racers whizzing by on weekend training rides. It's just that kind of place.

But in recent years--especially since that brash Texan keeps winning the biggest bike race in the world--bike racing has upped its profile all over. A much broader cross-section of the general public can suddenly tell you what a peloton is, or at least how clipless pedals are used.

In particular, mountain biking has gotten increasingly popular since the 1980s, appealing to the masses with its naturalistic appeal and the comfort of the bikes.

Fewer people are familiar with track racing--where riders on gearless, brakeless bikes zoom powerfully around a velodrome--and even fewer are aware of the redheaded stepchild of the bike racing world: cyclocross.

Without having witnessed this sport that resembles nothing so much as a muddy ballet, reasonable people might wonder why in the world folks would want to subject themselves to a heap of abject misery and anaerobic suffering, taking a perfectly good--and most likely highly expensive--custom bicycle and running around in the mud with it on their shoulders.

If you haven't witnessed it, however, you're not alone. But cyclocross is about to get a whole lot more attention, thanks to two Santa Cruz filmmakers, Brian Vernor and Willie K. Bullion, whose documentary PureSweetHell premieres at the Rio Theatre Sunday, Jan. 16.

In the film, which was filmed over a three-year span at cyclocross races across the country, viewers will get a chance to see how Santa Cruz has always been a cyclocross niche.

"There aren't many places in the U.S. that match our intensity and enthusiasm for cyclocross racing," says Vernor. "The community here is tightly bound together and evidence of that is the great quantity of races happening in a relatively small area."

It's true: the Bay Area, and especially Santa Cruz, is home to a disproportion-ately large number of national-caliber cyclocross racers in addition to being the stomping grounds for several race series.

On and Off Road: As shown in 'PureSweetHell,' cyclocross bikes look and function similarly to road bikes, with dropped handlebars and lightweight frames, but have rugged-ready tires and brakes like mountain bikes.
Athletes With Dirty Faces
Cyclocross (often referred to as simply 'cross) originated in Europe as a way for road racers to stay fit during their off-season. Nasty weather is no deterrent for cyclocross racers; the more foul and messy the conditions, the more fun they seem to have. On rainy days, happy bike racers sport wild, muddy-toothed grins, crossing the finish line exhilarated and sopping. Cyclocross courses are designed to force athletes to dismount their bikes multiple times during the race.
Courses will almost always include both paved and dirt surfaces, as well as barriers--16-inch-or-higher wooden boards that racers approach at full speed before leaping off their bikes, sprinting over, and flying onto their bikes again while losing as little momentum as possible--and run-ups: short steep sections (usually of slippery mud or crumbling sand) that racers must dismount for and run up while carrying their bikes on their shoulders.
Really good courses might include sand pits or beach-running sections, knee-deep mud bogs and giant off-camber turns around knobby-rooted trees. The racer who completes the most laps (usually between one and two miles long) in the allotted time period (between 30 and 60 minutes) wins the race. Because races are comparatively short--road cyclists may race for six hours, while a 'cross race will never be longer than an hour)--racers lay everything out on the table and go incredibly hard and incredibly fast.
While races can be done on a mountain bike, most serious 'crossers race specialized cyclocross bikes, which look and function similarly to road bikes. Cyclocross bikes sport dropped handlebars and lightweight frames like road bikes, but have the mountain-bike-esque addition of knobby tires for better traction and cantilever brakes, which are less susceptible to mud-clogging.
Many people involved in the 'cross scene love 'cross precisely for the juxtaposition of beauty--the speed, grace and technique involved in keeping your momentum as high as possible while maneuvering over an hour-long obstacle course--and ugliness: the anaerobic suffering, the mud, wind and rain, the crashes, the humiliation.
Made in Santa Cruz
One athlete who delights in both the difficulty and the beauty of cyclocross is PureSweetHell's co-director Vernor, who put together the film with his colleague in film and racing Bullion. Both directors are Santa Cruz natives and a large chunk of the filming was done locally; many of the racers featured in the documentary are Santa Cruz county residents as well as world-class professional cyclocross racers.
"We wanted to make a film which reflects American cyclocross racing as we see it: A contradiction of pain and goodness which just isn't for everyone," Vernor says.
Vernor began racing as a junior in 1993--introduced to the sport by his friend Justin Robinson, the 2004 Masters National Cyclocross Champion in the 30-34 age group and a Bonny Doon resident who features prominently in PureSweetHell. Bullion (who started racing 'cross in Oregon in 1988) has managed several national-caliber race teams while working for Santa Cruz bike companies Bontrager and later Santa Cruz Bicycles. Many of his team riders (including Justin Robinson) have raced on the National Team and all over Europe.
"For most 'cross racers, 'cross is a community," Vernor says. "I feel a certain responsibility--I've built courses, Willie has managed teams, but we wanted to do more, something personal which reflects our commitment to that community."
The pair felt that film was the best medium to represent that community.
"Film represents motion in a way that feels more real and alive, kind of like our memory," says Vernor. "So we shot on Super 8 film. We were lucky to be working with Andy Kortman [of Oma Yang/Slowdance Records], so we got some original music, as well as some previously recorded Oma Yang tracks."
"'Cross has always been low on the pole in the cycling community, so a lot of this was do-it-yourself," Vernor continues. "Most of the shots were hand-held, and friends shot a lot of the film for us. We gave basic instruction but mostly we said, 'Just go and have fun.'"
Both Vernor and Bullion wanted something different for this documentary. The directors have been involved in the independent-film industry for years, and strove for a different feeling besides that of the typical sports documentary for PureSweetHell.
"We tried from the very beginning, whether it was the images we used in the film, the music we used for the film or the artwork we used to promote the film, to make it an artistic production," Vernor says earnestly. "We wanted something that differed from the look of films that have been produced about cycling in the last 10 years. Neither Willie nor I are into action videos. We tried to make a film that was aesthetically appealing; that looked cool to us but was always representative of the way that cyclocross feels."
The grainy, hand-held shots--hardly any of the filming was done with a tripod--convey a real feeling of action and movement, both of which are intrinsic to 'cross as a sport. Because the film was done on Super 8, it has a retro current running throughout that captures the grassroots feelings of cyclocross's beginnings; a feeling of family and community that is still one of the main reasons racers keep coming back year after year.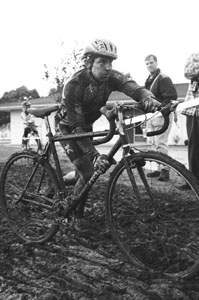 A Life of Grime: On our cover: Daryl Price shows just how hairy cyclocross can get.
Homegrown Mud
While Bay Area locals have been racing at national and international levels for years, this is the first year that women's-only grassroots team Velo Bella from Monterey is sending two of its members to the cyclocross world championships in St. Wendel, Germany. Although Santa Cruz's own Sarah Kerlin and Barbara Howe of Larkspur were selected by USA Cycling, the nation's governing body of professional cycling, to represent the United States on the U.S. National Team, the organization won't fund their trip; athletes can only receive funding from USA Cycling if they're competing in the Olympics.
Kerlin, a Santa Cruz resident and one of the women selected to represent the USA at cyclocross worlds, has been a member of the Velo Bella team for nearly a year.
"The first ever bike race I did was a Surf City race in 1998," she says. The Surf City series, a sometimes brutal and always epic race series that many referred to as "jungle 'cross," ran annually from the mid-'70s to 2003, and was considered by all in the cyclocross scene to be a cornerstone of the 'cross community. The series, while drawing crowds of registered racers and fans well into the hundreds, always maintained a down-home feeling where racers felt like family. When current race organizers Jenny Robinson and Nicole Amaral went on sabbatical to begin families of their own, the loss of the series this year was felt by many racers both in Santa Cruz and across the state. In homage to the legendary series, the Velo Bella team hosted a "Spirit of Surf City" race this Halloween. 'Cross racers across the board look forward to the hopeful return of the Surf City series in coming years.
Kerlin remembers how that first race totally changed how she thought about biking.
"I had just purchased my first-ever mountain bike the week prior," she says, "and a friend showed up at my house on a Sunday morning and said, 'Come with me, we're going to race cyclocross today!' I said, 'What's cyclocross?' I remember swinging up some iceplant-covered whoop-de-doo and laughing my ass off. I felt like a kid, and I was hooked forever."
Kerlin, who has now been racing mountain bikes and cyclocross for years, tried her hand at road racing for the first time last year. After realizing that it wasn't too much fun in the higher categories without teammates, she joined Velo Bella.
"I love being a Bella," she beams. "I can't imagine being on any other team." Being an all-women's team means that the Bellas "never have to stand in the shadow of the men's team," which is so often the case for women in cycling.
"It helps that we keep fun as a top priority on this team, so that the competitiveness that could potentially cause a problem among teammates is not a big issue," Kerlin says. "We really do know how to have a good time in all this."
In addition to receiving sponsorship through word-of-mouth and their website--www.velobella.org has a PayPal link for those kindhearted souls who wish to support the Kerlin and Howe's venture--the Velo Bellas will receive all of the proceeds from PureSweetHell's Northern California premiere in Santa Cruz on Sunday.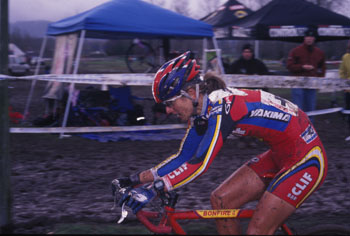 Her Name Is Mud: Gina Hall competes in a European cyclocross event in Europe in 'Pure Sweet Hell.'
Off the Screen and Into the Streets
The film will show in conjunction with the Santa Cruz County Championships, the season's last cyclocross race (check www.ncnca.org/cyclocross for more information on the race). The County Championships this year are organized by the Santa Cruz County Cycling Club, a local cycling institution that provided a grant to Vernor and Bullion for the making of the film. Race director David Gill describes the documentary as "Endless Summer meets Warren Miller, but everyone's on bicycles."
Gill, a longtime racer and race promoter, waxes eloquent on the grassroots nature of this film showing. "Not only is this film about cyclocross, it is also for cyclocross," he says. "The proceeds of the screening will benefit the Velo Bella women's cyclocross squad in their efforts to help two local teammates achieve global domination at the Cyclocross World Championships in Germany this February. Barb Howe and Sarah Kerlin have already done the 'easy' part: they placed well enough at the recent National Cyclocross Championships to be selected to represent the U.S. at the upcoming World Championships."
Howe, who happily received some sponsorship from the California Road Club just last week, says, "I was very surprised and very pleased [to be selected for the U.S. National Team]. It's good to know that if you work hard it does pay off."
Kerlin, who teaches at the Santa Cruz Adult School when she's not racing under the nickname "Bella Loca," started out her 2004-2005 racing season with modest goals. She began racing this year without the intent to do much traveling, but a strong start this fall led to an even stronger season finale: she finished fifth at the U.S. National Championships in Portland, Oregon.
"Even as I headed to nationals," she says, "my goal for the weekend was to see my teammates qualify for Worlds."
She raced very well, however, and after the elite podium ceremony was given the materials needed to petition for the national team. Representing the United States at cyclocross worlds is no small feat--to become a national-caliber racer, Kerlin hired a coach this year, which she says has been the single most important aspect of her success. She lists her team and support crew as a very close second.
"I was very impressed with Barb [Howe] and Christine's [Vardaros] early season goals of making the world's team," she says. "It helps to be around other people with high aspirations; it makes you realize you can do the same. Also, we had several dedicated mechanics that traveled with us. You just can't compete at the top level without a great mechanic working in the pits for you."
Ten-year elite racing veteran Cameron Falconer believes technique is the most important aspect of racing at the top level.
"Technique is significantly more important in 'cross than any other kind of racing," he says. "There's a different physicality of it, getting on and off the bike like that. The better you polish your skills, the faster you're going to go. It's a heap of aerobic suffering, yes, but it's not just about who can pedal harder or who handles their bike better. It's gauging sections and knowing if it's going to be faster to ride or faster to run, and then transitioning into that form. The skill set is very specific and it takes a long time to get good at it."
In a sport that lends itself so well to an intellectual approach--keeping yourself upright and smooth while leaping on and off the bike over muddy, wet obstacles and trying to go faster than everyone around you requires a bit of thought--a racer's headspace is integral to her (or his) success.
"I suppose that by playing the same game as the 'fast girls' and bringing two bikes and a mechanic, it helped me to become one of the 'fast girls,'" muses Kerlin. "Being selected to race at world championships gives me a purpose for the next five to seven years, to see how well I can do internationally. It's also important to me because I now feel justified in all the sacrifices and difficult choices I've made in the past several years while pursuing my athletic dreams."
While cyclocross is still a specialized niche within the niche sport of cycling, it is growing in popularity, especially in the Bay Area. In November 2005, Velo Bella will host an important race in Watsonville: one of the national-level U.S. Grand Prix events. Sending racers to cyclocross worlds is a big development for a grassroots team like Velo Bella, and portends great things for cyclocross in years to come.
---
Cyclocross documentary PureSweetHell will make its local premiere on Sunday, Jan. 16, at 7pm at the Rio Theatre, 1205 Soquel Ave, Santa Cruz; 831.423.8209 or 831.429.1812. There will also be a short live-music set by Andy Kortman, who wrote and performed the film's musical score. Cost is $5; proceeds benefit the Velo Bella elite U.S. National race team. In true 'cross tradition, the day of racing and culture will end with beer: the fundraising afterparty at the Seabright Brewery begins around 8:30pm.
---
[ Santa Cruz | Metroactive Central | Archives ]