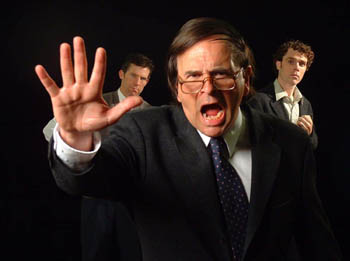 Photograph by Jaime Kibben

Mouths Wide Open: The Word for Word ensemble will deliver a performance of Tobias Wolff's stories that's uniquely true to the text Friday and Saturday at UCSC.

Copy Cast

Word for Word breathes new life into lit--and the art of performing it--with its literal-minded delivery

By Peter Koht

'The hardest thing for me, working with this company, is to describe to people what we do," says Word for Word co-founder Susan Harloe. "Until people see it, they have no idea what's coming."

For nine years now, Harloe and Word for Word have been performing literary theater in a completely revolutionary fashion: down to the very letter, completely raw and totally uncut.

Rather than editing the dialogue and adapting the stage directions from the plot of a well thumbed work, the narrative structure of a Word for Word production is culled precisely from the text. Each word of the author's original version is cleverly broken up among Word for Word's virtuosic company of actors. While actual quotes remain firmly in the mouths of their assigned characters, the rest of the text flows between performers in surprising sonic and dramatic patterns.

"You really have to have your chops," says Harloe. "We are literally finishing each other's sentences on-stage. We are kind of one big mind."

Where did the genesis for this radical form of literary presentation come from? While other companies in Seattle and New York have experimented with literal adaptation, the art form has truly found its home in San Francisco with Harloe's group, which performs short stories by Tobias Wolff Friday and Saturday at the UCSC Theater Arts Mainstage. "I am a purist," admits Harloe unabashedly, "I was also a librarian for many years. This was an interesting way to combine my dual careers."

While not shying away from presenting portions of larger works like Upton Sinclair's Oil or John Steinbeck's Cannery Row, Word for Word has found its niche performing short stories. By preserving the short story intact, Harloe believes that the beauty of the form is revealed. "The thing about a short story is that it is very satisfying," she says. "It has a revolution. It completes and the audience gets a sense of completion from it."

Short stories are also the repository of some particularly fine literary phrasing. "A short story is a very particular form of literature," says Harloe. "I believe that authors craft it very carefully. The choice of words on a page is very specific. Someone like Tobias Wolff is a good example of this process. He will write a single sentence five or six times."

The languid and slightly melancholy literary world of Wolff is indeed a perfect place for Word for Word to explore the beauty of the printed word. A modern master of the short story, the author of This Boy's Life seems to specialize in detailing the burden of choices unmade. Especially in his short stories, even the smallest of events might profoundly alter the lives of the protagonists. The two selections that Word for Word will bring to the UCSC Recital Hall, "In the Garden of American Martyrs" and "Bullet in the Brain," follow this literary theme.

By preserving the delicate emotions and words of Wolff's stories and bringing them to stage unadulterated and unabridged, Word for Word has retained the facet of literature so often discarded through adaptation: the author's voice. It's all part of fulfilling its stated goal: "to tell good stories with simple and elegant theatricality and amaze audiences with language." Enough said.
---
Word for Word Performing Arts Company performs stories by Tobias Wolff Friday, Jan. 14, and Saturday, Jan. 15, at 8pm at the UCSC Theater Arts Mainstage. Tickets are available at the Santa Cruz Civic Auditorium or by calling 831.459.2159.
---
[ Santa Cruz | Metroactive Central | Archives ]