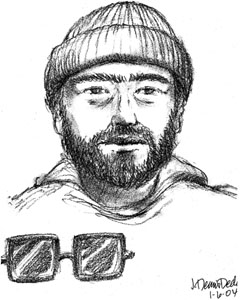 Safety Last: Police are coming under fire for failing to release this sketch of the suspect in an attempted rape on Jan. 2 until four days after the crime.

Nüz

Right to Know

News that yet another attempted rape occurred in yet another downtown parking lot had Nüz wondering whether the assault was connected to three previous attacks, which had all occurred in downtown parking lots last fall and which so far have all been attributed to 5-foot-8-inch, 190-pound Hispanic or darker-skinned man.

However, our "return of the fall rapist" theory was debunked on seeing a police composite of the most recent suspect, who is described as a 30-to-35-year-old white man, 5-feet-11 to 6 feet tall, with a full dark-brown beard, large, square-framed sunglasses, a black beanie, a black hooded sweatshirt, black knitted gloves and dark, stone-washed blue jeans.

The latest attack involved a 19-year-old who fought off her assailant as she got into her car at about 1:45pm on Jan. 2 in the parking lot behind Logos. The three previous attacks occurred in September in the Locust Street parking garage, New Leaf's Pacific Avenue parking lot and the county jail parking lot on Water Street.

While grateful for the composite and the police work that determined that this incident doesn't appear related to the September attacks, Nüz was profoundly disturbed to notice that a four-day interval occurred between the attack happening and it being reported to the general public.

Police officials say they were trying to avoid a panic, but Gillian Greensite, director of UCSC's Rape Prevention Center, says the public, and especially women, needs to know when and where any rapes or attempted rapes by a stranger have occurred.

"This information does not generate hysteria. It alerts women and girls to potential danger and minimizes the risk of another attack. It allows the community to keep an eye out for the assailant," she says, noting that the Commission for the Prevention of Violence Against Women wants to mandate timely alerts and postings in the event of reported or attempted rapes by strangers--an overhaul Nüz hopes the SCPD will see as positive.

In the meantime, Greensite recommends fighting back if you're ever attacked.

"Loud yelling and determined, well-placed kicks and palm strikes have been demonstrated to work," she says. "Only begging and pleading don't work. Perhaps the only uplifting aspect of all these attempted rapes in the past five months has been that all the women fought back and all the women avoided being raped."

For information on free self-defense classes, call 420.5250. For safety information, call UCSC's Rape Prevention Center at 831.459.2721, the Commission for the Prevention of Violence Against Women at 831.420.6298 or Women's Crisis Support at 831.685.3737, and check out www2.ucsc.edu/wmcenter/defense.html. And if you have information about the Jan. 2 or the September attacks, call the SCPD at 831.420. 5820 or the anonymous tip line at 831.420.5995.

F Is for Fight or Flight?

Back in 2002, Metro Santa Cruz did not endorse Cynthia Mathews in her (ultimately successful) bid for re-election to City Council for fear "she might be too readily swayed by business interests as we sink deeper into an economic Dark Age."

Two years later, the city is struggling with its worst budget crisis ever--and Mathews is heading a remarkably broad coalition of city residents to unite behind Measure F, which would increase our local sales tax by a quarter of a percent for five years and raise $2 million annually.

It's a formidable show of strength, but Nüz had to ask whether this broad-based support, which includes everyone from Seaside Company owner Charles Canfield to UCSC professor Manuel Pastor, for a measure that will tax everyone equally regardless of their income is simply a product of panic?

"No, it's more an informed look at what people in this community expect," says Mathews. "People want their business to succeed, the cops to respond, the parks well kept, the pot holes filled. All of which reflects a shared sense of what people want community to be."

Mathews blames the current city budget crisis on "two train wrecks"--increased employer costs and Arnie's repeal of the tripled vehicle fee hike.

Meanwhile, we have to admit we were rather impressed to see that Gordon Pusser, who opposed Measure Q in 2002, says he supports Measure F--even though it's a regressive tax--"because the cause is good, and it's hard to figure anything you could buy in Santa Cruz that would run up a very big tax bill. Unless, of course, you're a car salesman."

Speaking of cars, one if the reasons the city isn't asking for a half-percent sales tax increase (an increase that seems to make sense, given that the city has already cut $6 million and eliminated 50 positions the past two years and still faces a $3 million shortfall) lies in what Mathews calls "politically doable" strategies.

"Measure F was based on anticipated shortfall and poll results as to what was politically doable. With the Highway I widening tax set for the fall, we didn't want to get into a pissing match," Mathews says.

As for the apparently broad support in the polls for an increase in the city's admissions tax, that plan apparently got nixed, says Mathews, "when the Seaside Company went into orbit, and we did not want to get involved in a political blood bath."

To learn about Measure F, attend the campaign kickoff party on Thursday, Jan. 15, at 740 Front St., 5-7pm, or call campaign headquarters at 831.423.2356.

Community Fixes

Members of UCSC faculty and Bay Area musicians evidently aren't going to stand by while the social safety net disintegrates. How else to explain a new chamber music series to benefit local nonprofits?

Titled Mission Concerts, the series debuts Sunday, Jan. 18, at 7pm, at Holy Cross Church, where UCSC faculty and Bay Area musicians Mary Jane Cope, Michelle Witt, Greer Ellison, Amy Beal and Mark Sowlakis perform works by Bartok, Copland, Ives and Villa-Lobos, All donations from Jan. 18 will benefit the Homeless Garden Project, which is in danger of closing, thanks to a decline in donations and sales at its dried-flower retail outlet. For information, call 831.459.3861.

Go-Go Balloons

News that Santa Cruz's legendary clown Mr. Twister is headed for Sin City got Nüz visualizing the man with the red nose and oversized shoes feeding slot machines instead of parking meters--and twisting balloons into go-go dancers and call girls instead of puppies and giraffes. Which is kinda sucky, given we need Brother Twista to undo Meter Maid duty more than ever, now that we even have to pay for Sunday parking downtown. Still, evidently a clown's got to do what a clown's got to do, which in his case once again involves following in the footsteps of his fiancée, who previously inspired a frosty jaunt to Alaska. Will Sin City turn Mr. Twister's face-painted head? Will he drop a quarter on the Wheel of Fortune and rake in millions, making home ownership in the Cruz possible? Stay tuned ...
---
Nüz just loves juicy tips: Drop a line to 115 Cooper St, Santa Cruz, 95060, email us at , or call our hotline at 457.9000, ext 214.
---
[ Santa Cruz | Metroactive Central | Archives ]