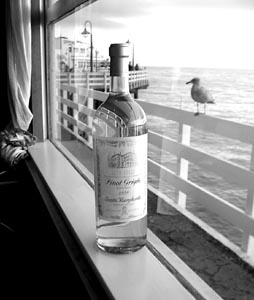 Photograph by Steven Laufer

Wining and Pining: Sometimes little Pinot Grigio would stare out the window of Carniglia's for hours and dream of the old country.

Italian Landscape

Full-bodied Mediterranean cookery surfs some big waves at Carniglia's on the Santa Cruz Wharf

By Christina Waters

I love the wharf in winter, when the boardwalk lights seem to sparkle more brightly than ever and the restaurants seem especially cozy now that we have them all to ourselves.

Carniglia's gave us gastronomic shelter last week, as Angela and I arrived with our mouths set for pasta and wine. The latter was easily found on Steve Carniglia's well-equipped list of Italian varietals. Angela began with a glass of Tokai Friulano Scarbolo '00 ($6) which opened into a bouquet of complex florals as the evening deepened. My Vino Nobile Svetoni Toscana '97 ($9) was a gorgeous creature--even Angela decided to switch to this sensuous Sangiovese for her entree course--and both were well accompanied by a generous basket of soft, fresh focaccia bread and light, fruity olive oil. A long wall of deep forest green faces Carniglia's panoramic picture windows, and we watched the occasional curious seagull swoop out of the darkness as we sipped our wines and tried not to get too full on bread.

We started with a good-looking spinach salad bordered with dollops of Harley Farms goat cheese and choice bits of crisp pancetta ($7.50). The spinach was notably sweet and the locally produced chèvre was, as always, creamy and lightly pungent. What is it about spinach and goat cheese? Another appetizer plate of calamari fritti ($10.25) arrived steaming hot and big enough to fuel a soccer team, though I'm not complaining since it made a delightful lunch the next day. The tender strips of calamari had been very lightly floured and pan-seared and then tossed with lots of grated parmesan and a confetti of astringent fennel and red bell peppers all topped with a fat slab of lemon.

The gargantuan mound of calamari--Angela could not stop eating--sat atop a stellar marinara sauce, which to Angela's surprise "did not swamp the squid." I'm going to revise that previous remark; this marinara sauce was so good it could have given lessons. Good choice, we both agreed, and an opulent counterbalance to the rather low-key, if tender, spinach salad whose balsamic vinaigrette remained firmly in an undisclosed location.

The supple Tuscan vino had reached its peak just as Angela's smartly presented entree of agnello di Firenze (rack of lamb grilled with a sauce of prosciutto, white wine and cipollini onions, $25) arrived. An oversized bowl with a rim large enough to tap dance on held my evening special pasta, a crimson field of linguine and prawns, bathed in an arrabbiata sauce enhanced by Dungeness crab and porcini mushrooms ($17.50). Both were terrific with the wine, but I must defer to Angela's perfect, rare baby lamb chops. Accompanied by tiny red potatoes and long strips of red and yellow bell pepper the lamb was exactly the ticket on a chilly evening. My pasta was excellent, if a bit past the al dente point, and it temporarily resolved my seemingly insatiable longings for seafood and pasta. We all have our addictions--these are (some of) mine. We both wished, however, for a bolder arrabbiata sauce, and felt that Carniglia's version could have been improved by pumping up the red peppers.

If we'd been on foot, we might have succumbed to the Carniglia's listing of grappas, the refined white lightning that can take the chill off in under five seconds. But as it was we settled on a shared limone tart ($5.50), to which I added an espresso ($2.25). Lemonwise, the tart was a bulls-eye. And the swirls of intensely flavored raspberry and kiwi sauce amplified the lemon filling. The crust, however, appeared to have been unclear on its own concept and let us down in terms of texture--and texture, amici, is the whole game when it comes to crust.
---
Carniglia's
Address: 49A Municipal Wharf, Santa Cruz
Phone: 831.458.3600
Hours: Lunch and dinner daily 11:30am-3pm, 5-9:30pm
Ambience: **1/2 Unpretentious décor highlighted by seaside location gives patrons soothing visual thrills.
Service: **1/2 Accommodating and pleasant
Cuisine: **1/2 Well-made Italian standards receive locally produced accents and bravura presentation.
Overall: Carniglia's is a delicious excuse to make like a tourist in your own hometown.
Full Bar, ocean view
---
[ Santa Cruz | Metroactive Central | Archives ]