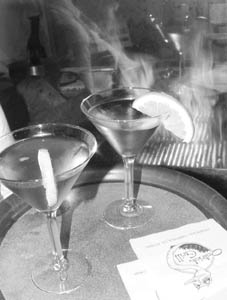 Drinks With Dinner: Cocktails from the full bar accompany a dizzying array of entrees.

Photograph by Stephen Laufer





Grill Power

The oak-fired specialties at Ostrich Grill just keep getting better

By Christina Waters

A LIVELY EVENING was in full swing as we scored a booth at Ostrich Grill and settled into the dark wood and leather interior of what has become a Capitola landmark. With its sexy front bar, oak-fired specialties and intimate booth seating, this place is one of my favorites.

While there is a vegetarian menu available, the name of the game at Ostrich Grill is beautifully prepared steaks, chops, filets and seafoods. To answer your unanswered question up front, let me swiftly testify that yes, Ostrich Grill does indeed serve ostrich steaks done a variety of ways, and yes, it is really and truly delicious red meat. Once you've tried oak-grilled ostrich you'll have new respect for Africa's largest gift to global gastronomy.

Some finely textured bread and glasses of Cinnabar's luscious meritage, Mercury Rising 1999 ($7.50), got us off to a brilliant start. Soo and I were barely into swapping life histories when our first courses of house and Caesar salads arrived (both side orders $3.50 with entree order). The listing of possible entrees at Ostrich Grill is dizzying--lots of ribs, prawn, ahi, pastas to choose from. But we were both entranced by some of the evening's special oak-fired grill combos. One involved a "1/2 slab" of baby back ribs joined by oak-grilled prawns, and another one combined ostrich, pork medallions and fresh salmon (each with a unique sauce)--both for $24.95.

The excellent bread found delicious companions in Soo's house salad with Roquefort and my robust, garlicky Caesar salad. Both were generous though not overwhelming portions, crisp, fresh and delicious. I was having such a good time with the crunchy romaine that I refused to give it up, and kept the salad handy throughout my main course.

Saving lots of room for Ostrich Grill entrees is a very good idea, and not simply because portions are plentiful. Long slender green beans and baby carrots, cooked perfectly al dente, adorned a central plateau of outrageously fine garlic mashed potatoes on each of our plates. Soo's featured a long rack of baby back ribs--succulent, moist, lightly perfumed by oak fire and ginger teriyaki glaze--along with a fleet of large grilled prawns and tropical fruit salsa flecked with pungent cilantro ($24.95).

Though I'm not a big rib-head, I had to admit that these chewy babies were a cut above. For my taste they were refreshingly fat free, glistening with juices, but not gooey, messy (and certainly not greasy). The barbecue glaze was applied with enough restraint to reveal the flavor of the meaty ribs themselves. And the prawns were grilled to moist perfection as well.

Meanwhile, my entree showcased the three grilled meats, each done no more than medium rare as I'd asked. All were wonderful. The salmon fillet was silky under its light coat of lemon beurre blanc. A portion of pork medallions was infused with an apricot glaze, the perfect foil for the rich tenderloin. But the star--and a surprising one at that--was the rare ostrich, grilled with a roasted garlic demi-glace and deliciously reminiscent of both venison and young beef. This entree selection soared heroically over the confusion of multiple flavor messages that often mars the mixed grill concept--i.e., the too much, too soon oral overload. The remains of the feast made a memorable lunch the next day. My resident male, previously an ostrich virgin, demanded a visit to the Grill so he could order his very own large bird.

Desserts, always a knockout at OG, delivered an amazing bread pudding, eggy and warm and studded with pine nuts, sided with heavy whipped cream and a pot of warm caramel sauce ($5). Soo's intense, warm chocolate soufflé was accompanied by a trio of vanilla ice cream scoops ($6) and more caramel sauce. After all, big flavors are the whole point of this great grill.
---
Ostrich Grill
Address: 820 Bay Ave., Capitola
Phone: 831.477.9181
Entrees: Moderate; full bar
Ambience: *** Strikingly handsome, low-key grill atmosphere
Service: *** Warm, helpful, savvy
Cuisine: *** Grillwork at the top of its game
Overall: Dinners here are substantial, satisfying and invariably memorable
---
[ Santa Cruz | Metroactive Central | Archives ]