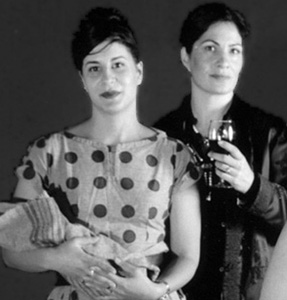 Lilliputian Lark: Eight Tens @ Eight actors Libbey Blumberg and Irene Teegardin find they can do more with less.

Maximum Minis

Short plays boast 10 minutes of fame

By Mike Connor

BONSAI TREES. Swiss Army knives. Mini quiches. Vodka. These things aren't pieces of larger wholes. Each is the whole deal--only smaller. Compact. Condensed. Distilled. The one-act plays in this year's seventh annual Ten-Minute Play Festival aspire to similar ideals: to expound on the mysteries of desire, the treachery of science, the hilarity of speculation and the torture of existence. In short, to be lively and fully functional plays in just 10 minutes.

Drawn from a record number of submissions from Southern California to the Bay Area, the winners of the Actors' Theatre Ten-Minute Play Contest cut to the chase with economically crafted scripts and sets designed to make the most of their 10 minutes in the spotlight.

Philip Slater has perhaps perfected the form in his crowd-pleasing ode to the comedy and agony of speculation, "Remotely Interested" (directed by Maria Crush), in which a young cafe denizen with a remote control (Jeff Dinnell) envisions hilarious contexts for a woman he's been eyeing--and for the older man who sits down to talk with her. With each click of a remote control, the couple (Deb DiMaggio and George Joyce) flip into different scenarios in an acrobatic display of acting, switching seamlessly from pouting French adulterers to bickering Russian terrorists ("Forgive me Boris, your work is exquisite!"), to wildly gesticulating Italian mobsters, and playing each easily identifiable persona precisely.

Denny Vierra wears the well-worn polyester suit of a used-car salesman to sell "Vic Franks Has a Deal for You" (by Jeff Michael and Thom Fox, directed by Steve Brenner), a spoof of genetic proportions set in what looks like a neo-1960s used car dealership. But instead of cars with options, the slimy, smooth-talking salesman (played to the hilt by Vierra) is pedaling made-to-order kids. The eager parents-to-be (Michael C. Daley and Libbey Blumberg) squirm between miserly prudence and parental indulgence to have their child-to-be endowed with outrageous attributes.

An elegant floral chaise lounge--both sensuous and Freudian--sets the stage for Anne Adams' "Alma" (directed by Jean Weisz). Irene Teegardin gives a charming solo performance as a witty septuagenarian named Alma Schindler Mahler Gropius Werful, reflecting on her life as a beguiler of great European artists.

"Alma, tell us! / All modern women are jealous / Which of your magical wands / Got you Gustav and Walter and Franz?" asks Tom Lehrer's whimsical waltz preceding the play. The lyric refers to Alma's three husbands: composer/conductor Gustav Mahler ("Before a concert, he wouldn't. After a concert, he couldn't!"); Bauhaus founder Walter Gropius ("... designing functional erections without me"); and writer Franz Werful ("Franzie, the last great trophy, my man child").

Setting whimsy aside with what is arguably the most ambitious play in the festival this year, Aoise Strattford's "Beach With Telephone" stuffs a piece of eternity into 10 minutes, employing a surreal beachscape straight out of a Dali painting (complete with crutch and telephone) as a backdrop for a glimpse of an existential Hell. The piece takes on the daunting challenge of presenting an absurdist drama outside the realms of time and space, but succeeds largely as an elaborate staging for Manirose B. Raley's many-faced Demon character, who seethes in condemning tones, "We pay for our minutes in Paradise. That's how it works."

Dang!

John H. Patterson steps up to the plate in the proverbial cleanup hitter's slot with "Alex Shepard and the Last Strike" (directed by Sebastian DeFrancesco), a super-slow-motion glimpse into the psyche of the first female major league baseball player as she faces a jeering crowd chanting "Nice tits!" and a mocking misogynist baseball (Denny Vierra). Alex Shepard (Tiffany Cesarin) is a bit of a pushover as a veteran ballplayer, as illustrated by the inner dialogue between her and the "ball." But ultimately the tricky dickey ball, for all its mannish charisma, is no match for Alex and her bat.

The festival closes with a blinding triumphant flash when ball meets bat, and I kissed off a well-spent 90 minutes to the demons of Eternity. Put it on my tab I say, and let the great Economist in the sky decide what 10 minutes is worth.
---
Eight Tens @ Eight plays at Actors Theatre, 1101 Center St., Santa Cruz, Thursday-Saturday at 8pm, Sunday at 3pm through Feb. 17. Tickets are $12-$15; 425.7529.
---
[ Santa Cruz | Metroactive Central | Archives ]