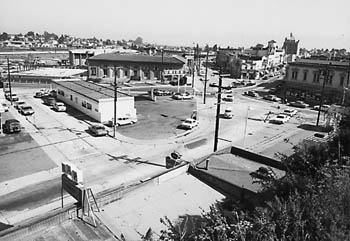 Photograph by Covello & Covello Historical Photo Collection

Santa Cruz Downtown, 1966: The Post Office is about the only easily recognizable building you can see in this photo that is still there--or here, as the case may be. Of course, the mile-high Palomar Hotel sticks out as the only thing more than three stories high downtown. As best I can figure, the photographer who took this photo must have been on the roof of Jessie's Leather Repair on upper Pacific.

Bruce Bratton

THE PERFECT TOTAL HIP REPLACEMENT. It was over before I knew it. Drs. Abidi and Schwartz pulled it off very professionally. I have absolutely no complaints about the Dominican folks--they are as capable and as nice as anyone could hope for. The actual cutting was done from the front (anterior approach), which allows much more leg movement than the posterior attack. I'm now in the Restorative Care Unit on Frederick Street learning how to walk upstairs, put on my socks and all the rest of those normally dull things.

GIRL SCOUT COOKIES. The bottom line is, we've got to boycott Girl Scout cookies. In past years, I've gone into numerous details of the many reasons why we need to stop supporting this miserable way they raise funds. Today, I'll outline just some the major problems with their dependence on cookies. It is not only dangerous but also a degrading concept to teach young women to go door-to-door selling anything, especially junk food. If they have to go door-to-door selling something, why not a product that would do some good for the environment, like soaps, herbs or flower seeds? Why not a product that they could make themselves (see above) and stop paying all that money to one of the two giant bakeries that make millions from all this free labor. Girl Scouts say they don't encourage competition, but they award prizes to the bestsellers. In 1998, the Girl Scouts spent $100,000 (or the equivalent of 33,000 boxes, according to the San Francisco Chronicle) to a New York image consultant firm to "find out why they are best known for selling cookies." The image firm was quoted as saying the Girl Scouts are "considered a fuddy-duddy, white-shoes-only organization that has fallen off the radar screen." I've got files detailing the huge problems with cookie money being stolen by the girls and even by desperate moms who were then thrown in jail. My files also show the huge competition between the major cookie companies and the lengths they go to in order to land this lucrative cookie contract. Of the $3 per box, each local scout troop keeps only about 40 cents, according to the Chronicle. The Girl Scouts seem to be a fine organization and need a better image than what the cookies have done for them. By not buying cookies we're helping the Girl Scouts grow up.

THOSE WRIGLEY GIRLS. Back in October of last year, I ran a great historical photo of two young local women dressed as Wrigley's gum: one Spearmint, one Doublemint. They were in the annual East Side parade. I asked back then if anyone knew anything about them. I got one reply that consisted of my column with a note on it saying rather mysteriously, "She goes to McDonald's on 41st around 7am." The note also said, "Kenneth Cardoza's wife Dolly or Goldie also worked for this company." I'm guessing that one of the women in that photo is Dolly or Goldie--the mystery continues.

ANOTHER RUMOR. I've heard this one so many times it just might be true--that the Community Credit Union will move south on Front Street into the old Movie 1&2 building. That would be nice--then there'd be parking available.

AAA VIDEO. Kyle York, who owns Video Video on the corner of Soquel and Morrisey, emailed to tell us that Video Video bought 750 of Soquel's nearly closed AAA Video's classic and foreign titles and is negotiating for the remaining films. I used to go to Video Video a lot, and even way back then they had a fine selection of films. The recent titles aren't entered yet, but you can check out their inventory on the web at www.klvideo.com. Being able to check out a video rental store's list is a very valuable deal.

CITIZEN-TRAINING WORKSHOP. Citizens can now learn such things as what is a general plan, what's a zoning code and what does CEQA mean. You can also learn how to comment on an EIR. It's all happening at a workshop put on by LandWatch Monterey County and the League of Women Voters of Monterey Peninsula and Salinas. You'll hear a review of the basic land-use planning framework, how EIRs are processed, how California laws affect land use and examples of community organizing and local success stories. It's being held on Feb. 10, 9am-3pm, at the Grange, 17890 Moro Road in Prunedale. There's a small fee, and reservations are necessary by Feb. 5. Call 831.422.9390, ext. 11. As development and developers become even more aggressive and create newer land-grabbing schemes, we need to learn how to counter their moves. This workshop should be a must for every environmentalist.

HELLO FROM TOM NODDY. Tom's still in Germany and still holds the world title of Bubble Blowing Master. He emailed to say that we should see some computer art by a Cabrilho College student, Kate O'Bryant. From what Tom sez Kate blended a photo of him with a classical painting. It'll be there at the County Building the rest of the month. Tom went on to say that having a plaza at Pacific and Church streets, would convince better street performers to come here to perform. Now, as Tom notes, if a performer is too good they attract a large crowd and that becomes a problem. Anybody notice that guy playing a butterfly harp with those long dulcimer hammers attached to his fingers? I think performers of this class should not just be encouraged to play Pacific Avenue but should be paid some nominal fee by the city just for improving the downtown atmosphere. We get some amazing performers here from time to time, and Santa Cruz should reach out to quality artists to make them feel more at home.

BROTHER IRON, SISTER STEEL. If you've ever met Dave Draper, you know he erases every concept of the muscle-building stereotype ever created. Dave was Mr. Universe, Mr. America and Mr. Olympia and held a lot of other titles. He also operates the two World Gyms locally. Dave's newest book, Brother Iron, Sister Steel, is a running pep talk about why you should stick to your fitness plan. What it really is is a collection of dozens of the great photos from Dave's unbelievable past. That includes much of Hollywood hype, some fine shots of his pal Arnold Schwarzenegger, scenes from his films with Tony Curtis and Sharon Tate and just the wild and silly muscle contests al over the world. Dave and his wife, Loree, worked on this book; it's great fun to read and even better if you care about getting in shape. Published by On Target Publications, it's available at better bookshops or at both of his gyms.

A QUESTION AND A HOT TIP. I've wondered for years, as I drive back and forth from L.A., who was Saint Ardo, as in the town of San Ardo. Has anybody ever heard of this saint? Was that his real name? And what was he the patron saint of? All I can think of is maybe the saint of carpal tunnel syndrome or migraine headaches or things like that. If you've ever stopped in San Ardo, you'll see what I mean. The hot tip is to buy volume one of the two-CD set of NPR's Lost & Found Sound. This completely amazing CD set is from All Things Considered. It won a Peabody Award and was produced by Santa Cruz's own Kitchen Sisters (Nikki Silva and Davia Nelson). There are too many wild, bizarre, funny, educational and personal stories to try to list here. You can get all the necessary details at www.lostandfoundsound.com. It's available online at booksense.com or in bookstores nationwide.

IN CLOSING. Thank you very much for your calls, concerns and visits. Without getting too emotional, you have been very kind and it means a lot.
---
Bruce will continue critiquing films every other Thursday on KUSP-FM (88.9)at 12:50pm as soon as he's up and around. Reach Bruce at [email protected] or call 457.5814, ext. 400.
---
[ Santa Cruz | MetroActive Central | Archives ]