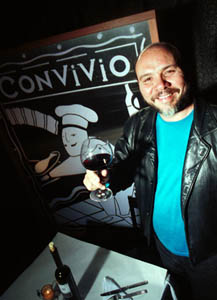 Maestro: Owner/chef Marco Verduzco encourages diners to abandon restraint.

Photograph by George Sakkestad





Viva Convivio

Even on the rainiest night, Convivio Trattoria dispels the chill with vivacious atmosphere and sensational aromas

By Christina Waters

AT CONVIVIO, a gifted fleet of servers keeps things moving along, taking coats and allowing plenty of time to navigate through chef Marco Verduzco's sensuous menu. Hanna and I were reliving our favorite Italian memories last week as we selected glasses of Antinori Chianti Classico ($9) and Ravenswood Zinfandel ($6.50), choices designed to match almost anything this robust kitchen has to offer.

Our server encouraged us to take all the time we needed making selections--a good thing too, given a menu featuring spit-roasted meats, organic greens and complex orchestrations of seasonal ingredients.

But choose we did, and soon a lavish Insalata Mista, buoyant with organic mesclun from Stone Free Farms ($6.25), materialized in front of Hanna, while an appetizer of those irresistible prawns wrapped in pancetta ($8.50) appeared on my side of the table.

The succulent prawns were huge with flavor, coaxed into richness by the thin layer of Italian bacon and enhanced by organic arugula dressed with a bold tomato vinaigrette. A small pyramid of herbed goat cheese was lovely but unnecessary. Actually, it would have been better to have the chèvre appear in the center of Hanna's underdressed mixed salad, which languished for lack of a proper vinaigrette.

From a basket of delicious breads, we found ourselves returning often to the francese and seed baguette dredged into garlic-intensive olive oil.

Generous in portion, both of our entrees rose above even their detailed menu descriptions. The beautiful salmon--a perfectly grilled fillet, medium rare, striding a bed of smoked salmon hash, broccoli rabe and everything strewn with wood-fired clams and shrimp reduced with pinot grigio--deliciously transcended its busy description ($19.95). "It's rather a carnival, isn't it?" noted Hanna, a woman who never turned down a carnival.

In other hands, this quantity of strong elements might have turned into a side show, yet Verduzco managed to create a harmonious whole out of what read like too many ingredients. The salmon was utterly tender and sweet, highlighted by top notes of smoky clam and bitter rabe and by the plush cushioning of Yukon gold potato cubes.

My order of one half spit-roasted duck was so substantial that it was difficult to approach ($18.95). I was disappointed to find the bed of mashed sweet potatoes barely warm. But the succulent game meat was rewarding, especially under its roasted glaze of molasses and pomegranate--sweet flavors that found their perfect foil in accompanying pungent arugula. Both dishes had been designed to maximize the delicious chemistry of their many ingredient elements. We loved both of these entrees, and took home portions for the next day.

After all, we had to try dessert. Admittedly, Convivio is the sort of upscale trattoria that invites serious attention to its antipasti and bravura main dishes. Dessert could be seen as an optional extravagance. However, we were quickly convinced by the evening's variation on warm bread pudding that Convivio is a dessert destination: not only the bread pudding--lightly perfumed by the fragrance of wood roasting--but also a sensational Torte di Limone that could easily put the very concept of chocolate out to pasture. A tangled knot of warm, moist, walnut-infused cinnamon bread, the house specialty, arrived topped with a dense orb of creamy pumpkin gelato and a tiny sugar cookie star ($6).

As grown women, we attempted restraint but pretty much fought over the last trace of the unbelievable gelato. The lemon torte ($6), so intensely tart and yet exactly balanced by sweetness, arrived with a scoop of raspberry sorbet, a dollop of sour cream--brilliant touch!--and a crystalline slice of spun sugar lemon.

I mentally added "dessert" to the many reasons I already had for recommending Convivio as one of our top Mediterranean dining rooms. Kudos to Verduzco and his talented company.
---
Convivio Trattoria
Address: 655 Capitola Rd #102, Santa Cruz
Phone: 831.475.9600
Chef: Marco Verduzco
Hours: Tue-Sun from 5pm
Ambience: *** Warm colors, playful lighting design and intriguing artwork make this a sexy space
Service: *** Skilled, patient and genuine
Cuisine: *** Lots of fine ingredients add up to lots of flavor excitement
Overall: Convivio appears to be solidly holding its expert ground
---
[ Santa Cruz | MetroActive Central | Archives ]