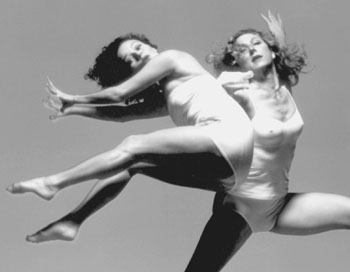 Photograph by RJ Muna

Spring Fever: Jenifer Golden and Shannon Mitchell demonstrate one of the spectacular moves that are a hallmark of ODC/San Francisco.

Diverse Moves

San Francisco's ODC brings its athletic brand of dance to UCSC

By Genevieve Lewis

THIS weekend, San Francisco-based dance troupe ODC will give the community its latest opportunity to see stellar dance at UC-Santa Cruz. The Arts and Lectures program at UCSC has a long history of bringing world-class performers to its stage; the 2000-2001 season alone has already included the Alvin Ailey II Dance Company and Buena Vista Social Club.

While ODC certainly follows the UCSC series' bent toward modern dance, it would be impossible to simply label this company a performance group. ODC, or the Oberlin Dance Collective, was established by artistic director Brenda Way at Oberlin College, Ohio, in 1971 and then moved to San Francisco in 1976.

Now in a Mission district facility that includes the ODC School, ODC Theater and ODC Gallery, the collective makes a continuous effort to challenge its audience and community not only by performing the athletic style of dance that has become one of their trademarks but also by teaching the freedom of that style to the movement-talented youth in their community through their Dance Jam Kids program.

The performance troupe itself pulls its roster of five female and five male dancers from a wide variety of backgrounds; all of the dancers have had professional dance training, and the dance forms they have specialized in range from ballet to Afro-Cuban and Haitian folkloric traditions to Broadway.

The diverse backgrounds of the individual dancers are reflected in the work of the troupe as a whole. The dancers may be amazing, but ODC performances bypass the potential constraint of a specific and rigid style for the expression that can be achieved with their athletic and varied style. Technique is not abandoned for passion, but it is the latter that is the focus.

ODC's three acclaimed female choreographers--Brenda Way, KT Nelson and Kimi Okada--have created countless works together and individually not only for ODC but for a huge range of performers that includes the Alvin Ailey American Dance Theater, San Francisco Ballet and the San Francisco Mime Troupe. This flexibility in artistic vision should result in an evening of performance that will be interesting not only for its quality but for its variety.

While the music is taped, past reviews indicate that quality does not suffer because of it. The wide range of music used would also make live music difficult; composers for the pieces being performed Friday and Saturday include Phillip Glass and Zap Mama, and past music has included samples of artists such as Duke Ellington, Ginger Rogers and Bing Crosby.

ODC normally sells out wherever it performs, so get your tickets as soon as possible. And if you love it Friday, you can always go again the next night; each evening has a completely different program (see below).
---
ODC performs Friday-Saturday at 8pm. Friday's program: She's Lost Her Footing (KT Nelson/ Hoven Droven), Hugging the Shore (Way/various composers) and House of Cards (Nelson, Zap Mama). Saturday's performance: Standing Here (Nelson/Glass), John Somebody (Way/Johnson) and 24 Exposures (Way/O'Connor and Ma). The shows take place at the UCSC Theater Arts Mainstage. Tickets are $8-$20. (459.2159)
---
[ Santa Cruz | MetroActive Central | Archives ]