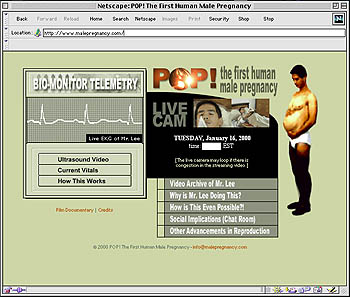 Great Expectations
Bearded and pregnant, that's the way we like 'em
By Andrea Perkins
THERE'S ONLY one thing to say: Finally! No longer will women be the sole victims of morning sickness, bizarre cravings, stretch marks and the ghastly process called labor. At www.malepregnancy.com, the future is here, a glorious future in which men take up their fair share of the more burdensome aspects of perpetuating the species.
This site takes you right into the life of Mr. Lee Mingwei, a Taiwanese-born fellow who has boldly gone where no man has gone before. Thanks to technology, Mr. Lee is in the last stages of an ectopic pregnancy. Here is how it works: after being given tremendous doses of female hormone to make him more likely to conceive, Mr. Lee's abdominal cavity was then implanted with an embryo and placenta using something called IVF techniques.
Whatever the method, it seems to be working. The ultrasound, which can be accessed via the site, reveals a very healthy, red, wrinkled creature growing inside the marvelous Mr. Lee. You can also monitor Lee's EKG and view streaming video of him as he gorges on pickles and navigates his pear-shaped girth through crowded buses. It seems that three guys with camcorders have been following him around constantly in order to document this historic event.
So what if this is just another elaborate Internet mocksite? It's the idea behind it that matters. Lee takes the concept of male pregnancy to places where even Arnold Schwarzenegger fears to tread.
[ Santa Cruz | MetroActive Central | Archives ]