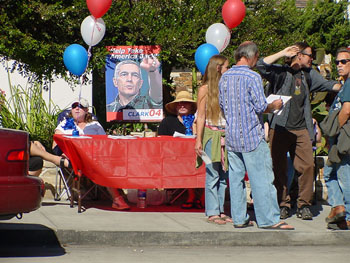 Photograph by Khalil Abu-Saba

Wesley and Them: Local Clark supporters work the front line during a visit to Santa Cruz last fall by their poster boy, Michael Moore.

Nüz

Spiritual Incorrectness

They say that when the student is ready, the teacher will come. Which may explain why, just as Nüz was meditating on how spin doctors are presenting Bush as unbeatable, despite his truly appalling record at home and abroad, the telephone rang. Human rights activist and comedic provocateur Alan Clements was on the line, feeling hopeful about the possibility of regime change and urging us to get off the meditation cushion. Right. Now.

"Meditation is good to stabilize, like potty training, but after that you need to practice divine dissatisfaction and sacred rage instead," said Clements, who has, as he puts it, "the dubious distinction" of being the first American to be ordained as a Buddhist monk in Burma, where he lived in a monastery for a decade before becoming involved in Burma's nonviolent struggle against dictatorship.

"But don't let anger be a controlling voice. Let universal values inform you of the sanctity of life, of the beauty of freedom. Use your voice, your hands, your conscience. Live human rights, don't just feel they're jeopardized," he warned, sparing nothing to talk ironically and comedically about the mind-set of a totalitarian government and our complicity with it, not just politically and economically, but spiritually, too.

Point in case: Rather than blaming Bush for the loss of freedom that accompanied PATRIOT Acts 1 and 2, Clements thanks him for showing us not to take our freedoms for granted. And he urges us to get off our butts and be the change we seek, just as Gandhi so famously said.

"Stop seeking freedom. Be free. Sit at the front of the bus, like Rosa Parks did. Let your voice be heard, quietly or loudly. Trade impotence for empowerment," says Clements, who will be at the Rio Theatre, 8pm, on Saturday, Jan. 24, to perform Spiritually Incorrect, his provocative benefit for Burma's imprisoned Nobel Peace laureate, Aung San Suu Kyi, with whom he co-authored The Voice of Hope. Call 831.423.8209. Tickets are $20; $10 students and seniors.

Option No. 1: Vote Your Hopes

Also in town and beating the drum for regime change is Japanese peace activist Yumi Kikuchi, who spent the first 35 years of her life in Tokyo, where she worked as a banker--an experience that left her with an understanding of how U.S. foreign policy affects the world and what makes the U.S. military machine go around.

"Basically, the United State is in the red, constantly issuing more bonds to stay afloat, and Japan is the biggest buyer of those bonds, so indirectly we're financing U.S. wars," says Kikuchi, who got an up-close-and-personal look at how the Bush administration exerted pressure on Japan, post-Sept. 11.

"We had to be with Bush or we were with the terrorists, and our prime minister, Junichiro Koizumi, happily joined the club," says Kikuchi, who now lives on an organic farm in rural Japan, in between regular visits to the United States to promote global peace.

"I was always an environmentalist, but since Sept. 11, peace has become the biggest issue, because the military is the biggest polluter," she says.

All of which is why she believes the United States needs a peace president, which to her mind would be Dennis Kucinich.

"People say they love Dennis' policy, but that they're voting for Dean. How hypocritical is that? Trust self and soul. We are here to live, not kill and die. We can embrace and support each other. We've had enough wars, enough pollution, enough destruction. It's time to turn the direction that the United States administration is going around!"

Kikuchi will be in Santa Cruz on Wednesday, Jan. 28, 7-9pm at the Actors' Theatre, 1001 Center St. Call 688.4603 for details.

Option No. 2: Vote Your Fears

Meanwhile, baseball-cap model Michael Moore and children's-book author Madonna have both endorsed former Gen. Wesley Clark--thereby clearly ignoring the results of the recent Iowa-style mock Democratic presidential caucus in the Cruz, which placed Howard Dean first, Kucinich second and Clark third.

How do they justify overriding the view from our humble burg? Moore does so by asking who has the absolute best hope of defeating Bush, which to his mind also means asking who has the best chance of winning Florida, West Virginia, Arizona, Nevada, Missouri and Ohio.

"Because that is the only thing that is going to matter in the end," he cautions, noting that this is "not about voting for who is more antiwar or who was antiwar first or who the media has already anointed."

Nüz agrees that after seeing Bush poncing around in a flight suit under a "Mission Accomplished" banner, only to witness real U.S. soldiers dying each day in Iraq ever since, it would be sweet to see Dubya having to debate a man Moore sums up as "a four-star-general-top-of-his-class-
at-West-Point-Rhodes-Scholar-Medal-of-
Freedom-winning-gun-owner-from-the-South." Still ... Clark?

Flashback

And if all these inspirational regime-changing messages aren't enough, Jack Duval, founding director of the International Center on Nonviolent Conflict and executive producer of the PBS series A Force More Powerful, about civilian-based resistance to dictators, speaks at a screening of Bringing Down a Dictator, the story of how the Serbian people used ridicule, rock music and civil disobedience to reclaim their country from Slobodan Milosevic, on Friday, Jan. 23, 7pm, at the Pacific Cultural Center, 1307 Seabright Ave. Tickets are $5-$15, sliding scale. No one turned away.

Flash-Forward

The Santa Cruz Film Festival is putting out a call for submissions to its third annual festival, May 13-21, 2004. For online submission forms, visit www.santacruzfilmfestival.com or call 831.459.7676.

R.I.P.

2003 ended with the passing of Bob DeBolt, a true Santa Cruz radical, who died at 64, after living on $80 a month in a pup tent amid the redwoods for 15 years and hosting The Politics of Social Reality on KZSC for 17 years, where he interviewed and played the speeches of Noam Chomsky, Howard Zinn, Michael Moore and Michael Parenti. The public is invited to a memorial/celebration, on Sunday, Jan. 25, 1pm, at UCSC's North Remote Parking Lot.
---
Nüz just loves juicy tips: Drop a line to 115 Cooper St, Santa Cruz, 95060, email us at , or call our hotline at 457.9000, ext 214.
---
[ Santa Cruz | Metroactive Central | Archives ]