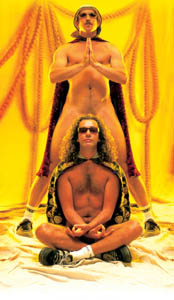 Meat Puppet: This man loves to hang out with a crowd.

See Dick Play

It's been a long, flaccid road to success for the limber warriors of wang behind 'Puppetry of the Penis'

By Rebecca Patt

For centuries and across cultures, the phallus has remained hidden behind fig leaves, boxer shorts and closed doors, primarily regarded as a sexual tool and a symbol of power. A sense of seriousness and shamefulness has surrounded the penis, with the stigma that to laugh at a man's wanker would be to crush his feelings.

But with their wildly popular touring show Puppetry of the Penis, Simon Morley and David Friend have twisted the whole penis taboo inside out to bring out the humor, as they twist their schlongs into some 40 shapes including a kangaroo, a wind surfer, the Eiffel Tower, the Loch Ness Monster and their signature installation, "The Hamburger."

Otherwise known as the Ancient Australian Art of Genital Origami, these puppets have no strings, and this ain't no Vagina Monologues (the Rio Theatre currently boasts both titles on its marquee--ha ha). The show debuted in 1998 and has packed theaters and elicited mostly rave reviews across multiple continents. It has spawned eight touring groups, recently completing successful runs in Los Angeles and San Francisco and going strong worldwide.

As to whether genital origami really is an ancient Australian art, Morley tells Metro Santa Cruz: "I have no proof, but I'm sure it was a communication of early man at some stage."

Tricks With Dicks

The show's origins go back to when the two genital gymnasts crossed paths in their native Australia. Friend approached Morley in a bar and said, "I believe you do dick tricks." Morley had been cultivating his art since he was a teenager, and Friend had been studying dick tricks since college, although he graduated with a degree in computer science.

It took the well-endowed Morley eight years to work up the balls to take the act onstage, which he was in a good position to do because he previously worked as a promoter of comedians.

Now Puppetry of the Penis has become so successful that in addition to the multiple tours, it has led to a how-to book of the same name and two documentaries: Tackle Happy, featuring live footage of the performance, and Cock Stars, which follows aspiring penis puppeteers from auditions to their opening show.

Cock stars are just another version of pop stars, Morley jokes. The performers wear nothing but capes, socks and tennis shoes. Multimedia is a big part of the show--all of the shapes are displayed on a big screen.

"Three-story-high penises we can promise you," says Morley.

Morley and most reviewers say that the show is totally playful and nonsexual.

"In fact, after seeing Friend's eerily accurate impression of a Kentucky Fried Chicken, sex will probably be the last thing on your mind," wrote a critic for the London Evening Standard.

"Some people find it quite educational. It demystifies the male genitalia," he says. "Most people just find it hysterically funny."

Morley says old ladies especially love the show.

"It wasn't too long ago that an lady came up to me, hugged me and said, 'Son, I've been waiting 65 years to laugh at a penis like that'," says Morley. "That was job satisfaction."

Morley admits that the length of a man's Mr. Winkie is a factor in his Australian origami ability.

"We like to think that they're for everyone, but we like to say that the more clay the sculptor has to play with, the more he can create," he says.

Morley never gets aroused while making his puppets--not even the emu.

"It doesn't happen," he says. "Not while there's a couple of hundred people watching your genitals. You think of dead puppies and grandma. You avoid eye contact with the pretty girls in the audience."

Morley says that most shows don't vary much from one to the next, but they do make an effort to represent local landmarks. The penis puppeteers will likely spend a bit of time investigating the landmarks of Santa Cruz for this purpose. Metro Santa Cruz suggested the lighthouse on West Cliff Drive.

"We could add in special effects," he says. "I just hope it's a lighthouse with a flashing light and not a swooping one, because the swooping ones are much harder to do."
---
Puppetry of the Penis plays Jan. 22 and 23 at 7pm at the Rio Theatre, 1205 Soquel Ave., Santa Cruz. Tickets are $39.50. (831.423.8209)
---
[ Santa Cruz | Metroactive Central | Archives ]