Buy Cassandra Wilson's 'Belly of the Sun.'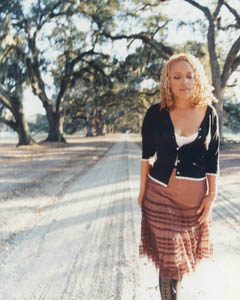 Wilson Fill Ups: Cassandra can stand like this for days waiting for a song to come to her.

Wait and Sing

Cassandra Wilson doesn't go looking for good songs, she lets them find her

By Mike E. Splain

Critics of Cassandra Wilson's genre-busting style ask: "Is it jazz?" Her growing legion of fans replies, "Does it matter?"

Abandoning preconceived notions of what a "jazz diva" should sing, Wilson has embarked on a quest for truth and beauty in "singing life as you live it," as her mentor Abbey Lincoln encouraged. Along the way, she has invoked the muse from the most unlikely of sources: Hank Williams, U2, Neil Young, even the Monkees.

"Songs are everywhere," she asserts. "Instead of looking for them, I wait until they come to me."

And when they do, the true smartasses will ask, is it jazz then? Well, all the elements are certainly present: improvisation, flexible rhythmic understructures, sophisticated harmonic idioms and, above all, swing. But one would be hard-pressed to put a label on the finished product, which mixes folk, jazz, pop and country, and tops it off with the smoke and honey of Wilson's unmistakable contralto. She brings it back to sweeten the Santa Cruz night with a performance at the Rio Tuesday, with Brandon Ross (guitar), Calvin Jones (bass), Jeffrey Haynes (percussion) and the phenomenal Gregoire Maret (chromatic harmonica) setting the mood for an evening of music from her latest Blue Note release.

Primarily recorded in a Clarksdale, Miss., train depot that sound engineer Danny Koppelson painstakingly transformed into a studio amid sweltering August heat, Belly of the Sun oozes Delta ambience and features syrupy slide guitar, a decidedly bluesy repertoire and soulful appearances from the likes of India.Arie, Olu Dara and Abie "Boogaloo" Ames.

Expounding on the title, Cassandra says, "I'd heard a Yoruba translation of a lyric that said, 'We'll meet in the belly of the sun,' and that was it. I knew that was where we were, in the hottest place--literally and metaphorically--in America: the Mississippi Delta, the belly of the sun."

Look Out, Jackson Town

Born to a musical family in Jackson, Miss. (her father Herman Fowlkes is an accomplished jazzman in his own right), Wilson relocated to New Orleans in 1981, settling on her Manhattan home base the following year. Collaborating with Dave Holland, Steve Coleman, Greg Osby and Robin Eubanks, her creative spirit took wing, embracing a "storyteller" tradition in the lineage of Billie Holiday, Nina Simone and Joni Mitchell.

In spite of countless accolades, including a 1997 Grammy award for her album New Moon Daughter, Wilson refuses to rest on her laurels. Her secret recipe for real-time commercial success within an uncompromising artistic framework has eluded most musicians of our time, but likely informs her philosophy that a vocalist should "just close [her] eyes and fall back in the darkness ... surrender to the material and not try to drive it [her] self."

In concert, Wilson forgoes ostentatious stage presence in favor of a mellifluous delivery that enraptures her audience with a sense of timelessness. She says Miles Davis is perhaps the biggest influence on her style.

"I'm definitely a child of that school of thought," she says, "the importance of timbre, tone color, the economy of motion."
---
Cassandra Wilson performs Tuesday, Jan. 28, at the Rio Theatre, 1205 Soquel Avenue, Santa Cruz. Tickets are $25/advance $27/door; call 427.2227.
---
[ Santa Cruz | Metroactive Central | Archives ]