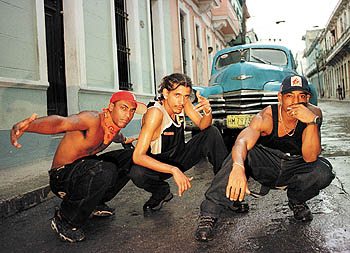 Photograph courtesy of Papaya Records

El Rap: Anier Santana Fernández, Warner Hernández Duartez and Raidel Diaz Fernández-Criado of the Havana hip-hop group Quarto Imagen.

Underground Revolution

The Buena Vista Social Club is yesterday--Cuban youth have founded a burgeoning hip-hop scene

By Annelise Wunderlich

IT'S A LATE FRIDAY afternoon in downtown Havana, and an old man in a worn-out tuxedo opens the doors under the flickering green and red neon sign of Club Las Vegas. A poster on the wall, its corners curling in the humidity, advertises the usual cabaret fare of live salsa bands, banana daiquiris and beautiful women in skimpy red sequins. But the people standing outside the club are not tourists looking for an exotic thrill. They are mostly young, mostly black, and dressed in the latest Fubu and Tommy Hilfiger styles.

Once inside, they dance until the DJ tells them to give it up for the two guys who step on stage. One is tall and languid, the other shorter and in constant motion. They wear baggy jeans and oversized T-shirts, and sprinkle their songs with "c'mon now" and "aw'right." But while they might emulate American hip-hop style, Yosmel Sarrías and Maigel Entenza, who make up the duo Anónimo Consejo, rap about a distinctly Cuban reality.

"This is so that you understand that all young people aren't garbage," Yosmel and Maigel shout in Spanish. Then they rap: "It's time to break the silence/ This isn't what they teach in school/ In search of the American dream, Latinos suffer in the hands of others ..." The audience stares raptly.

"This music is not for dancing. It's for listening," says a kid wearing a Chicago Bulls jersey. He waves his hand high in the air. "And for Cubans, believe me, it takes a lot to keep us from dancing."

The two raperos are a study in contrasts--the writer and the star. Yosmel stands toward the back of the stage, his handsome face impassive as he delivers a steady flow of verse. Maigel electrifies, crisscrossing his arms as he prowls catlike across the stage. The crowd follows him, word for word. Anónimo Consejo is one of Cuba's top rap groups, waiting for their next big break--a record contract and a living wage to do what they love.

Three girls, decked out in bright Spandex tank tops, sit on the sidelines watching Maigel's every move. Yordanka, 20, Yaima, 19, and Noiris, 17, are cousins who a year ago started their own rap group, Explosion Femenina. So far, the only explosion has been in their living rooms or at school talent shows, but that could change. In a week, they will perform in public for the first time at Club Las Vegas. And if Cuba's top rap producer likes them, he'll groom them just as he has Maigel and Yosmel.

Pablo Herrera, the producer who can make them--who already made Orishas, the first popular Cuban rap group--is in the DJ's room looking down. "What you're seeing is Cuba's underground. I'm talking the empowerment of youth as a battle spear for a more conscious society," he says in English so flawless that he's sure he lived another life in Brooklyn. And he looks it--from the braids in his hair down to the New York attitude.

Herrera is one of the few hip-hop producers in Havana, and in a city with more than 250 rap groups, he says he's in demand and overworked. "I can't work with everybody, I'm not a machine. I mostly go with what I like."

The members of Orishas, frustrated by the slow pace of Cuba's state-run record industry, moved to Paris after a French producer dangled a recording contract in front of them. Their album A Lo Cubano sold more than 400,000 copies in Europe and nearly every kid in the 'hood in Cuba owns a bootlegged copy.

Maigel and Yosmel attracted Herrera because they push the limit, but they got a painful reminder of how far that limit can be pushed two years ago. After performing a song about the police and racial profiling, they were arrested and thrown in jail. The next morning they were released with a warning, and it's clear that, at least for now, they are heeding that warning. "My country is my text, and my flag is the paper I write it on," Yosmel raps. Viva la Revolución is a refrain in his songs and a Che Guevara T-shirt is a staple in his wardrobe.

Biggie Lives

But for young rappers here, the world is full of contradictions. They believe in Cuba, but they're not ideologues--they just want to make music from their own reality. Anónimo Consejo's lyrics are edgy, but getting too edgy could end their careers. Each day is a balancing act. Maigel and Yosmel want to succeed on their own terms, but they've been at it for four years, and their parents--supportive so far--are beginning to wonder how long they can afford to continue.

When they met eight years ago, Maigel, then 13, and Yosmel, 17, were just kids looking for fun on an island so depressed that scores of their countrymen were building rafts out of everything from styrofoam to old tubes to take their chances at sea. Yosmel and Maigel watched them from their homes in Cojímar, a neighborhood on the outskirts of Havana dotted with dilapidated Soviet-style high-rise apartment buildings and cement-block homes.

For relief from the dog days of 1993, the two teens and their friends hung out at Alamar, a sprawling housing complex nearby. The kids entertained themselves improvising, breakdancing and listening hard to the American music coming from antennas they rigged to their rooftops to catch Miami radio stations.

Rap like this was infiltrating the airwaves: "Cause I'm black and I'm proud/ I'm ready and amped/ Most of my heroes don't appear on no stamps," rhymed Public Enemy in 1990's "Fear of a Black Planet." Yosmel loved it. "Their songs spoke to me in a new way. There was nothing in Cuba that sounded like it."

There also wasn't anything in Cuba that talked about the same issues that have challenged black Americans for decades. Cubans have been taught to ignore race, and the revolution tried to blur color lines by opening all professions, universities and government to Afro-Cubans. In school, when Yosmel mentioned his African ancestry, teachers reprimanded him. "They told me we are all Cubans," he says. "It wasn't patriotic to think of myself as different from anyone else."

But increasingly, he and Maigel discovered that they stood out. "There is this perception that all white people are saints and all blacks are delinquents," Maigel says. Though they add that police rarely do more than question them on the street, the stigma of being a young black man in Cuba wears on their nerves.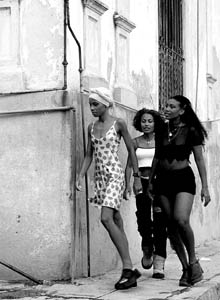 Basic Instinct: The trio Instinto, founded in 1996, was Cuba's first female rap group.

Pride and Politics
Even though Afro-Cubans have benefited greatly from the revolution, they've also suffered the most during its crisis. Every Cuban needs dollars to survive, and the bulk of the easy money coming in remittances goes to the white Cubans because it was their relatives who left early on. Darker Cubans also face discrimination getting the island's best jobs in the tourism industry. Skin color--despite the revolution's best intentions--has once again become the marker of a class divide.
Maigel, Yosmel and others in Cojímar felt it, and like any disaffected youth, they looked for role models who made them feel proud. Yosmel started asking his mother about his African roots, and before long, her stories became his lyrics. "In my poor bed, I read my history/ Memories of titans/ Africans kicking out the Spanish." She also taught him about santeria, Cuba's African-derived religion that has outlasted any political regime. "In school they taught him about slavery, but they didn't go into depth," his mother says, standing in the dirt yard in front of their small wooden house. Lines of laundry hang to dry in the hot sun. A single mother, she washes her neighbor's clothes in exchange for a few extra pesos each month.
She isn't Yosmel's only source of extracurricular knowledge. Cuba has long welcomed black American activists and intellectuals, and many of them have reached out to Afro-Cubans youth. Yosmel and Maigel often stop by the house of Nehanda Abiodun, a Black Panther living in exile, for informal sessions about African American history, poetry and world politics.
Abiodun, 54, calls herself an "elder guide" for Cuba's underground rap scene, and her influence is clear in the music. "Banal lies cover up the truth/ just like the killing of Shaka Sankofa," Yosmel raps, referring to the execution last year of an African American on death row. But the highlight of Yosmel's life so far has been meeting some of the biggest names in the U.S. rap underground. "It was amazing to hear rappers from another country worried about the same issues I was," he says.
Rap groups like dead prez and Black Star have been traveling to Cuba since 1998 as part of the Black August Collective, a group of African American activists and musicians dedicated to promoting hip-hop culture globally.
In addition to responding to the music, Cuban youth were also attracted to the visitors' obvious pride in being black. Embracing their African heritage, just as black Americans did in the 1960s, became a source of solace for young Afro-Cubans.
Along with Che Guevara and Jose Martí, Yosmel and Maigel admire Malcolm X, Mumia Abu Jamal, Nelson Mandela and other black icons. They were among thousands of Cubans that went to hear Mumia's son speak at an anti-imperialist rally last year. And when Yosmel and Maigel talk about meeting American rappers like Mos Def and Common [Sense], their faces beam.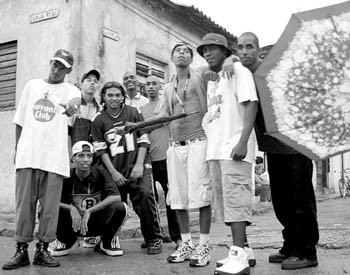 Urban Realities: The members of top Cuban rap groups Junior Clan and Grandes Ligas hope to gain exposure beyond the island.
Fidel Raps
Although rap has tied Yosmel and Maigel to a heritage that validates their existence, it has yet to improve their economic reality. But Herrera, the producer, may help them find a way out of poverty. He, along with others at the forefront of Cuba's underground rap movement, has been instrumental in changing the government's attitude toward hip-hop.
"The purpose of hip-hop is serving the country, not being an antagonistic tool," he says. "The idea is to improve what is already in place." These efforts were rewarded in 1999 when Abel Prieto, the Minister of Culture, officially declared rap "an authentic expression of cubanidad" and began nominally funding an annual rap festival. Even Fidel himself rapped along with the group Doble Filo at the national baseball championship two years ago.
But some have questioned Herrera's position as the arbiter of Cuban hip-hop's message and music.
"The only reason Pablo has game is because he is sponsored by the government," says Abel Robaina, a Cuban musician living in San Francisco. In fact, Herrera is a member of the Asociacion Hermanos Saiz, the youth branch of the Ministry of Culture that oversees the island's creative output. Any rap musician who hopes to be seen at a decent venue must get the association's approval, and that can only happen if their music is seen to serve the revolution.
It is no surprise, then, that Anónimo Consejo has become a favorite at state-sponsored shows. In their songs, they often warn young Cubans against the temptations of American-style capitalism. In the song "Appearances Are Deceiving" they rap: "Don't crush me, I'm staying here/ Don't push me, let me live/ I would give anything for my Cuba, I'm happy here."
Five years ago, both Maigel and Yosmel decided to forego Cuba's legendary free university education and devote themselves to making music. "They deserve a very good record deal," says Herrera, "and they deserve to be working at a studio every day making their music."
Despite their lyrics about staying put in Cuba, Yosmel and Maigel want more. "We are waiting around for an angel to come from abroad who recognizes our talent and is willing to invest a lot of attention and money in our project," Maigel says. Anónimo Consejo appears on the U.S.-released compilation produced by Herrera, Cuban Hip-Hop All Stars (Papaya Records), and they were featured in recent issues of Source and Vibe magazines.
But for now, when their session is over, Yosmel and Maigel still need to borrow a dollar to catch a bus back home.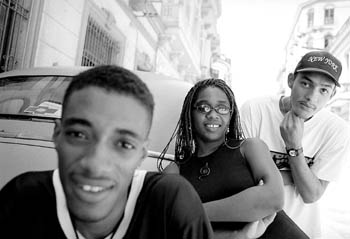 Shouting Out: The boisterous trio Obsesión is a sort of Cuban Fugees, formed by Alexei Rodríguez, Magia López and Roger Martínez.
Club Machismo
As difficult as it's been for Anónimo Consejo to land a record contract, it's tougher still for female rappers to earn respect in Cuba's rap scene. The three girls from Explosion Femenina would do almost anything to be in Anónimo Consejo's shoes.
In a rundown tenement in Central Havana, the girls have taken over their family's tiny apartment as they practice hard for their upcoming debut at Club Las Vegas. A faded portrait of Fidel looks down from the dark living room walls as the girls crank up the volume on their boom-box and rap about boy troubles over Eminem's hit, "Real Slim Shady." Whatever they lack in technique they make up for with sheer enthusiasm.
Through some connections, they managed to secure a spot at next Friday's Las Vegas show--and a chance to woo Pablo Herrera. That scene, however, is predominantly a boy's club, and they have to prove that they can do more than move well in tight pants if they hope to win Pablo's support.
On the rooftop, with the sun setting over the maze of narrow streets below them, they practice their one finished song before the show. Yaima, born for the spotlight, undulates and shimmies as all three harmonize about the hardships they've faced as women rappers: "With my feminine appearance I've come to rival you/ If you want to compete, if you want to waste time trying to destroy me/ I'll get rowdy and impress you."
They know their music needs a sharper edge to make it in the macho rap scene and practice another song about jinateras, Cuba's term for girls that sleep with foreign tourists to earn extra dollars. "We wrote this because so many guys we know assume we're jinateras just because we like to look good," Yaima explains. "Even though about 70 percent of the girls we know do it, we don't, and we're sick of them judging us."
The next Friday, outside Club Las Vegas, the girls are giddy. They excitedly snap photos of one another and different rapper friends, laughing to disguise their nervousness. They huddle with Magia, one of the few women rappers in Havana and also their mentor. "Remember to pay attention to where you are standing on stage. And sing in tune," she instructs, rubbing their backs in encouragement. Time to go in.
Santaurio, a group visiting from Venezuela, is the first to storm up to the microphones. Adorned with heavy gold chains, gold-capped teeth and designer labels, they clearly come from a different economic situation than their Cuban hosts. Yaima, Noiris and Jordanka are next. "They are so amazing," Noiris says, biting her lip. "Do you really think we are good enough to be up there after them?"
Good enough or not, DJ Ariel calls out for Explosion Femenina. The girls, looking very young and decidedly unglamorous, breathe deeply and take the stage.
[ Santa Cruz | Metroactive Central | Archives ]