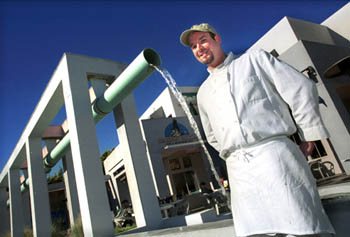 Photograph by George Sakkestad

Waterworld: Seabright Brewery chef Jeff Love goes with the flow.

Pub Fair

Not just a post-surfing saloon, Seabright Brewery opens its doors to a vibrant and very large neighborhood following

By Christina Waters

ENGLISH PUBS have always been more expansive in their outlook than American saloons. Children and families are made to feel welcome in British taverns, hearty home-cooked meals are available and there's a general air of community gathering about the traditional public house.

Seabright Brewery--long past its salad days as a designer beer hall for surfers and guys in groups--has assumed the polish and good-natured poise of the old world Euro pub (with, of course, the California touch of little white lights strung above the sleek, blonde-wood bar), as Jack and I discovered on a frosty evening last week.

A large family group energetically held down a central table, while after-work professionals grazed at the brew-pub bar and couples filled the booths lining both walls. Youngsters played outside on the patio under the heat lamps, but most of the over-21 crowd decided to come in out of the cold for some warm pub grub served by swift staffers.

Having enjoyed handmade Seabright brews in the past, Jack decided to sample an astringent, better-than-decent nonalcoholic Paulaner Thomasbrau Lager ($3.50), while I enjoyed a glass of Marietta Old Vine Red ($5). Along with these, we inhaled the thinking person's answer to buffalo wings: Seabright's gorgonzola polenta ($5), a gooey, delicious homage to salt, oil and getting full.

What seemed to be an acre of melting mozzarella oozed all over a bed of marinara that covered yet another bed of polenta cubes. Every now and then, we'd get an actual hit of gorgonzola, which this dish treated as a trace element. We instantly recognized the dish as gourmet Super Bowl food--and we loved it.

While the hockey game pounded away on ESPN, we sampled a cup of excellent Spicy 4-Alarm 4-Bean vegetable soup, one of the best ways currently available in Santa Cruz to deal with cold weather. Made with skill, this soup hit all the spots. Zippy to be sure, but it by no means lived up to its "4-Alarm" warning.

The soup was my choice to accompany a sizable, inexpensive entree of roasted pork sandwich ($7.50), which arrived on a fresh francese bun slathered thickly with very spicy chipotle-cranberry barbecue sauce. Yeow, this stuff was serious, sticky sweet barbeque, which again fits with the English pub rule that meats and sweets go together quite nicely. The fiery sauce on the generous helping of sliced pork was sweet enough to please diners who like their desserts embedded in their entrees.

Jack's textbook juicy burger--Seabright's version is called the Duke's Half Pounder ($7.50)--arrived with Jack cheese. Jack thinks it's cute to order Jack cheese; it's not, but it makes him happy. Nice and crimson inside, the burger arrived fully loaded with onions, tomatoes, lettuce--to which Jack liberally applied mustard and ketchup. The only downside to this two-fisted dinner burger was its accompanying cole slaw. Wimpy, and sweet, it provided absolutely nothing to the entree plate.

So classically Anglo Saxon was our dinner that we decided to continue the comfort-cuisine theme by ordering apple pie for dessert. What arrived, a fat, juicy slab loaded with flavor and encased in a flaky, fresh crust, was as classic an apple pie as we could have wished ($3.25).

It really tasted wonderful following the meat-intensive entrees, again proving that sometimes the old wisdom is best. For something hot, sweet and sticky--followed by a slice of apple pie--one could do worse than to head over to Seabright Brewery. And I'm sure one has.
---
Seabright Brewery
Address: 519 Seabright Ave., Santa Cruz
Phone: 831.426.2739
Hours: 11:30am-11:30pm daily
Ambience: **1/2 Simultaneously mellow and merry, boisterous but not chaotic, the main brew-pub dining room opens onto a popular patio scene
Service: **1/2 Everybody's working hard here, service is as swift as can be and dishes arrive with a smile
Cuisine: ** The food ably matches the Brewery's stable of handmade microbrews, long on big, meaty flavors and tasty stuff with cheese
Overall: The Brewery does a fine job ministering to the food, drink and ambience needs of one of Santa Cruz's most happening neighborhoods
---
[ Santa Cruz | MetroActive Central | Archives ]