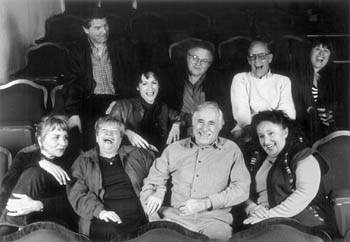 Making a Scene: The creators of 'Eight Tens @ Eight' prove that a lot can be said in 10 minutes.

Minutemen

Play fest perfects the short form

By Andrea Perkins

FROM THE bold first moment to the final bow, this year's 10 Minute Play Festival is a brave showcase of this rare theatrical form. Riddled with outstanding performances and some darn good writing, Eight Tens @ Eight tackles topics like marital unhappiness, homelessness, homosexuality, menstruation, cell phone addiction and Satan in such a snappy way that even occasional flat performances and overwrought dialogue can be forgiven.

The award for best first three minutes in a 10-minute play must go to Dinner (by Richard Markgraf, directed Stuart Serman and Rita Wadsworth). The play opens with a married couple (Lisa Hadley and Scott Harrison) and their daughter (Manirose Brendsel Raley) seated at dinner. For at least two whole minutes, they eat in silence--a brilliant silence that borders on the absurd. The tension is palpable. The only sounds are the clank of silverware on plates and chewing. From there on out, Dinner goes downhill. Its saving grace is Raley's portrayal of the 15-year-old emotionally disturbed product of a marriage that is disintegrating before her very eyes.

Dinner demonstrates what the 10-minuter does best: isolate a moment of conflict, suspend it and reveal it in all of its poignancy and/or ridiculousness. A one-act puts conflict, the crucial element in all theater, under the microscope.

First-time playwright Kyle Wood's nicely crafted Id (directed by Bill Peters) is all about conflict: inner conflict. The play is set inside a young man named Daniel. The actors personify different aspects of Daniel's psyche as they clash and co-mingle. Well executed by a well-oiled cast, Id is the festival's unabashed crowd pleaser. Excellent performances like Christopher Sugarman's Superficiality and Kai Lillie's Paranoia had the audience laughing in line at the bathroom during intermission.

Erica Lann-Clark's To the Crows With You (directed by Susan Myer) is less seamless but still cohesive. Old Biddie, fabulously played by Karen Schamberg, becomes sexually attracted to a sultry, feathery crow with an English accent, confidently played by Daniel Hughes, who also designed his splendid costume.

One of the more (perhaps intentionally) tortuous 10 minutes of the evening is My Higher Power (by Melissa Klein, directed by Ian McRae). Daria Elise Troxell offers a brave, if somewhat shrill, portrayal of Naomi, a young homeless heroin user. After an uninterrupted monologue of maudlin and clichéd reminiscences, she finally comes out with the expected kernel of junky wisdom--and the best line in the piece: "Heroin's like debt consolidation."

After Church Special (by Clifford Henderson, directed by Kathy Kratochvil) stars a very competent Viola Keeton as the Jesus-loving Louellen Banks, whose divine revelation helps her overcome her fear of purchasing certain feminine-hygiene products. Janine Theodore's uproarious body language as Ida Mae Duncon speaks much louder then her few lines. This is one of the few pieces in which the performance not only brings the writer's words to life but actually improves upon them.

I Remember China (by Eric Eberwein, directed by Frank Borovich), a disorienting personal remembrance of resentful lovers, unfortunately represents the festival's sole example of a more nonlinear approach to the one-act format.

Even with my critical eye athrob, after the eighth show, I found myself wishing there were more plays. They're just so much fun to watch. As this local treasure of a festival grows, giving more diverse writers from the region chances to show their work, the art of the one-act can only be enriched. Culled from a record-breaking number of submissions from all over the West Coast, this year's plays prove that short one-acts are more than just attempts to make theater fun in this age of shrinking attention spans. They are chances for writers and performers to distill the essence of their art.
---
Eight Tens @ Eight runs Thu-Sat at 8pm, Sun at 3pm through Feb. 11; $12-$15; 425.7529.
---
[ Santa Cruz | MetroActive Central | Archives ]