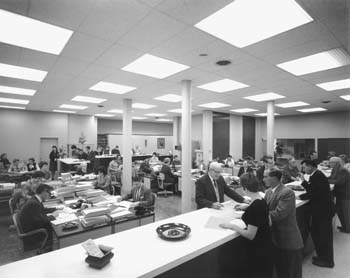 Covello & Covello Historical Photo Collection

Inside the Metro Santa Cruz Offices, 1965: This was taken the same day as last week's historical photo--Jan. 28, 1968--at 1:48pm. This was the interior of the Santa Cruz Land Title Company at the corner of Front and Cooper streets, where the Metro Santa Cruz offices are now. That's Ernie Blevins at the desk on the left and Dick Knight seated across from him. Do note all the neckties and suits, and the guy at the counter is even smoking a cigarette--how times do change.

Bruce Bratton

GREAT PLAZA NEWS. Now that the Santa Cruz City Council is going to establish an advisory board to assist the city's planning staff and some city-hired consultants in investigating an appropriate site for a downtown plaza, things are looking up. All everybody has to remember is that there are some uses of a plaza site that could just possibly rule out some places that were mentioned at the council meeting a week ago Tuesday. For instance, many groups and petition signers want a space where we could set up 1,000 chairs to watch performances by the Cabrillo Music Festival, the Pickle Family Circus or Shakespeare Santa Cruz. We had audiences that size for Estival Festival and also many times for the first year of Duck Island. The lot at Pacific and Church streets would hold that size easily. We also want a place to hold the Children's Fair, the Antique Fair and a nontrucked version of the Farmers' Market that works so well in cities all over the world. Our Downtown Plaza Committee probably didn't make it clear enough just what this plaza would be for when we made our presentation. It would also be a great plan to beautify many other spaces that were suggested around downtown, and that would help improve the community a lot, but those other spaces wouldn't come close to serving the basic needs of a functioning, active plaza with lots of people sharing its many uses.

DATELINE LOS ANGELES, SUNDAY, JAN. 23. We're still eagerly awaiting the delivery of my daughter's baby. In the very nervous meantime, I visited Loyola Marymount University to see the highly touted history display about L.A.'s early years, which wasn't worth the trouble. On Thursday night, I was lucky enough to attend a special screening of F.W. Murnau's film Sunrise at the Silent Movie House. This was a night of tribute to the last owner, who was murdered by an assailant hired by the owner's lover. This real murder plot was better than most films, except Sunrise, which remains a timeless classic. Last night, we even went to the famed Caioti Pizza Café. The Caioti has been covered by PBS, the Los Angeles Times and NPR because eating their "the salad" has resulted in hundreds or thousands of expectant moms giving birth within quick hours or days. The chef/owner sez it's probably due to the combination of the gorgonzola cheese and the balsamic vinegar.

MOVIE MENTIONS. The Hurricane, Denzel's Washington's latest, isn't all that great. It somehow manages to water down an incredible true story by adding and subtracting important people to the plot. Why this was done has to be blamed on the director, Norman Jewison, who normally doesn't do things like that, but he almost ruined Rubin "Hurricane" Carter's absolutely heroic story. You could wait and rent it. The boxing scenes aren't as real as the boxing matches I've been to; the real ones aren't as intense as the ones in the film.

MORE PLAZA NOTES. We got some reaction from folks saying that not all of the 3,000 petition signers were from Santa Cruz. Well, as Lacy Lipps used to say, "Duh." I hope these quick thinkers, including Mike Schmidt of the Chamber of Commerce, realize that any genuine petition, survey or questionnaire about our downtown and what it needs would, we hope, include not just residents but folks from everywhere who do come downtown, as well as residents and visitors that never come downtown. We must find out why people do and don't shop there.

UCSC NOTES. Sorry I mentioned the very hot world music group Radio Tarifa as coming to UCSC. Unfortunately, according to Martin Wollesen, they had to cancel their tour. Tarifa, by the way, is at the southern tip of Spain. Pianist Andrew Rangell is world renowned for what he does with Beethoven's' music. Arts and Lectures is presenting him in UCSC's Recital Hall on Feb. 5 at 8pm. He's not playing any Beethoven, but he is doing some Haydn, some Chopin, and some Janacek. Arts and Lectures is also bringing Molly Ivins here on March 26 at the Santa Cruz Civic. You can email for tixathttp://events.ucsc.edu/artslecs/ tickets.html or by calling 831.459.2159.

ENDORSEMENT MEETING. The People's Democratic Club is having its endorsement meeting Thursday (Jan. 27) at the London Nelson Center at 7pm. John Laird's going to moderate the meeting, and the PDC will make endorsements for the county supervisors races from districts 1, 2 and 5; the state Senate race; the district attorney race--plus the 15th and 17th congressional districts and the fourth district superior judge. By the way, you have to have paid your PDC dues 30 days before the 27th in order to vote, for obvious reasons. (Which is a rule other politically oriented groups such as the Rural Bonny Doon Association should adopt). Call 476.5019 with any questions re this meeting.

PLAZA PERSPECTIVE, #216. No one I've met yet wants to "take the property" at Pacific and Church streets from the present owner. Matter of fact, if there was even a small possibility that any other site would work as well for all the needs of the community, or if any other site was located in a better spot to make a plaza successful, than that's the one we'd go for in the old heartbeat. In talking with city staff, we've heard some great ideas of what we still hope could be win-win workable arrangements for that particular space. Let's all remain hopeful and come up with even more ways and more designs for our plaza. It'll be the best thing that ever happened to Pacific Avenue since Roy Rydell and Chuck Abbott created the Mall. That very same Roy Rydell supports our Downtown Plaza concept at that location too.

MAKING DIFFERENCES. It's not too late to help the California Grey Bears reach their goal of $100,000 to build their 60-by-80-foot steel building so they can house their cardboard-recycling equipment. Send donations to Grey Bears, 2710 Chanticleer Ave., Santa Cruz 95065-1812, or call Lynda Francis at 479.1055.

MORE ON THE BEAUTY OF DOWNTOWN. In addition to the oft-mentioned Pacific and Church plaza project, we need to look at the proposed Nickelodeon Theatre II over on Front Street next to the car lot on Laurel. You better believe I'm biased on this issue, too, because it'll bring more good films to our city and add a lot of life at that end of town. I assume that when the time comes all the same deals, subsidies, waivers and ploys will be given to this local property owner (George Ow) for this relatively small project as were given to all those out-of-town builders that built the monster biggies down the street.
---
Bruce critiques films every other Thursday at 12:50pm on KUSP (88.9FM). Reach Bruce at [email protected] or 457.9000 #400.
---
[ Santa Cruz | MetroActive Central | Archives ]