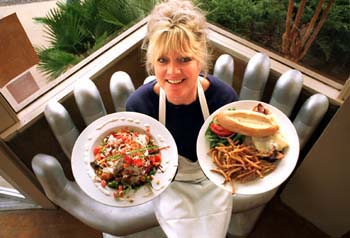 Photograph by George Sakkestad

Hands to Mouth: Bleu Spoon owner Mimi Snowden balances two house specialties, Seymour's salad and a Club Blue sandwich.

Spooning in Seacliff

Gloriously transformed by a blue, not silver, spoon, a landmark Aptos diner stakes out a spot on the local comfort-food map

By Christina Waters

DI AND HER daughters--the smart and finicky Sadie and Molly--joined me last week for a merry dinner outing at Seacliff's blazing-hot Bleu Spoon. The café's oversized spoon logo twinkling with blue lights has already attracted a large cross-section of Aptos neighbors, and the place was truly jumping by the time we sat down in a spacious corner booth.

Deciding to put the spin where it belongs--in top-quality, homestyle food--the entrepreneurs of this former pancake house left intact the zigzag wall of windows and L-shaped counter seating for those who like to interact with the cooks. The Bleu Spoon menu is a treasury of heartland classics: meatloaf, roast chicken, burgers, brisket of beef, soups well-built enough to be dinner, and a few entrée salads as spectacular as salad can get. The idea is no frills--the wine list is small, the tables are attractively bare. Bleu Spoon feels like a grown-up diner, where you can come as you are but the food is expertly made.

Molly wanted the evening's special smoked salmon "sushi" dish ($10.95), and Sadie practiced her vegetarian tendencies with an order of Thai Hai dinner salad ($9.95). Di and I started with glasses of rich, ripe and rotund (metaphorically speaking, of course) zinfandel from Toad Hollow 1997 ($5.50), a great partner with big squares of succulent garlic and herb foccacia bread served on a round wooden platter.

The decor sparkling with artsy touches, including laminated wooden S-curve chairs and even a few silver "hand" chairs. And the vibrant quality of Bleu Spoon's food comes as an unexpected delight. Since entrees come with soups or salads, I tore into my greens topped with carrots, beet zest and sunflower seeds. A dill-intensive Green Goddess dressing added sass--a nice old-fashioned touch, this '50s salad dressing with the very Santa Cruz name. Di's cup of tortilla soup was hot with green chiles, some creamy feta cheese, lime slices and crisp strips of corn tortilla--killer! Appetizers launched a lively discussion about homework and why Sadie's magenta braids had faded to a bright pink after only one washing.

Trying to choose side dishes was about the only difficulty we faced, and soon our bountiful dinners arrived. Di's half roast chicken ($11.95) was stuffed with lemon-laced goat cheese atop a mound of outrageously creamy gorgonzola and spinach polenta that practically stole the show. Long, al dente green beans crisscrossed the moist, perfectly roasted chicken--and my entrée too. A mountain of fork-tender brisket ($11.95) was sauced with a wine and tomato glaze, punctuated by portobellos and a pillow of gutsy mashed potatoes.

After sampling a chicken wing from her mom's plate, Molly began working her way through the beautiful round orbs of sticky rice, each topped lavishly with smoked salmon. These faux sushis dotted an island of chartreuse soy beans, cabbages and sprouts, served with a dipping bowl of soy sauce and tiny nuggets of wasabi horseradish. Sadie's opulent salad arrived in a deep bowl, peanuty gado gado sauce squiggled on its Pacific Rim. Crowned by spicy marinated tofu strips, the salad showcased noodles in a minty vinaigrette topped with fresh soy beans, huge sunflower sprouts, cashews and shreds of Napa and purple cabbage.

The girls split a mile-high, absolutely classic chocolate milkshake ($3.75) topped with thick, whipped cream, and Di and I worked our way through a brownie-like slab of dense chocolate cake sauced with olallieberry puree ($4.50). With the richer-than-God vanilla bean ice cream on top it was chococentric without apologies. Every dish (unbelievable prices!) we tasted cried out for another visit to Bleu Spoon--soon.
---
Bleu Spoon
Address: 207 Sea Ridge Road, Aptos
Phone: 831.685.8654
Entrees: inexpensive
Service: ** 1/2 Swift, friendly and to the point.
Ambiance: *** Retro modernist coffeehouse interior updated with a few winks and artistic flourishes.
Cuisine: *** Solid, welcoming and beautifully presented, this is American home cooking with its arms open wide.
Overall: Thank God for owner Mimi Snowden et al., who've given Aptos a downhome center.
---
[ Santa Cruz | MetroActive Central | Archives ]