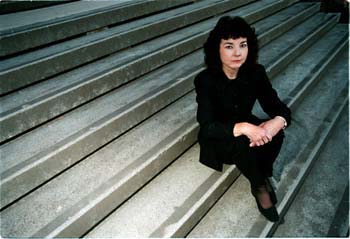 Stairway to Political Haven: Assistant DA Christine McGuire hopes to move from the second to the fifth floor at the county government center, from the DA's office to the supervisors' chambers.

Truth and Consequences

Assistant District Attorney Christine McGuire wants to represent the 2nd District on the Board of Supervisors, but questionable past choices may cause some voters concern

By John Yewell

ELECTIONS OFTEN have themes. The Year of the Woman was 1992. Then reaction set in, the Republicans took over Congress, and after gazing into their 20/20 rearview mirrors the pollsters dubbed 1994 the Year of the Angry White Male. Then women made a comeback in 1996 with the Year of the Soccer Mom. The 1998 vote was supposedly Republican debacle, although at last check the party still controls both houses of Congress.

This year, one of the hottest races in Santa Cruz County is for the 2nd Supervisorial District. Four candidates are on the ballot: Assistant District Attorney Christine McGuire, Senior Legal Services Directing Attorney Ellen Pirie, former Pajaro Valley School Board member and Aptos residents Sharon Gray and Doug Dietch, who ran for the seat and lost in a landslide in 1996 to incumbent Walt Symons.

On the issues, McGuire will appeal to many voters. She's giving up a career in law to go into politics, because it is a new opportunity to work for the community, she says. Her biggest issues are community development and planning for Seacliff, Aptos and Corralitos. She favors current county logging rules, full pay parity for county employees, and she generally agrees in preserving prime agricultural land--although in an interview she would not take a position on Watsonville's desire to annex such land. While she has had limited community involvement, her experience prosecuting sex crimes, her service on the board of the County Domestic Violence Commission and her involvement with Women Lawyers of Santa Cruz County, give her a strong base of support among voters concerned with some women's issues. McGuire has also written six books, five of them pulp crime novels.

But if the pollsters and pundits are correct, voters will be less concerned in 2000 with issues than they will be with character. On that issue, McGuire could be vulnerable. Her career reveals a prosecutor whose professional life has at times become so intertwined with her personal life that it is impossible to analyze the one without discussing the other. The result has been that when faced with nettlesome ethical choices, McGuire, 48, has not always chosen well. This, in turn, has encouraged an inclination for secrecy that has caused her professional grief. In addition, her quixotic, on-again off-again on-again quest for elective office has had more twists in the past year than a strand of DNA.

Pulling Strings

MCGUIRE CAME TO Santa Cruz County in January 1986 with a high professional profile. As an assistant DA in Tehama County, she had just finished successfully prosecuting the famous "girl in the box" case. The trial drew national attention and was the subject of McGuire's first book, Perfect Victim, a nonfiction account of the case.

On Nov. 18, 1984, Cameron Hooker and his wife, Janice, were arrested in Red Bluff for kidnapping Colleen Stan and holding her prisoner for seven years as a sex slave. During much of her imprisonment, Stan was kept in a box under the Hookers' bed.

As the sex-crime specialist in the Tehama County district attorney's office, McGuire was assigned to the case, but only after pulling strings to get it.

According to Perfect Victim, the case was originally assigned to Assistant DA Ed King--for a reason. Investigators believed that Hooker might be responsible for a number of other Northern California deaths, and homicide was King's beat.

Indignant that another attorney had been assigned the case, she admits in her book that she complained to her boss, District Attorney Jim Lang--who also happened to be her husband. Referring to herself in the third person, she wrote: "She [McGuire] broke the unspoken rule of not discussing work at home. ...

"[S]he was so thoroughly convinced that the case was rightfully hers that when Jim came home she let him know she was angry at not having been assigned it."

After listening to her complaints, Lang, who was 30 years her senior, finally relented.

"If you think you can handle it, by god, handle it!" McGuire quotes Lang saying.

Despite her own description of pulling strings for the assignment, McGuire insisted in a Metro Santa Cruz interview that King didn't want the case. King, now a Superior Court Judge in Tehama County, was unavailable for an interview when called by Metro Santa Cruz. An attempt was also made to contact Lang to confirm McGuire's account, but the call was not returned.

According to Mary Alice George, Tehama County clerk and recorder, and a 40-year county employee, McGuire's assignment to the Hooker case "didn't raise eyebrows in Tehama County. No one seemed surprise at it, although normally the DA would take care of such a case" rather than assigning it to someone else, she said.

What is surprising is that George contends that the couple's marriage was not widely known outside the Tehama County Court House--a situation that would have consequences for McGuire, which are outlined below. "It was common knowledge at the time that they dated, although the marriage was not well known," George said in a telephone interview. "They were very private people."

McGuire disputed this in a recent interview with Metro Santa Cruz.

"It was not hidden; that's absurd, that's incredible," she said, adding that when their daughter was born many people came to the christening.

But there is no record of the couple's wedding in Tehama County, where it would have been logical to hold it for the convenience of family and friends. When asked recently about where she was married, McGuire at first recalled getting married in adjacent Shasta County, then backtracked and said she couldn't remember the location of her own wedding. There is no record of the couple's wedding with the Shasta County Recorder, either, meaning that either they were married elsewhere or that the couple applied for a confidential license.

Either way, it suggests that McGuire and Lang went to some lengths to keep their marriage confidential, an impression that is reinforced by McGuire's reluctance to discuss the matter.

Why would they want to keep their relationship under wraps in the first place? And why should voters care? Because the Hooker case was not the first time McGuire and Lang's relationship posed questions about her prosecutorial conduct.

Switcheroo: Christine McGuire's political career is off to a convoluted start.
Imitating Reality: Clues to the candidate's life abound in her novel 'Until We Meet Again.'

Reversal of Fortune
IN 1981, ABOUT A YEAR after joining the Tehama County DA's office, McGuire prosecuted David R. Jackson on the felony charge of assault with intent to commit rape with a special allegation. Jackson was found guilty Dec. 9 after a two-day trial and sentenced to five years in prison.
McGuire and Lang, both graduates of Southwestern University School of Law, had by then been dating nine months, according to documents from Jackson's appeal. The only problem was that Lang was Jackson's defense attorney. No one told Jackson--and it was not apparently widely enough known to come to his attention--that his attorney was dating his prosecutor.
On Jan. 12, 1982, after discovering the relationship, Jackson got a new attorney and filed a motion for a new trial based on claims of ineffective counsel and prosecutorial misconduct. While Jackson's appeal worked its way through the courts, Lang ran for district attorney, winning handily in November. Five months after the election, in April 1983--after serving 17 months in jail--Jackson was freed on bail while his appeal continued. McGuire and Lang were on vacation in Greece at the time of his release, according to Perfect Victim.
In her first interview with Metro Santa Cruz at the time of her application for Santa Cruz County DA a year ago, McGuire was reluctant to discuss the Jackson case. She downplayed her relationship with the defense attorney, portraying it as temporary and casual.
The Jackson appeal dragged on into 1985, when it began to overlap with the Hooker case--although no mention of the Jackson case is made in Perfect Victim. On May 2, 1985, a three-judge appeals court unanimously reversed Jackson's conviction, based on Lang's failure to disclose to his client his relationship with the prosecutor.
McGuire was quoted in a Jan. 26, 1999, Santa Cruz County Sentinel news report saying that both the judge and the DA in the case were aware of her relationship with Lang, but a unanimous appeals court was unimpressed with this rationale. Judge J.P. Puglia wrote that Lang and McGuire's relationship seriously compromised Jackson's right to a fair trial.
"[C]ounsel involved in a potential conflict situation such as that disclosed by this record may not proceed with the defense without first explaining fully to the accused the nature of his relationship with opposing counsel," wrote Puglia, "and affording the accused the opportunity, if he so desires, to secure counsel unencumbered by potential divided loyalties."
Lang and McGuire separated in August 1985. In September, Jackson agreed to a plea bargain whereby he pleaded guilty to the original charge in exchange for which the remainder of his prison sentence was suspended. He was placed on five years' probation, given credit for time served and walked out of court a free man.
Hooker was convicted a month later on Oct. 31. McGuire came to work for Art Danner the following January, and her divorce from Lang became official nine months after that.
Keeping Up Appearances
IN HER Metro Santa Cruz interview last January, McGuire spoke of her conduct in the Jackson case. She pointed to the fact that Lang's nondisclosure was the cause for overturning Jackson's conviction, downplaying her role in keeping the secret.
"The defense attorney was supposed to disclose," she said. "We don't have all the answers now, and didn't back then."
She also proposed that the DA's office develop an in-house position for legal training and ethics.
"I think we need a lot of guidance," she said. "Today I would go to such an advisor. In retrospect it [not disclosing her relationship with Lang] was not a wise thing to do."
But questions about McGuire's prosecutorial conduct would continue to be raised. State Attorney General John Van de Kamp wrote to Santa Cruz County DA Art Danner in 1989 to express "considerable impatience with the fact that her misconduct has not been curtailed." The letter was written in reference to an appeal in the 6th Appellate Court of a homicide conviction of Dean Robert Anchor. Julie Traun, one of Anchor's original defense attorneys, told Metro Santa Cruz the conduct in the Anchor case concerned McGuire's concealing a witness.
"The [Appellate Court] justices expressed great concern," continued Van de Kamp, "that this was not the first or only such allegation against Ms. McGuire, whom they know to be an experienced prosecutor." It is not clear whether this was a reference to the Jackson case or others.
As Judge Puglia wrote in the Jackson case, it is paramount "that public officials not only in fact properly discharge their responsibilities but also that such officials avoid, as much as possible, the appearance of impropriety."
With candidates now running on the trust-me-I'm-not-Bill-Clinton slate, those words, written 15 years ago, may mean more today than ever.
[ Santa Cruz | MetroActive Central | Archives ]