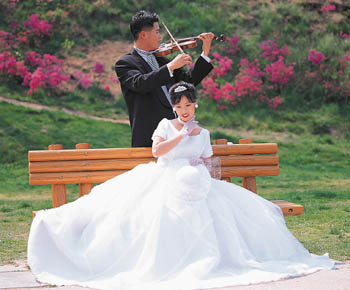 It's a Start: But you're going to need a few more additions to make your wedding work. You can get some help at the Santa Cruz Bridal Expo.

Totally Expo'd

Weddings scare us. But this weekend's Santa Cruz Bridal Expo at the Cocoanut Grove does not.

Like Hannibal from the A-Team, we love it when a plan comes together. But since we can throw together an entire Halloween costume in less than a day, it took us a long time to figure out why bridal expos are in January. So already it's obvious to you that we're writers, not wedding planners, and--if you're particularly perceptive--perhaps even that a lot of us around these parts have a hard time saying "I do!" to anything, least of all another person in our life. Forever, gulp!

Still, even wedding-challenged types such as ourselves eventually grasped that January does make a lot of sense to start planning for the Big Day. Days are lengthening, buds are blossoming and the birds are going downright nuts, singing crazy courtship songs and flashing iridescent tail feathers all over the place.

So, just what are you gonna wear when you tie the knot? Who exactly is going to provide the music? And where on earth are you gonna procure that huge crazy-ass five-tiered cake you've always secretly wanted to bust right out midceremony, shocking friends and family?

These kinds of questions are exactly why you should get yourself down to the Cocoanut Grove on Jan. 30 for the Santa Cruz Bridal Expo, where you'll find over 90 vendors replete with booths, products and services to help prepare you for your wedding--and honeymoon.

Honeymoon? Yes, because getting married doesn't have to be about making check lists, freaking out and having a thoroughly miserable time. Instead, you can choose to consult with experts, learn from their experiences and prepare for the rest of your (married) life in the style you'd like to grow accustomed to.

This is the 18th year for the Bridal Expo here, and you can bet they've tracked an incredible number of trends--all the way from retro to futuro and back--over the years. The event has also found its staying power in the incredible breadth of the territory it covers, which is to say that nothing goes uncovered. From photography to catering to florists, you can find help for whatever's threatening your dream date.

And if you don't have a clue whether tail feathers are in or not at weddings these days, check out the fashion show that runs throughout the day. Your sweetie will be glad you did.
---
The Santa Cruz Bridal Expo will be held Sunday, Jan. 30, from 10am to 4pm at the Cocoanut Grove, 400 Beach St. in Santa Cruz. Tickets are $6 at the door. Call 831.423.2053 for more information.
---
[ Santa Cruz | Metroactive Central | Archives ]