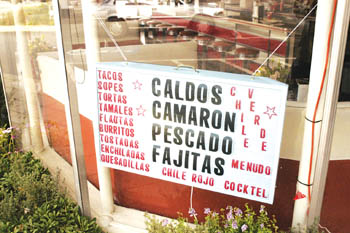 Photograph by Stephen Laufer

Sign of the Times: The owners of San Pablo Taqueria are the latest contenders to hang their shingle at the Pontiac Grill's old haunt.

Glimmer of Sope

Hope springs eternal at Front and Cathcart, where the San Pablo Taqueria has risen out of the wreckage of '50s food and Pontiac grilles

By Jessica Neuman Beck

The corner of Front and Cathcart, most recently home to Cruisers, and before that, the Pontiac Grill, has a bad reputation. Every restaurant in recent memory that's been there has gone under. So why open a Mexican eatery on the unlucky corner, when Santa Cruz taco joints are a dime a dozen?

Antonia Garcia, owner of San Pablo Taqueria, has a plan. She wants to bring us something a little different: Mexican food like Mom and Dad used to make.

"My parents used to have a restaurant in Mexico," Antonia says. "I grew up with it."

San Pablo Taqueria has some pretty hefty competition, but Antonia is confident that her restaurant is unique. "We're trying to make more traditional Mexican food," she says.

For example, there's the special mole made with chocolate, one of the recipes of which Antonia is proudest.

"It's kind of sweet," she says, "and really good."

The restaurant opened in August, and the place still seems to be in a state of flux. Antonia has done her best to make the place feel like a traditional taqueria, with fresh flowers on every table and Mexican music in the background, and it works--until you get to the car grille above the bar.

"We're working on that," Antonia says. This summer, she plans to bring back decorations from Oaxaca to give the place a makeover.

The slightly incongruous mixture of '50s chrome and bright Mexican decorations is easy to forget once you taste the food. Hearty and speedily served, but not at all greasy, all of San Pablo Taqueria's dishes come from Antonia's love of Mexican food. In addition to the tacos and burritos you'd expect to find at a Mexican eatery, San Pablo offers flautas--rolled corn tortillas filled with deep-fried meat and topped with fresh salsa--and chiles rellenos, their most popular dish. It's the sort of fare you'd expect to find at El Palomar, but at prices more friendly to the wallet.

Antonia says they get most of their customers during lunchtime hours. They serve a variety of vegetarian dishes, including vegetarian sope and a Mexican Bowl featuring rice, beans, lettuce, guacamole, sour cream, salsa fresca and cheese. "We serve lots of vegetarian dishes," Antonia says. "Almost everything we make can be vegetarian."

Another distinguishing feature at San Pablo Taqueria is the fact that they serve breakfast. "Our huevos rancheros are really popular," Antonia says. Made with two eggs, salsa, avocado, rice and beans on a tortilla, the dish is big enough to satisfy the most voracious morning appetite. One of the more unusual items on the menu is nopalitos con huevo. Nopal is a type of cactus, and the dish is served with rice and beans on a tortilla. They also have breakfast burritos--perfect for the hungry commuter.

With friendly service and delicious food, San Pablo Taqueria hopes to break the run of bad luck that's plagued the restaurant's location. I for one hope they're around for a long time.
---
San Pablo Taqueria is located at 429 Front St., on the corner of Front and Cathcart. Their hours are 9am to 9pm, seven days a week. Call 831.425.7041 for more information or to ask about daily specials.
---
[ Santa Cruz | Metroactive Central | Archives ]