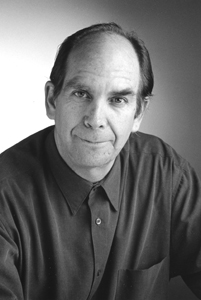 Collins Mixer: New Music Works' artistic director Phil Collins says he has 'a selfish motivation' for his tireless commitment to the group's unorthodox vision.

A Legacy in the Works

With a huge event set to mark the group's anniversary, New Music Works mastermind Phil Collins opens up about how and why he's kept new music on the edge for 25 years

By Scott MacClelland

A retrospective on the 25-year history of New Music Works must try to understand the difference between the institution and Phil Collins, its visionary, often militant leader. But that's not an easy task, as he himself seems to acknowledge.

"The primary incentive to create and sustain NMW has been my unwillingness to live in a community that is bereft of a professional-level outlet for contemporary music," says Collins. "It is a selfish motivation, spurred by needing a medium to compose for, as well as a vehicle by which to enrich my own musical sensitivities. The idea of living in a community as artistically inclined as Santa Cruz, without there being a contemporary music performance medium, has always stuck me as unacceptable."

Driven by that zeal, Collins has not suffered fools gladly. The operative word is "fools"; he has no shortage and cuts them little slack. But, as is not unusual among the severely opinionated, he has a weakness. It's called loyalty. While it has at times undermined his objectivity, it has also underscored his unique personal charm, the good relations he enjoys with his band of merry musicians and his appeal to a faithful crowd of followers (present writer included).

None of this should come as a surprise to anyone acquainted with the history of New Music Works. As a warrior for the cause of new music, Collins has had more than a few reminders that he must be willing to die for it. A deeply serious creative artist, he has, on more occasions than he would care to remember, had to keep the books, sell the tickets and wash the dishes after the party.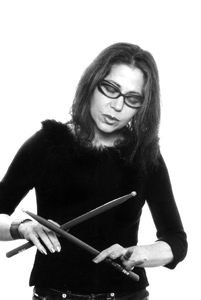 Pixie Sticks: Amy X Neuburg will be performing a new work commissioned by New Music Works at 'Day and Night of the Living Composers.'
Minimum Overdrive
When Collins and his cohorts founded New Music Works in Santa Cruz a silver anniversary ago, "minimalism" was all the rage, literally. The music of Steve Reich and Philip Glass provoked heated arguments, a most invigorating turn of events in the ever-controversial field of new music. The debate took place not only among musicians and composers, but also among those music lovers who can't seem to stay away from the avant-garde (again, present writer included).
Minimalism effectively collapsed complexity into simplicity, mirroring a similar phenomenon that occurred in 18th-century Europe, when baroque complexity collapsed into a simplicity we now call rococo, galant or bourgeois (depending mostly on locale). Most historians credit Terry Riley's 1964 In C as the nominal beginning of the movement. That notorious piece kicked the credibility out from under the atonal procedures that had infused many of the more statured American conservatories as far back as the late 1940s.
John Adams grew the seeds of minimalism into a bigger and more vivacious bouquet, starting the long march back toward inevitable complexity. At the same time, Dennis Russell Davies was trying to find his direction at the Cabrillo Festival with an uneven combination of new American music, unfamiliar pieces by traditional European classical composers, the older generation of living American composers, and later on, recent works from Germany and the Soviet Union. Lou Harrison was a constant presence and, by extension, the Cabrillo Festival's storied West Coast legacy.
This is the fertile ground in which New Music Works took root in Santa Cruz.
"It began as one project after another, each born of its own distinct creative inclination," says Collins. "Fascination for, and some experience in, theater and the related muses enlarged the canvas beyond 'normal' chamber music fare."
In its first year, New Music Works was called New Music Club, but even so, it laid the blueprint for the group's future programming strategy.
"In addition to a couple of chamber concerts, we produced a concert, 'Music After Lunch: A Not Entirely Serious Concert,' blending performance art and shtick with thorny chamber works by Ives and ourselves. During the first decade, theatrical presentations made up a large part of NMW presentations, and the popular attention they generated accounted for significant heightening of the organization's visibility in the Monterey Bay Area."

Good Guys Wear Black: Collins and the New Music Works Ensemble.
Party On
It didn't take Collins long to realize that to sustain a cutting-edge new-music series, New Music Works would have to develop a solid base of devoted listeners and contributors. Experimentation would have to be balanced with accessibility. And therein, he says, lies the rub.
"Unlike concert series that are supported by academic institutions--wherein programming is often centered around criteria of scholarly concerns, sheer survival has required that NMW's programming factor in audience development. Like it or not, NMW has had to compete with the world of entertainment," says Collins. "The meritorious qualities of the music we performed could not be an end in itself; in order for a concert to be deemed successful, tickets would need to be sold. And not just 10."
There was a time--namely the 1970s--when a bold but risky endeavor such as New Music Works would have been supported by government arts funding, but the group's timing was not so great.
"As luck would have it, NMW's formation dovetailed with a dramatic drop-off of governmental support for the nonprofit sector," says Collins. "That was 25 years ago--yet ironically, it was a considerably more benign political climate than we face today."
In addition to a season of regular concerts (if "regular" could possibly be the right word), NMW supporters are drawn to an annual adventure of the most surreal character, the Avant-Garden Party, held at the end of each spring. This afternoon fantasy can only be compared to a Fellini film, or a drug-free (one assumes) LSD trip. How else could anyone describe a garden blooming with mini-concerts and dance, synchronized swimming accompanied by live music, exotic cuisine and wines, all served under a Mediterranean sun? And why would they want to? (Last June, Collins coaxed the legendary Tandy Beal to translate live music into unforgettable improvised terpsichore in the gardens of Rob and Sunny Fish in Aptos.)
A taste of the Avant-Garden Party, albeit indoors, will be served up at NMW's 25th Anniversary festivities this coming Saturday at UCSC. Another annual NMW theme, Night of the Living Composers, will be expanded to include the daytime hours. The lineup includes Greatest Hits (drawn from recent NMW programs) at 3pm in the Music Hall; a Joseph "India Joze" Schultz dinner at 5pm in the chancellor's house (which is within walking distance;) a composers' "long-table" discussion at 7pm in the Music Hall; and Breaking New Ground, a concert of newer new music in the same location at 8pm, featuring several world premieres.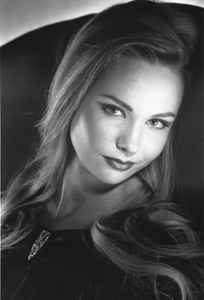 Dada Is This: In typical New Music Works style, mezzo-soprano Marie Bafus sang nonsence poems by Gertrude Stein for 2000's' 'Night of the Living Composers.'
The Legacy of Lou
Of all Collins' loyalties, none burns brighter--nor is better placed--than that for Lou Harrison. Harrison's impact on American music is far greater than is yet commonly recognized. He is the composer who, more than anyone else, drew the cultures of the Pacific Rim toward one another, paving the way for a future pan-Pacific music. (Some have even sought to attribute minimalism to him because of his importation of Javanese court gamelan music around the same time Riley was completing In C.) In recent years, Collins has introduced and hosted new music and musicians from Korea and Australia, adding them to his growing stable of West Coast composers, putting the implications of Harrison's vision into practice. (Collins has harbored unease with Marin Alsop's lopsided focus on East Coast composers at the Cabrillo Music Festival, as the festival began with Harrison and his emphasis on the West Coast "school." That concern was at least temporarily mitigated when Alsop asked Collins and NMW to participate in the all-Harrison tribute at last summer's festival.)
In the early years, Collins felt estranged from the music faculty at UC-Santa Cruz, but, by and by, relations between them warmed, and today NMW programs include UCSC composers and performing artists as often as not. This will be the case in both programs this Saturday, which will include composer Chris Pratorius and tenor Brian Staufenbiel. Over the years, NMW's reputation has grown and spread. Today, many participants are affiliated with San Jose State University, Stanford University and the San Francisco Conservatory of Music.
A quarter century of struggling, fighting, triumphs and setbacks has seasoned and tempered Collins. Only in the last few years has a new tone of confidence entered his bearing.
"That NMW is still operating, and on a significantly more professional level than it began, is in itself a measure of success that I would not have dared to anticipate during the years in the trenches of early concert production," he says.
---
Day and Night of the Living Composers, a celebration of 25 years of New Music Works, will be presented at the UCSCS Music Center Recital Hall on Sat., Jan. 31, at 2pm and 8pm. Performers at the 2pm show include Jon Scoville, Allen Strange, Henry Brant, Fred Frith, Nancy LeVan and Brain Staufenbiel. The 8pm show features performances from Phil Collins, Amy X Neuburg, Yuji Takahashi, Thomas Schultz, Philip Gelb, Philip Flavin, Shoko Hikage, Nancy LeVan, Fred Frith, and Allen Strange. There will be a 5pm dinner celebration and a 7pm composer panel discussion. For more information, visit www.newmusicworks.org. For tickets, call 831.687.0770.
---
[ Santa Cruz | Metroactive Central | Archives ]