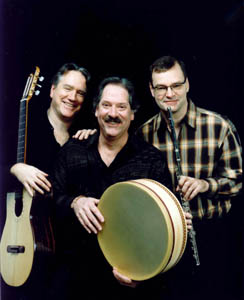 The Next Town You Hear May Be Your Own: Verdery (left) with Ufonia.

This Must Be the Place

Sometimes it's easy to confuse the track listing on New Yorker Ben Verdery's albums with a map of Santa Cruz County. Now he takes the songs home.

By Scott MacClelland

There's nothing blurry about Ben Verdery. Even though this veteran guitar man is now a bit self-conscious about his reading glasses, his innate self-possession and artistic focus immediately fill a room. It's always been that way; Ben Verdery made his New York debut in 1980 and has never looked back.

With nine CDs under his belt (and more, courtesy of his guest appearances with colleagues on their CDs), he's returning to his Santa Cruz "family" on Feb. 1, to open the Spring 2003 Cabrillo Distinguished Artists series at the Vets Hall. The program draws mostly on his latest CD of original music with his band Ufonia, including Voices in the Pajaro Valley for flute, guitar and percussion--like much of his original music, the Vets Hall program takes its inspiration from place, locations and cultures near and far.

Voices in the Pajaro Valley isn't the first piece inspired by Verdery's affection for this area. His 1991 CD Some Towns and Cities opens with a solo titled "Capitola, CA." That album enjoys legendary status not only for its originality but for the participation of such star colleagues as John Williams, Leo Kottke, Frederic Hand and Paco Pena.

Ufonia consists of Verdery, flutist Keith Underwood and percussionist John Marshall (solo performers in their own right) and will be teamed at this show with oboist Shelley Phillips and guitarist Bill Coulter, both well-known artists around here.

Though Verdery has made a name for himself as a composer in the guitarists' firmament, he is no less respected for his advocacy of other living composers. Lou Harrison's two serenades get principal position on his album Ride the Wind Horse, a title taken from a piece written for Verdery by keyboardist/composer Anthony Newman. (Other works composed for Verdery by Roberto Sierra and David Leisner are included.)

In a recent interview, I asked Verdery why he thought guitarists seem to be more adventurous in their programming than other solo classical artists.

"Maybe it's a lack of substantial repertoire by the big classical names--Beethoven, Mozart, Schumann, Debussy, Stravinsky--that inspires an attitude of exploration," he says. "Of course, the classical guitar has wonderful literature--Renaissance lute music, a tremendous amount of Bach and at least 50 or 60 years of 20th-century music. It's more than enough for me to last the rest of my life."

But, I wondered, why are there so few classical artists who can go after and get an audience based exclusively on their own compositions?

"Going after and getting an audience are two different things," laughs Verdery. "Generally, I do a mix--there's something for everyone on my programs. But for sure, if you don't play music you love, people know it, they can tell."

A Rock Block of Bach

Verdery established his early reputation with Bach, playing his own arrangements of the lute suites and other Bach works to which guitarists (to say nothing of violinists, cellists and pianists) continually return. A strong believer in music education, Verdery has taught guitar for the last 17 years at the Yale Graduate School of Music. For the Santa Cruz appearance, he will use a classical six-string instrument, but he has played 12-string and performed with artists who play an even greater variety of guitar cousins.

Verdery is all too aware that recent dramatic changes have impacted the classical music world--CD sales have dried up, arts funding has subsided, presenters are going out of business. I see things changing--not dying, but changing. Music education is needed desperately, whether Orff or Suzuki, or some other discipline. That's the heart of the issue, the need to reach young people, in school music programs, and not just Western music."

Despite changing times, Verdery remains an optimist. "It's undeniable that the guitar, like the piano, has a following that loves the instrument, that wants to hear it. I think it has as much to do with the instrument itself as with the personality of the performer."
---
Benjamin Verdery performs Saturday, Feb. 1, at 8pm at the Vets Hall, 846 Front St., Santa Cruz; $20 general/$16 seniors/$14 students. Call 479.6331 for tickets.
---
[ Santa Cruz | Metroactive Central | Archives ]