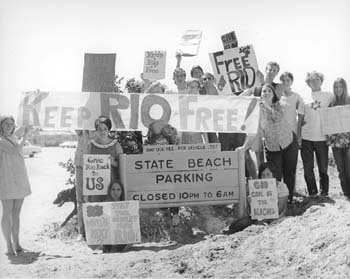 Covello & Covello Historical Photo Collection

Rio Del Mar Uprising: On July 13, 1968, these local miscreants obviously took exception to something. The signs say "They took Seacliff now Rio," "Keep Rio Free" and "Give RSO Their Platform." There are also references to God having given them the beach. Anyone know who won? Or what the battle was all about?

Bruce Bratton

THOMAS KINKADE AGAIN. According to David Lazarus' column in Sunday's Chronicle it looks like the Thomas Kinkade mass-produced art empire, Media Arts Group, has fallen upon hard times. Lazarus tells of how Kinkade products sold $130 million last year but the publicly traded company will be reporting its "fourth straight quarter of declines--and is scrambling to turn things around with management changes and new business tactics." Kinkade's 400,000-square-foot factory in Morgan Hill is now only half used. Lazarus quotes an art-marketing consultant who says, "We reached critical mass for Kinkade some time ago. Some people will continue owning their Kinkades, and some will want to sell. Those that do will be amazed that there ain't a market for them." EBay had 1,800 listings for Kinkade products last week, with his Lamplight Lane being the most expensive, and it had received no bids. The article went on to compare Kinkades with collecting Beanie Babies because his reproductions are "accessible, affordable and as unthreatening as a teddy bear." One former Kinkade gallery salesman told Lazarus that "selling Kinkades was never about promoting art. From the start, the goal was to move product." Not only that, but the Kinkade-styled "Village" in Vallejo with its proposed 101 residences with their faux-cobblestones has only sold 19 so far and only five of those have been occupied. For me, all this muck about Kinkade isn't really about if his art is any good. It's about how sad it is that well-meaning folks have been encouraged to buy these cheap reproductions as investments, and they aren't. They're also being told that Kinkade's paintings have some lasting place in the art world, and they don't. As one art gallery curator near a recently closed Kinkade gallery on Fisherman's Wharf said in the Chronicle, "There's always been starter art, but Kinkade is the lowest form of starter art I've ever seen."

DARK PLEASURES. Since it's a Disney-Touchstone production, The Count of Monte Cristo should either be called That Darned Count or The Count of Malibu. For some sad reason the film is full of cute modern phrases and mannerisms and it's also 2 1/2 hours long. So go warned, if you go at all. It is truly amazing that a film as bad as The Mothman Prophecies starring Richard Gere and Laura Linney could ever be made. It is even more amazing that it was ever distributed. It's boring and trite and has no redeeming social value, so don't think about it. I Am Sam is exactly the film you expect it will be. Sean Penn does Jerry Lewis and we all cry a lot. Michelle Pfeiffer is still beautiful and Dianne Wiest is in it too for some reason. See it if you need a good cry. I didn't get to see the last half hour of Lantana but the first 1 1/2 hours of this thriller sure looked good. Lantana is a tropical shrub that grows like a briar patch especially in Australia where this film was made. It stars Anthony LaPaglia, Geoffrey Rush and Barbara Hershey and is as much about deep interwoven complex relationships as it is about a murder. At least I think it's about a murder--that's when I had to leave, but I'm going back.

ABOUT SATYAJIT RAY. Film enthusiasts know that Satyajit Ray ("wry") was one of the finest directors in cinema history. He directed such classics as Pather Panchali, Aparijito, The World of Apu and Devi. Due to distribution and political problems, most of his films have been seen only rarely in the United States. The Film and Media Department at UCSC has most of Ray's films, thanks to the ongoing work of Dilip Basu. There's going to be a Satyajit Ray Festival starting in mid-May at UCSC's Media Center, which is good news. Dilip Basu is also going to teach a class on "Satyajit Ray as Filmmaker" in the spring semester. It's No. 162. More than that, UCSC is involved in creating and presenting a Ray retrospective in Washington, D.C., and Salman Rushdie, who is a big Ray enthusiast, is going to be part of that presentation. When I get more exact data on all of above I'll pass it on, but just be warned and plan ahead.

FIRST THURSDAYS. The Museum of Art & History at the McPherson Center has free admission on the first Thursday night of each month. They have live music, wine for sale from the Bonny Doon Vineyard and complimentary appetizers. This Thursday, Feb. 7, from 5pm to 7pm, you can also see who won the Downtown Association's Celebrate Santa Cruz Art, Wine and Jazz Festival poster contest. In addition you can also see Richard Deutsch's sculptures and the "Save the Redwoods! 100 years in Big Basin State Park" exhibit. Ed Rosso's "Redwood Dreams," a show of Rosso's small houses and structures made from found materials, and the Carolyn Swift/Covello photography exhibit "The Home Front: Santa Cruz County During WWII" are still on view too.

ABOUT NONPROFIT BOARDS. Times are tough all over and the Community Foundation of Santa Cruz County is offering a workshop titled "The Effective Nonprofit Board: Responsibilities and Recruitment" on Thursday, Feb. 7, in the Sesnon House at Cabrilho College from 5:30pm to 8:30pm. It's being taught by Robert Zimmerman and it's all about how to make your existing board better and more efficient or how to create a new board. Deadline to enroll is this Friday, Feb. 1. It isn't free and you can't enroll by phone either, but call the Foundation at 477.0800 and see if there's still room.
---
Bruce critiques films every other Thursday on KUSP-FM (88.9). Reach Bruce [email protected] or 457.5814, ext. 400.
---
[ Santa Cruz | Metroactive Central | Archives ]